WooCommerce, like any other eCommerce platform or website, is packed with automated processes and scripts.
In the background, unnoticed, it converts your customers' clicks and actions into analytics, orders, accounts, and carts (or even abandoned carts).
And WooCommerce emails are no different. 
Automated and ready for action seconds after your WooCommerce installation is completed.
But like any other machine, it needs human oversight and configuration to yield optimal results. Out-of-the-box emails available in WooCommerce are far from perfect.
Let's see how to set up your own automated email workflow, that will perfectly align with your vision of communicating with customers.
Table of contents:
What are automated emails in WooCommerce?
With so many robust features available in WooCommerce, automated emails are one of the most effective marketing tools at your disposal.
WooCommerce automated emails are those emails that your store sends after the customer completes a certain action or a certain event happens. For instance, when a customer purchases something from your store, they will get an email saying "thank you for your purchase".
As the name suggests, those emails are sent automatically without any human intervention.
Automated emails are one of the most effortless ways to boost your online store sales, build relationships with your customers, help you retain your customers, and even recover abandoned carts.
It is also a great way to communicate with your existing customers and encourage repeat orders. Unfortunately, follow-up emails aren't as commonly used as they should be.
Does WooCommerce send automated emails?
Yes, by default WooCommerce sends the following automated emails:
New order email
Cancelled order email
Failed order email
Order on-hold email
Processing order email
Completed order email
Refunded order email
Customer note email
Customer invoice / order details email
Reset password email
New account email
Depending on your store's settings, you and users who visit your store may receive a number of automated email messages.
Automated emails are mostly used to notify customers about their order status. For example, a completed order automated email can be sent to customers after their order has been packaged and shipped.
How to customize your automated WooCommerce emails
If you don't want your emails to look, feel, and work like those sent by millions of other WooCommerce stores, you should definitely consider changing the default email content and behavior.
In your WordPress dashboard, you will find a number of general email options that let you perform some basic customization.
And when I say basic I really mean it – your options are limited to things like email subject, header text, or changing a couple of email colors.
You can find all the available email settings under WooCommerce -> Settings -> Email at the bottom of a page and by clicking on a single email.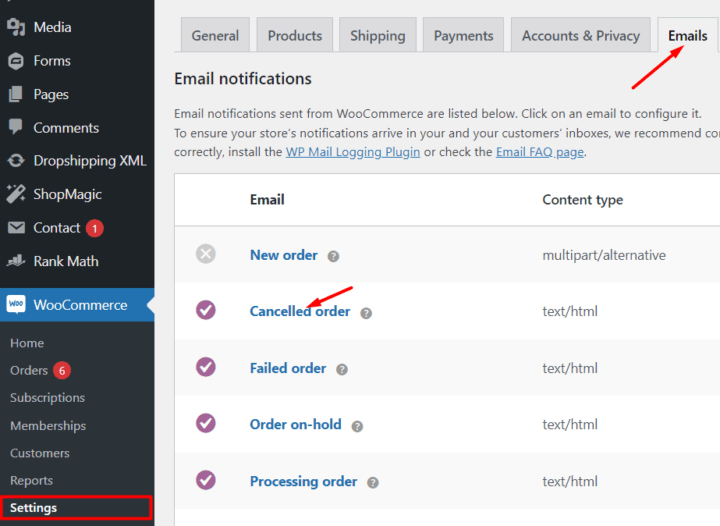 If you would like to customize anything else, you will need at least a little knowledge about PHP, HTML, CSS, and WooCommerce hooks and actions.
Or you can simply download a plugin with an easy-to-use email editor like ShopMagic.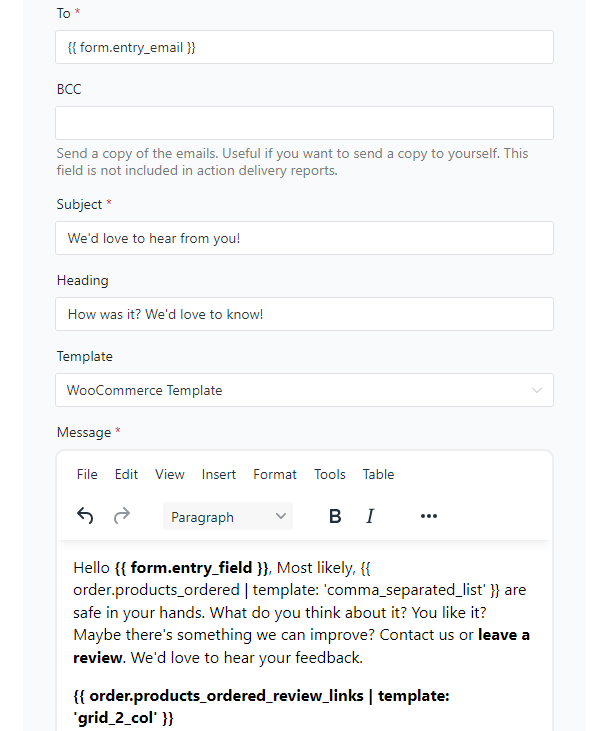 How do I set up automated emails in WooCommerce?
As you can see, some automated emails are already set up in your WooCommerce store from the start. That's why you don't need to worry about the basics.
But what if you would like to improve how you communicate with your customers through automated emails, create new ones, customize their content, and improve their performance?
Well, below I'll show exactly how to do that (even if you're not a developer or don't have a lot of time on your hands to dig into PHP templates).
Building your automated WooCommerce email campaigns in ShopMagic
As I mentioned earlier, customization options are very basic in WooCommerce.
That's why in this guide we will use ShopMagic – a free email automation plugin for WooCommerce.
It will give you access to modify your email sending logic freely, customize email content, and create entirely new automated emails.
Last Updated: January 12, 2023
Works with WooCommerce 5.2.0 - 7.1.x
Choose event (trigger)
The first thing that you will need to do is to choose an event. This will let your automated email know on what trigger it should be sent.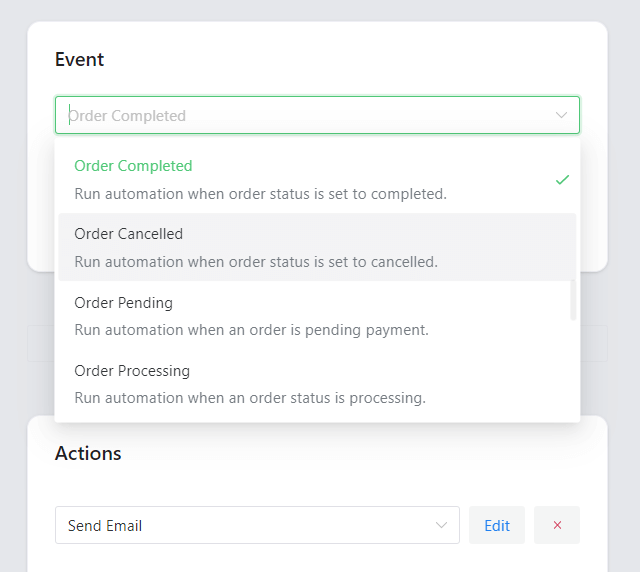 In ShopMagic you can use events that will work exactly like the ones used in standard WooCommerce emails like Order completed.
What's even better is that you can use triggers that are not available in WooCommerce (like Order paid) to make sure your customers are always updated on their order status.
Choose action
Now it's time to choose what action should the automation perform.
Obviously, you can send an email using the standard WooCommerce email template. But ShopMagic also gives you access to many more options that would otherwise be unavailable without heavy coding and external integrations.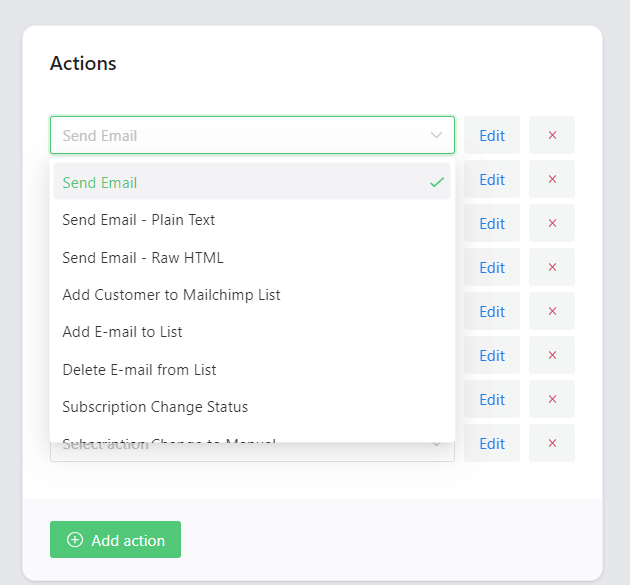 Here are some other actions you can use in your automations:
Add delay (optional)
To create more advanced follow-up and nurturing email flows, you can add a time-based delay or send your emails on specific dates.
This option is irreplaceable if you want to spread your email communication over time and increase your customer lifetime value.
For this, you will need a ShopMagic PRO add-on – Delayed Actions (but it's well worth it and pays for itself quickly).
Segment your customers for better relevancy (optional)
By using filters, you can send separate emails to your customers depending on a set of chosen conditions.
This way you can achieve scenarios like sending custom emails per product, category, or payment method.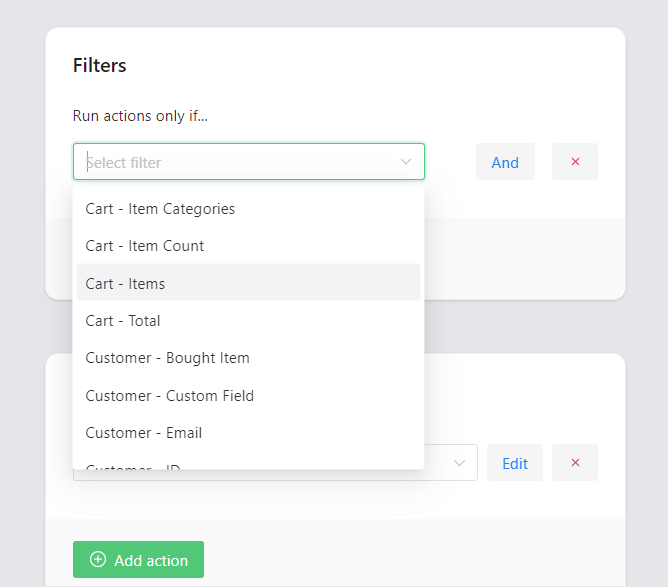 WooCommerce automated emails – summary
Now you know what are automated emails in WooCommerce, where you should look for your automated emails' settings, and even how to create new ones for free without a single line of code.
The next thing you should do?
Download ShopMagic immediately, and start creating your own WooCommerce automated emails in no time!
Last Updated: January 12, 2023
Works with WooCommerce 5.2.0 - 7.1.x