In this guide, I'll show you one of the ShopMagic's feature – Raw HTML. It is very useful, but may not be commonly known. With Raw HTML, you will create beautiful and eye-catching emails in no-time. Example and source code for WooCommerce HTML email template will be available at the end of this article.
WooCommerce HTML email template is available for free
The above title speaks for itself. Free version of our plugin is sufficient to create and use fully customizable HTML email template. As always, you can enhance it with additional features, available in ShopMagic PRO, but any of these won't be required in our example.
ShopMagic. Free marketing automation plugin
With ShopMagic, you can not only create WooCommerce HTML email template. Actually, you can do much more. Here's a sample list of the features available in the free version:
Send customizable transactional emails
Create an email for orders with order pending status
Test your automation before it will be sent
Create marketing lists compatible with GDPR
Segment your customers with available filters
Last Updated: January 12, 2023
Works with WooCommerce 5.2.0 - 7.1.x
ShopMagic PRO. Enhance your e-commerce store
Here's what you will receive when you decide to upgrade to ShopMagic PRO:
Delay an email for a specified time
Advanced customer segmentation
Manually triggered automations
Request for a review
Customer coupons
The above list is incomplete, for example you will also be able to integrate your store with WooCommerce Subscription plugin.
Upgrade cost? $59 per year, which is only $5 per month. I'm certain that you've read it thousands of times, but it really is just a cost of one coffee 😉
Last Updated: February 2, 2023
Works with WooCommerce 5.2.0 - 7.1.x
Our customers love ShopMagic
I'm not exaggerating. Every day, we are receiving massages from both – free and PRO users, who are using ShopMagic regularly. In fact, we are receiving as many ideas for future improvement of ShopMagic, that we decided to gather them in one place. Our Ideas hub is open 24/7, so if you feel that we should add a feature or two, feel free to create an idea.
How to create WooCommerce HTML email template
You need ShopMagic, obviously. Creating any automation in our plugin is easy, simple and straightforward process.
If you don't have ShopMagic installed, you have two options. First, download it from the Plugins section in your dashboard. Second, visit WordPress.org and download ShopMagic directly from the WP website.
Installation and activation process is the same, as for any other plugins. No login or credit card required 😉
Create new automation
For our newly created WooCommerce HTML email template, we need an automation.
Find ShopMagic in your dashboard and click on Add new. You will be automatically redirected to the automation's creator. Starting from the top, add a title for your automation. Title is not required, however it is a good idea to add one. Such a – properly titled – automation, will be easier to distinguish e.g. in the Outcomes.
Event – WooCommerce HTML email template is not dependent from the type of event. You can use every available event, and it will work.
As a general rule, I'm selecting the option to recheck the order status before run.
shopmagic.app
Assigning a filter
Optional step, but if used properly… it can be a game changer. Not assigning filter, will make your automation global. It means that it will trigger for every order with specified event.
If you want to learn more about filters, check our blog and dedicated article.
Create an action for WooCommerce HTML email template
The final step. If you checked out our other guides, you will notice some differences here:
First, from the Action's dropdown menu, select Send Email – Raw HTML. It's required, if you want to use WooCommerce HTML email template.
Second field is description. Similar to the automation's title. Simply describe the automation's purpose. Or not. It's up to you.
BCC field – It's not a mistake. Maybe you didn't know, but it's available starting from 2.4 version of ShopMagic. You may ask – how to add BCC field to your automation? Update ShopMagic to at least 2.20 version, and BCC will be automatically added to your automation.
Subject – How you will attract your customers? Do not forget that this field supports placeholders, so feel free to use them.
Message – The most important field when creating a WooCommerce HTML email template. Here you can write or paste your code. Maybe you have a pre-written HTML template? No problem. You will be able to use it. You can also search for some inspirations in Google. There's plenty of websites with ready to use templates.
Sounds great. Does it really work?
Of course. Check the proof below. I also used one of the available templates. Made some small modifications, changed the images and voilà!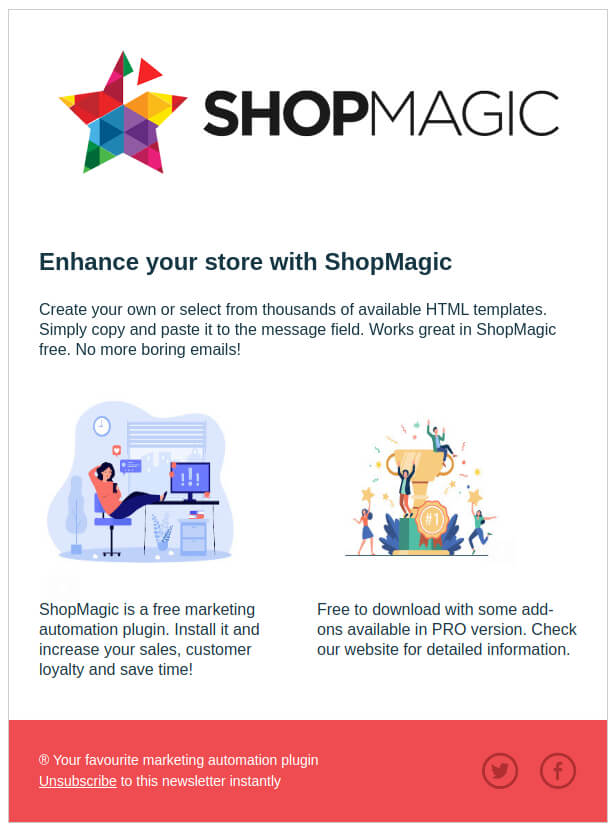 And the winner is…
You. You are the winner. With our plugin, you will be able to increase sales and customer loyalty. What's even better, you will be saving a lot of time through automation. All of this, including WooCommerce HTML emails template, is available for free.
Comment, share, like or subs… Actually, if you have any questions about ShopMagic – simply contact us.
PS. If you want to use the code from this guide, check Pastebin. A little outdated but still working.