Do you have problems with WooCommerce email notifications 🤔? Are you not satisfied with the standard WooCommerce emails? Do you want to improve your communication between your store and customer? Check the ShopMagic marketing automation plugin – our solution for marketing automation in WooCommerce stores.
Are your WooCommerce emails not sent? Would you like to create more email templates and send email notifications, but you don't know how?
For those of you, who value your time (well, who doesn't?) – this article article is short. Read about WooCommerce email notifications. Use the list below to navigate between each section to move directly to the interesting topic ⤵️
Table of contents
Get a free plugin to send email notifications in WordPress and WooCommerce
➡️ Are you having some issues with WooCommerce emails? Then you can move directly to a dedicated web page in our documentation. I'm certain that it will be helpful with most of the configuration/server-side issues.
You may ask now – what will I find in this article, and that is the right question.
➡️ Here's my answer – you will meet ShopMagic, free marketing automation plugin, which will improve your store in so many ways, that you will be asking yourself another question – Where can I download your plugin 😜?
Right here, just click the Download button:
Last Updated: September 21, 2023
Works with WooCommerce 5.2.0 - 7.1.x
About marketing automation
Before we will move to the main topic of this article, which are WooCommerce email notifications, a few words about marketing automation in general.
So, what exactly is marketing automation 🤔?
One of the definitions which I found says that it is a "technology that manages marketing processes and multifunctional campaigns, across multiple channels, automatically". The rest of the definitions which you can find are similar and a little too technical from my perspective. Because they don't tell anything about the benefits of implementing marketing automation in the WooCommerce stores.
➡️ So, here's mine – Through the proper implementation of marketing automation, you will be saving time, earning more money, and last but not least building customer loyalty. What is even better, all of these will happen at the same time 🪄!
What is ShopMagic?
In a few words – the only marketing automation solution for your WooCommerce store, that you'll ever need 😜.
Last Updated: September 21, 2023
Works with WooCommerce 5.2.0 - 7.1.x
➡️ Take a look at the automation settings:
And this is the WooCommerce email notification edition: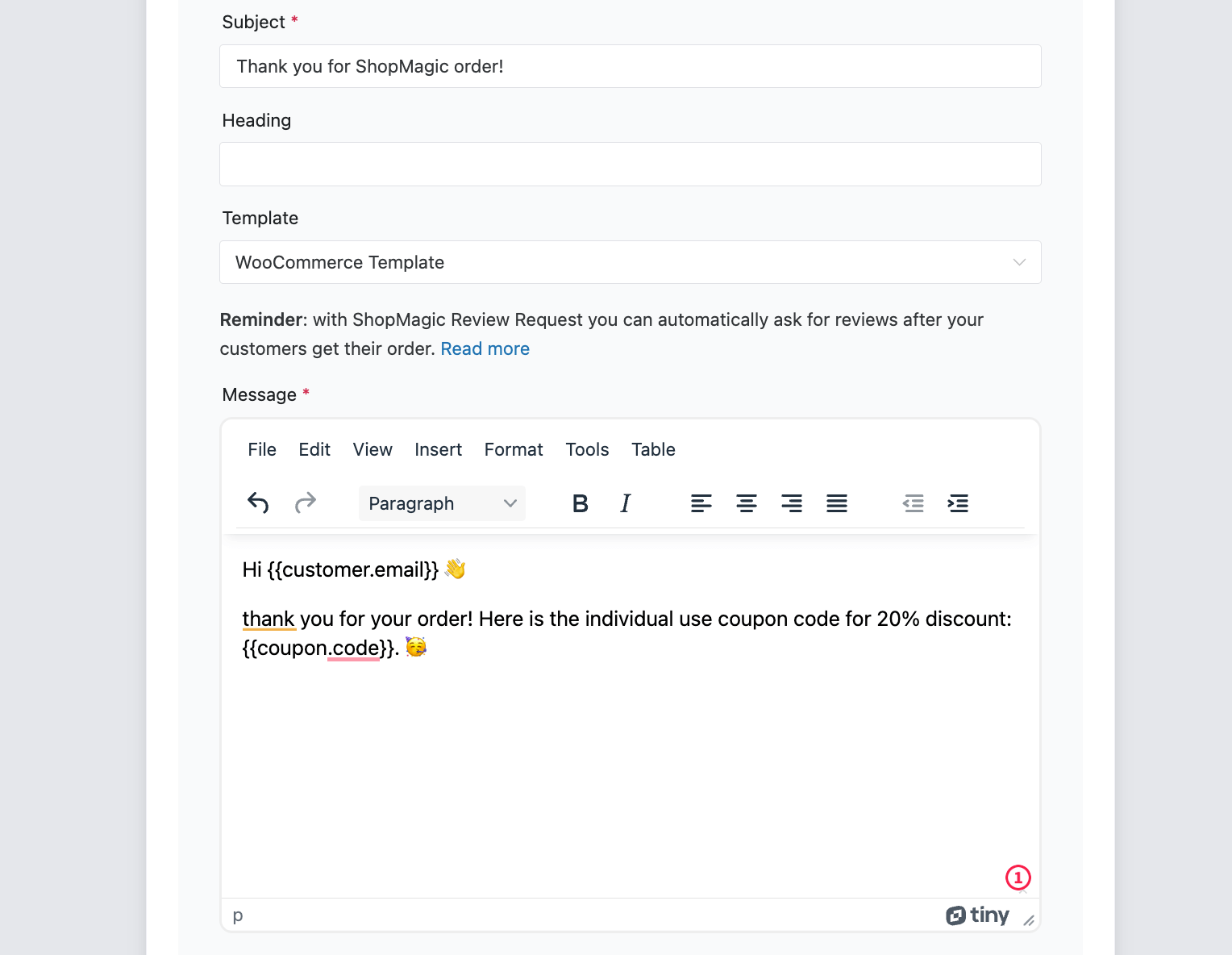 ➡️ Long story short:  ShopMagic is a marketing automation plugin, which lets you automate most of the repetitive tasks, improve your communication with the customers and increase your conversions.
➡️ With ShopMagic, you will be able to segment your customers with the filters, integrate your store with Slack or MailChimp, and recover abandoned carts.
All of these are available to you for free. The above feature list is quite impressive but if it's not enough, check the power of add-ons section where you will find detailed information about all of the ShopMagic possibilities.
👉 As you can see, you will be able to do much more than just send WooCommerce email notifications to the customers.
WooCommerce email notifications
In the previous section ⤴️, I wrote about some of the features available in ShopMagic, but that's not all. Our plugin has at least two other advantages over standard WooCommerce emails 💣.
1️⃣ First, you can personalize them to fit your needs. This includes an email created in HTML which you can send with ShopMagic, and it will look exactly like in your editor.
2️⃣ Secondly, ShopMagic has a built-in feature called Outcomes. It is our version of logs. Thanks to it, you can check your emails. No need to install additional plugins.
The power of ShopMagic add-ons
😀 This is where ShopMagic shines, and you can feel its power. The free version of our plugin is very useful and will be sufficient for many users. But what if you want to extend ShopMagic functionalities? Let me introduce some of the most powerful add-ons below:
Delayed Actions
With the Delayed Actions add-on, you will be able to delay every automation for a fixed number of minutes, hours, days, or weeks.
Works amazingly well with reviews or coupons. Give your customers the time needed to familiarize themselves with the product and set an automated email to be sent 10 days after the order is shipped. Another example? Personalized coupon which will be sent 2 weeks after the purchase.
Manual Actions
Do you want to send a specified WooCommerce email notification or newsletter? No problem because it's possible with the Manual Actions add-on.
Set up a new automation with the Order Manual Trigger as an event, add filter and action, and fire your manual action. You decide when and how to use it. We are giving you the right tool to not only send automated emails but to trigger them manually when needed!
Advanced Filters
Do you have a specified group of customers, which you want to target in your communication? This is where the Advanced Filters add-on steps in.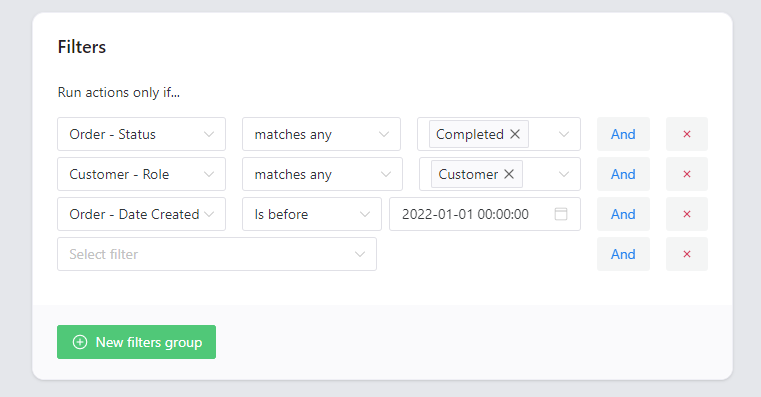 ➡️ Usage example? Here you are. You can send manual emails to the customers who bought at least 2 products in July and paid with PayPal. You can also choose a group of customers who spend at least $500 on a specified product category and send them personalized WooCommerce email notifications. The decision, as always, is entirely on your side.
Are there any other add-ons?
Indeed 😜. A lot of them. Review Requests, which lets you send a direct link to purchased products or Customer Coupons to create personalized coupon codes for customers and send them automatically.
Summary & more about ShopMagic
Today, you've learned how to create, customize, and send email notifications in WordPress and WooCommerce with ShopMagic! I encourage you to download the free plugin!
Last Updated: September 21, 2023
Works with WooCommerce 5.2.0 - 7.1.x
What WooCommerce email notifications will you create?
As you can see, tons of WooCommerce email notifications can be sent with ShopMagic. Both the free and PRO version adds very useful features to your WooCommerce store and extends its standard capabilities.
Let me know what kind of WooCommerce email notifications are you gonna send. As always, remember that we are here to help, so if you will have any other questions about ShopMagic – write to us.
P.S. Do you know that you can try the PRO version of ShopMagic? Test the plugin in your free demo for 7 days. No strings attached 😜.