In this article, you will find at least three (possibly more) benefits of using a marketing automation plugin in your WooCommerce. Send automated emails and get higher sales.
Are you tired of manual emails, repetitive tasks, and little time for anything else 🥱?
➡️ Today, I will show you how to have more time and sales with the marketing automation plugin for WooCommerce!
Table of contents
Let's start with a riddle:
It saves you a lot of time, builds customer loyalty, and earns you more money. All at the same time.

What is it❔
➡️ Do you know the answer? Good for you!
🚫  If you don't, grab a coffee – or another favorite drink – and spend the next few minutes, reading about the benefits of marketing automation. I'll try to briefly explain why you should use marketing automation in WooCommerce stores.
There are tons of articles, which are defining and explaining the benefits of marketing automation with lots of technical jargon. In this article, I'll try to simplify things and show you the most important advantages of marketing automation. To do it, we will use the hints from the puzzle, with some additional examples.
Marketing automation in WooCommerce saves you a lot of time
Using marketing automation solutions, lets you automate regular or repetitive (but still important!) tasks and spend time on more complex work. Of course, marketing automation is not only used to do simple work – it can do much more.
✅ From the customer's perspective, it is welcome (if not required!) to be informed about changes in order status. From a shop owner's perspective, it's desirable to reward customers with coupons, inform potential clients about abandoned carts or send some review requests.
All of this takes time. A lot of time, which is increasing with every additional client and product in the store.
✅ With marketing automation software, like the ShopMagic plugin for WordPress and WooCommerce, all of the work can be done in no time. What is even better about automating tasks, is the fact that setting up a bunch of automation in ShopMagic is a classic example of doing more in less time.
An appropriate set of automations will reach hundreds of clients or newsletter recipients, while you… well, it's your saved time, so do whatever you like😉.
Build customer loyalty with personalized emails
😀 A loyal and happy customer is worth its weight in gold. Well, not literally, but almost every shop owner knows the importance of a long-time relationship between him and his customers.
👉🏿 Building a strong relationship with the customer is a slow process. Not to mention bigger stores, with bigger customer bases, where it is almost impossible to personally interact with every client.
What can you do? Forget about it? Can you afford it?
It's not hard to guess what will be your answer to such a question. Here comes the solution, which is ➡️ marketing automation.
Marketing Automation Plugin for WordPress
We are developing ShopMagic🪄, not only to maintain the relationship between the shop owner and customer but also to extend it. How is it possible?
✅ You can send automated and personalized emails in WooCommerce with a free plugin:
Last Updated: November 15, 2023
Works with WooCommerce 5.2.0 - 7.1.x
✅ It gives you a nice email customizer UI to create custom email templates for WordPress and WooCommerce.
➡️ Customers can get from this: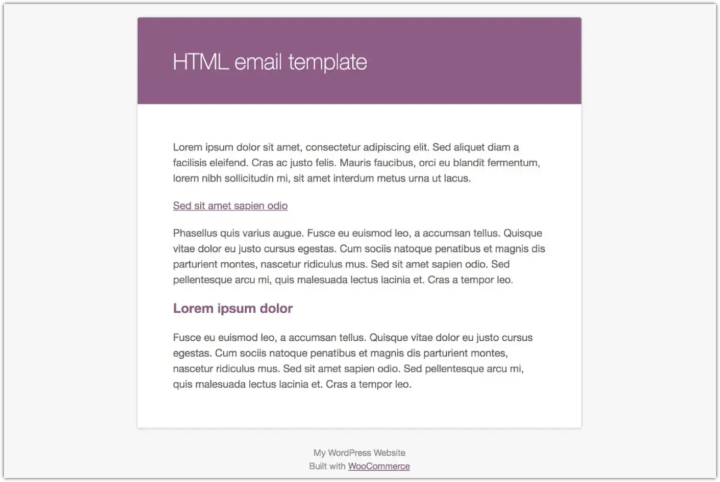 To this!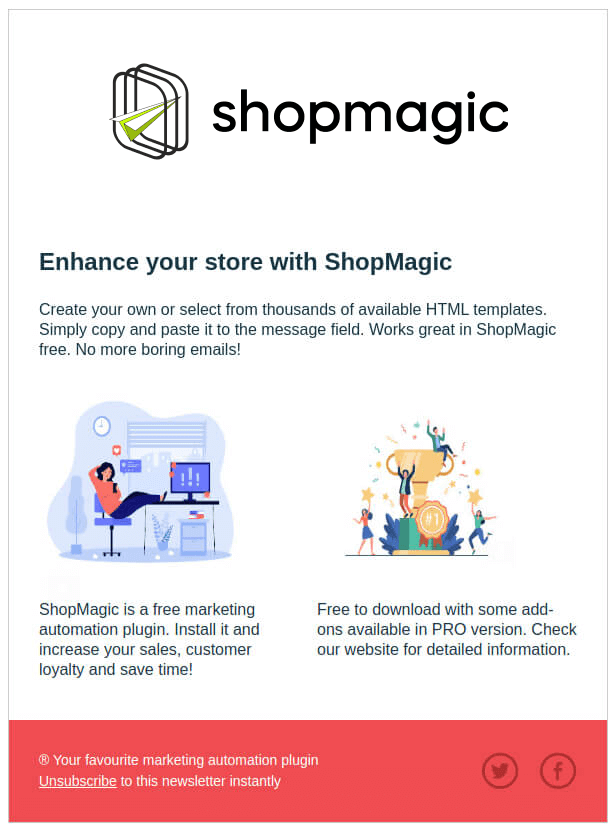 🪄
ShopMagic
will also let you send
delayed actions
and
request reviews
. Moreover, you will be able to personalize interactions, with customer coupons or exclusive offers.
Earn more money
If you read previous hints, I bet that you'd thought about the impact of marketing automation on the company's revenue. Indeed, I like to think about it in two ways – passive and active. Passively – through saved time and loyal clients, encouraged by your actions (automations!), visiting your store more often.
What if you add some more active actions, like cross-selling and up-selling products? If that is not enough – we are working on a special add-on to ShopMagic, to solve the problems with abandoned carts in WooCommerce stores.
One more hint. Marketing automation in WooCommerce can be free!
Sounds good? So here's one more reason to implement marketing automation solutions in your store. It's free. Well, it can be if you will choose ShopMagic.
Last Updated: November 15, 2023
Works with WooCommerce 5.2.0 - 7.1.x
💡 Core functionalities of ShopMagic are and always will be free. If that's not enough for you, check
ShopMagic PRO →
. It comes with lots of add-ons, like customer coupons and review requests.
If you are still not convinced and asking yourself…
What should be the next step? Should I give it a chance? Will I benefit from it?
Here's the answer – Yes✅. But don't count on me in that matter. Check more than 1000 WooCommerce stores, which are using ShopMagic regularly.
Summary & more about ShopMagic
Today, you've learned about the benefits of marketing automation in WooCommerce. I've shown you a free plugin to send customized emails in WordPress and WooCommerce.
If you have any questions, use the comment section below. We – WP Desk, a team behind ShopMagic (and a lot of other amazing WooCommerce plugins) are always ready to help you.