Beginning of a New Year is a good — if not perfect — moment to implement marketing automation strategy to WooCommerce store. We prepared an example set of automations for your WooCommerce store, ready to increase its revenue right away. The only requirement is ShopMagic marketing automation plugin.
ShopMagic is a beginner-friendly plugin
Important note, before we will move further. Do not worry if you are WooCommerce beginner and starting new WooCommerce store in 2021. Marketing automation ideas in this guide are quick and easy to implement. All of them were designed to be as simple as possible and achievable by every WooCommerce store owner.
What will you learn from this article?
You can implement any of the presented WooCommerce marketing automations, however they are complementary to each other and works best as a set. Every part contains a link to a detailed step-by-step guide, where we explain how to create specific automation.
Buckle up and let's dive into 2021 with this guide to WooCommerce marketing automation strategy.
WooCommerce marketing automation strategy for 2021
The strategy which I'm going to describe will be suitable for every WooCommerce store. No matter what product or services are you selling — this guide is for you. What is more important, this article is not canonical, and you can modify presented automations to your needs. However, if you implement them right as they are — I'm certain that they will work.
How can I be so confident? Because we tested it. It is not a theoretical construction, but a real and working strategy. Thanks to it, we could increase conversion rate and improve customers happiness. All at the same time and to be completely truthful, without much effort. You only need ShopMagic plugin and a little of your time.
If you are using the free version of ShopMagic — that's perfectly fine. You will also be able to implement WooCommerce marketing automation strategy in your store. ShopMagic PRO has great additional value, but is not required.
How this marketing automation strategy is built?
It is a set of three complementary automations which are available in ShopMagic.
First, we will create an automation to recover abandoned carts. Then, we will put some emphasis on personalizing emails and lastly, take care of customers' post purchase experience.
Aforementioned set of automations and follow-up emails will cover before and post purchase customer experience.
Recover abandoned carts in WooCommerce
Our starting point. Every WooCommerce store has abandoned carts. Abandoned carts are inevitably connected with online sales. You can ignore them or start to converting them into orders.
ShopMagic has a dedicated add-on which was designed specifically to recover abandoned carts. This add-on will let you create automation, which will recover those pesky abandoned carts. What's even better – ShopMagic Abandoned Carts is 100% free to use.
shopmagic.app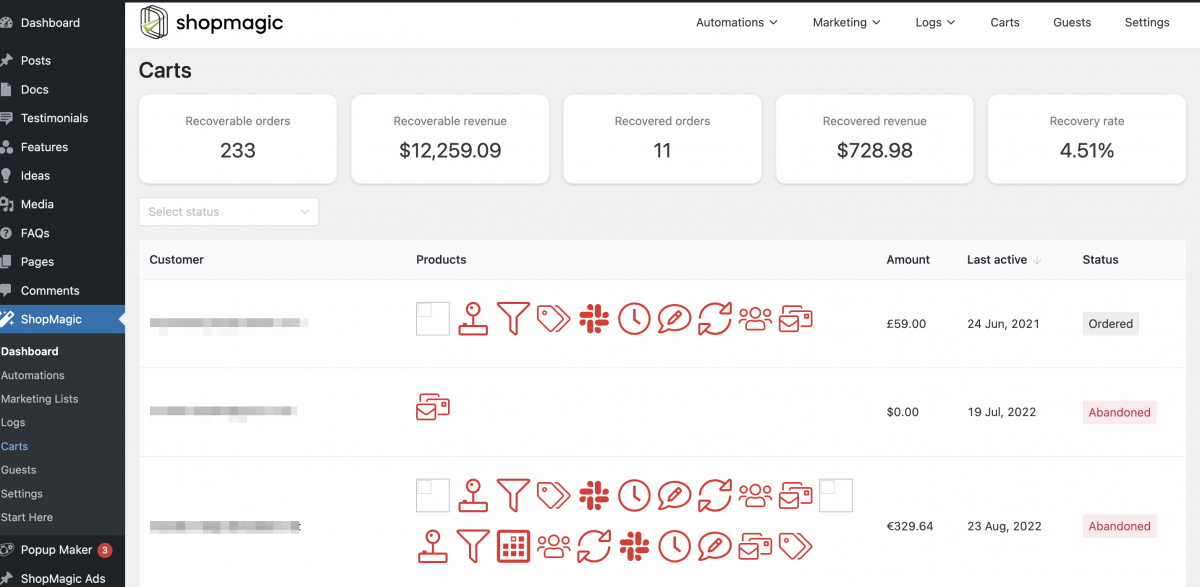 How does it work?
When installed and activated, ShopMagic Abandoned Carts is starting to track users carts. You, as a shop owner can create an automation which will trigger, when the user will abandon the cart. How do you know that the cart is abandoned? You decide! Well, with a little help from our plugin. You can specify a number of minutes, when ShopMagic will consider the cart as abandoned.
For example, setting it for 30, will trigger an automation 30 minutes after the last user's activity in your store. That's it!
shopmagic.app
If you are looking how to create such an automation, we have a dedicated guide. This guide will walk you step-by-step through recovering abandoned carts in WooCommerce stores.
As automation for recovering abandoned carts is ready, we can move to the next section, which is email personalization.
ShopMagic lets you create personalized emails
We think that emails should not only be personalized but also pretty and eye-catchy. Luckily, our plugin lets you create such emails without much effort.
All you have to do is to create (or import) an HTML template. If you have one — great, you can use it. You can also create a completely new one and paste it into the message field. Finally, internet is full of inspirations and ready to use free templates. If it's an HTML and you selected the proper action type in ShopMagic — you are all good.
We even have a guide, how to create a WooCommerce HTML template with some code examples.
Why am I paying such an attention on creating beautiful emails?
Personalized emails have better visibility. We receive tons of generic and similar emails every day. Using an HTML template will distinguish you from the competition: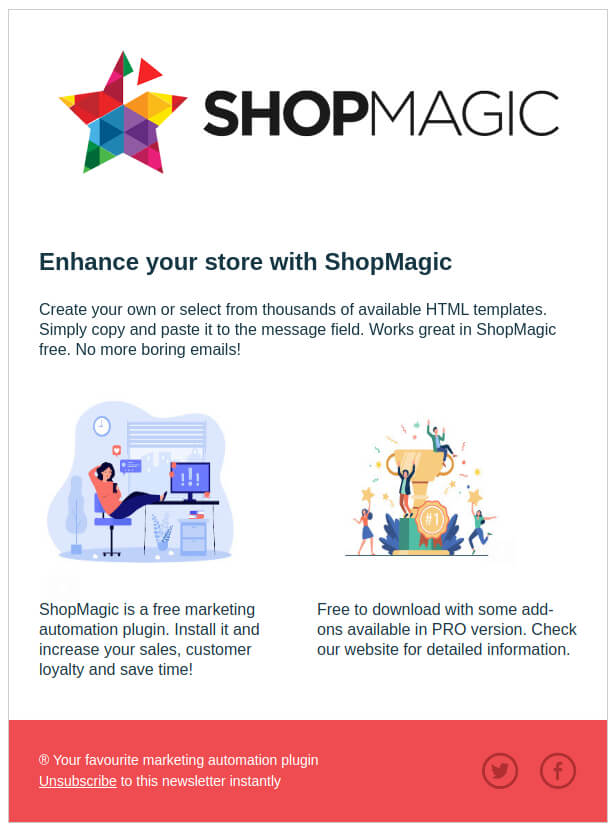 Customer's post purchase experience
The last automation in WooCommerce email marketing strategy will be a follow-up email. Why even care about post purchase experience? Some may say that job's done, order placed and money paid. Well, it's not exactly true. In fact, it's only half of the battle.
If you are a newbie in WooCommerce and marketing in general, here's a piece of advice. Keeping a customer is far cheaper than acquiring a new one. Loyal customers are also the best type of customers, as they are not only purchasing regularly, but also they can be (and often are) the best advocates of your company.
Check some of the ideas for WooCommerce post purchase follow-up emails:
Post purchase social media email
If you are certain that customers are happy with their orders, consider to inform them about your social media profiles. You can create a completely new automation or add links to your profiles in every automation created in ShopMagic.
shopmagic.app
WooCommerce Post purchase survey
Rare, hence valuable example of WooCommerce post purchase email. Create and send a survey to your customers, which let you receive some feedback about your store or business model in general. If you are using ShopMagic PRO — check some of the available filters which you can find in Advanced Filters add-on. You can use them to segment your customers and send survey to selected customers only.
Post purchase email checking-in email
If you have ShopMagic PRO, you can delay automations for a specified time. Let your customer receive, unpack and get acquainted with the ordered product. Set a delay for somewhere between 7 and 10 days. What can you write in such a WooCommerce post purchase email? Ask your customer is everything ok and is he or she satisfied. You can even move one step further and ask your customer for a product review. ShopMagic lets you create an automation which will trigger when the customer will review your product.
This list can go on and on, but I think that you know the drill. Remember that each of this WooCommerce post purchase emails can be created with an HTML template.
Your WooCommerce marketing automation strategy is ready!
What do you think about it? Will you implement every automation or only selected ones?
Remember that with ShopMagic, you can create almost any WooCommerce follow-up email. Once you create your first automation, you will easily create another and another. Why? Because the core of every automation is similar, and you only have to change its conditions and message.
Finally, If you do not have our plugin, here it is:
Last Updated: January 12, 2023
Works with WooCommerce 5.2.0 - 7.1.x
Download ShopMagic for free and join more than 10,000 WooCommerce stores where ShopMagic is increasing conversion rate!
As always, if you have any questions – we're here to help.