If you are looking for an AutomateWoo free alternative for your WooCommerce store, you've come to the right place. ShopMagic is a free marketing automation plugin for WooCommerce, which will increase your sales and customer loyalty. ShopMagic also comes with a PRO version, which will empower your WooCommerce store even more.
Have you ever wanted to automate WooCommerce emails and marketing with Automate Woo, but a little cheaper?
Today, I will show you how to use our free email marketing automation plugin for WooCommerce!
Table of contents
What is marketing automation for WooCommerce?
Some of you – especially readers of our blog 💕  –  know what marketing automation for WooCommerce is. There are tons of definitions of it.
➡️ Marketing automation is a way of making more money, acquiring customer loyalty, and saving time, at the same time. ⬅️
If you want to find out more about it, check the dedicated article which unveils the magic behind marketing automation in WooCommerce and ShopMagic. Whereas in this article we will focus on finding an AutomateWoo free alternative for WooCommerce, so we won't be discussing this topic more widely.
There are three key objectives behind our mission:
1️⃣  Save time and money.
2️⃣ Create an improved store.
3️⃣ Sell more.
We have plenty of plugins in our portfolio and we feel that we are covering objectives 1 and 2 quite well. However, we've felt that something should also be done in objective number 3. That was the main reason why we are still trying to improve ShopMagic. And since day one, we knew that ShopMagic would be the best AutomateWoo free alternative 🙂.
How come? We've been using AutomateWoo daily, but on the other hand, we felt that there's a place for improvement. Now, after a few months of improvements and continuous work, it's not a feeling anymore. We are sure that ShopMagic is the best AutomateWoo free alternative for WooCommerce stores. And here are the reasons behind that certainty.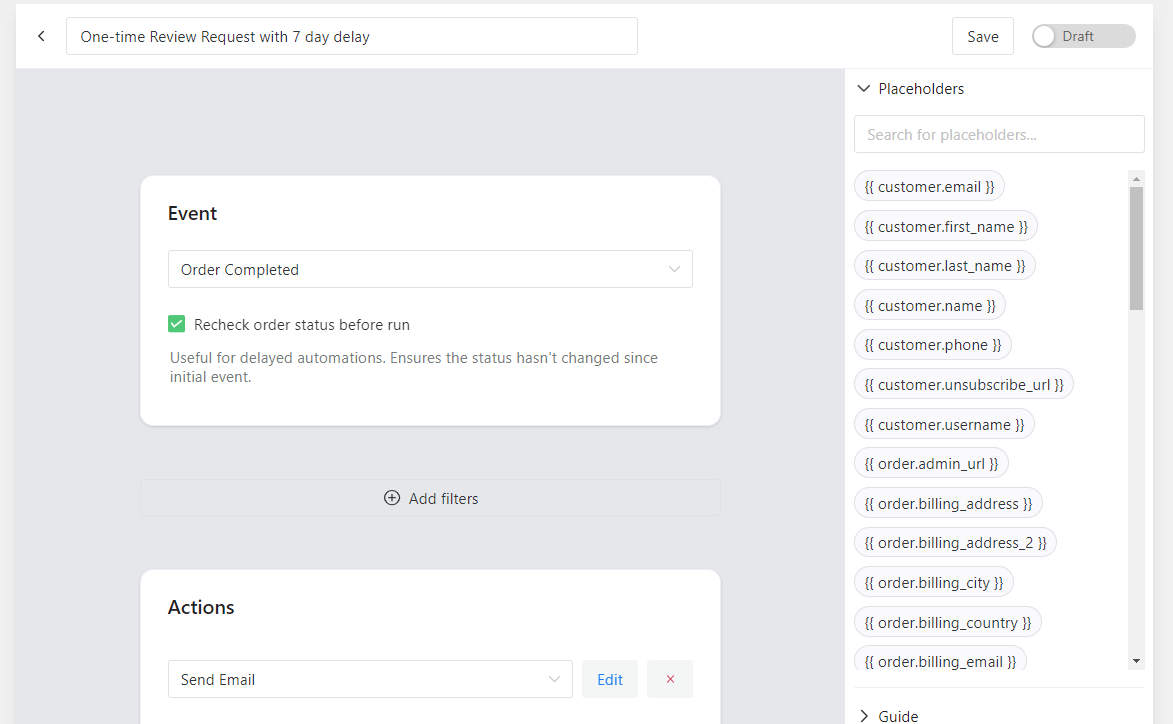 ShopMagic as an AutomateWoo alternative [free]. The price factor
The price difference between these two marketing automation plugins for WooCommerce is obvious, but I feel that we should add something here😉.
AutomateWoo costs $99 per year for a license which you may use on one website. ➡️ ShopMagic in its core version is free. ⬅️ If you, as a client, decide that a free version is not enough, you can extend your license for PRO features. ShopMagic PRO costs only $69 for the same as AutomateWoo, a 1-site subscription valid for one year.
Sounds good? But that's not all. We also offer a 25-site subscription for $99, which is the same price as a 1-site AutomateWoo subscription. $4 for 1 website! This results, that ShopMagic is not only an AutomateWoo free alternative but also a paid alternative 😜!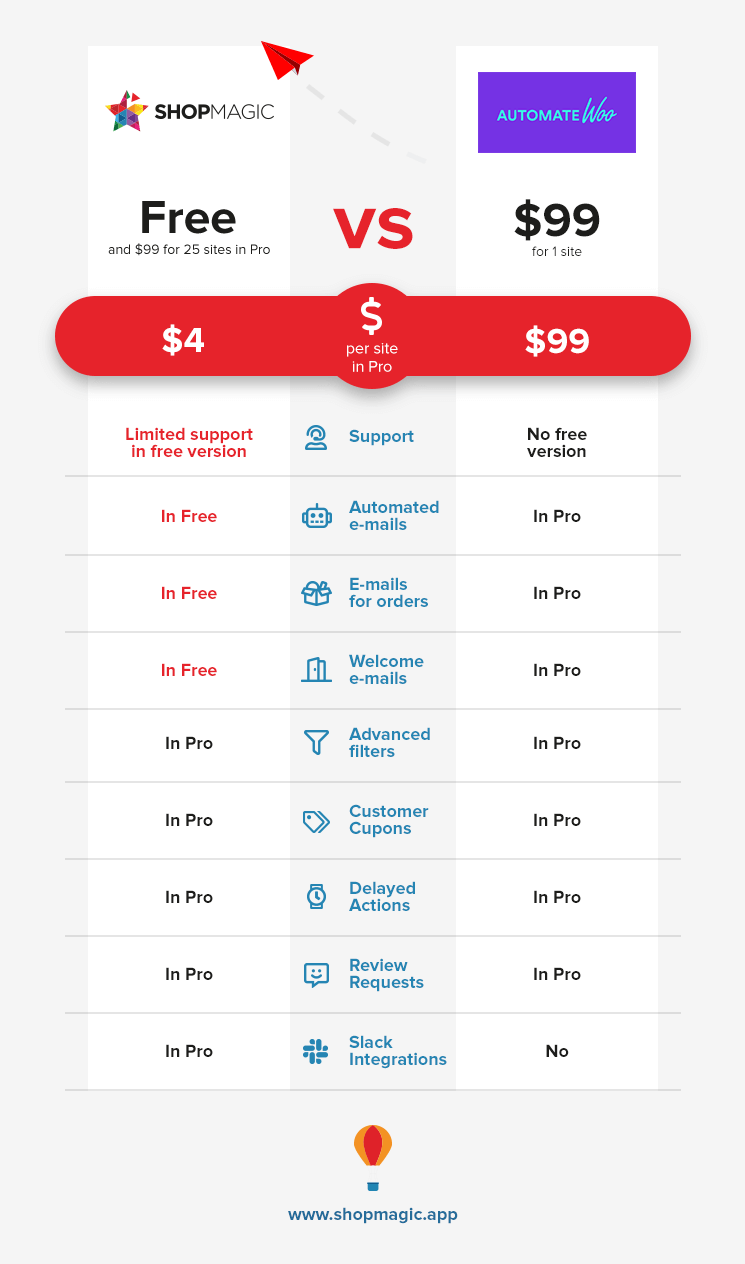 Download the plugin and build successful marketing automation in WooCommerce today!
Is this AutomateWoo alternative two times cheaper or four times cheaper?
There's one more thing that should be added here. AutomateWoo – apart from its core $99 price features – offers some additional add-ons. And these add-ons are not free. Their prices range from 39 to 79 USD. So in its full option, AutomateWoo will cost you $217 (99 + 39 +79). At the same time, none of the add-ons available in ShopMagic is chargeable. ShopMagic add-ons are free for our active PRO customers!
To summarize, for a price of $69 you are receiving all of the – present and future – functionalities of ShopMagic.
It's four times cheaper than the same version of AutomateWoo!
ShopMagic as an AutomateWoo free alternative
We know it's hard to compete with AutomateWoo, but we took on the task. I think it is coming out quite well 😊. Let me invite you to a summary and comparison of ShopMagic and AutomateWoo. See what our free WooCommerce automation plugin can offer you and what the main differences are.
➡️ Features
The difference made by the price is important but it's not the only one. If we compare the raw list, it will be noticeable that ShopMagic has fewer features than AutomateWoo. However, when I'm looking at the development of both plugins it looks different.
Let's have a look at what we have done in the recent past.
Starting point – ShopMagic 3.0
Some months ago, we released ShopMagic 3.0 with lots of changes and improvements. The whole automation workflow had been rebuilt. Events, filters, and actions are now completely rewritten and ready for future improvements. We are ready to compete and not only become an AutomateWoo WooCommerce free alternative but to become the number one free marketing automation plugin!
ShopMagic (AutomateWoo alternative) stands for…
Since the release of ShopMagic 3.0, nothing is the same anymore. As of now, you can not only create WooCommerce automations but also have access to features like the ones below ⤵️:
Action scheduler and custom order statuses
✅  Rechecking the order status before running an action is available both for free and PRO users.
Full support for custom order statuses. Integration with Slack, which wasn't the most requested feature but what a useful one! We've also switched from WP-Cron to Action Scheduler for better reliability.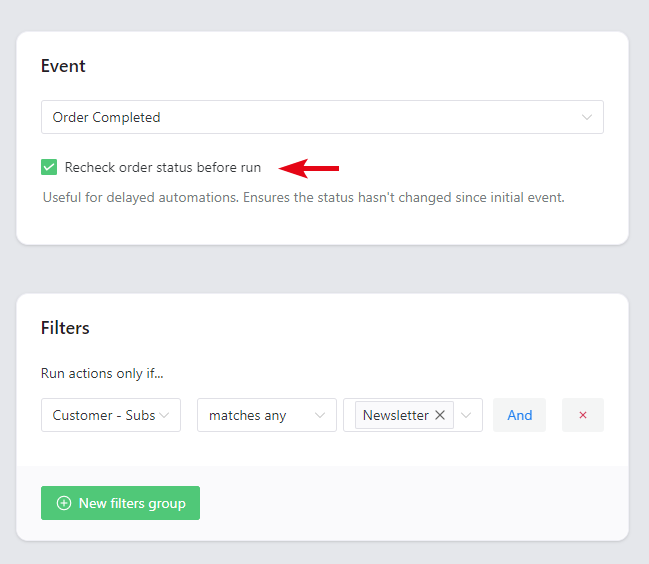 Raw HTML email and instant feedback and support
We remember about our free users and we feel that we are a real AutomateWoo-free alternative. Now you can choose from Plain Text or Raw HTML: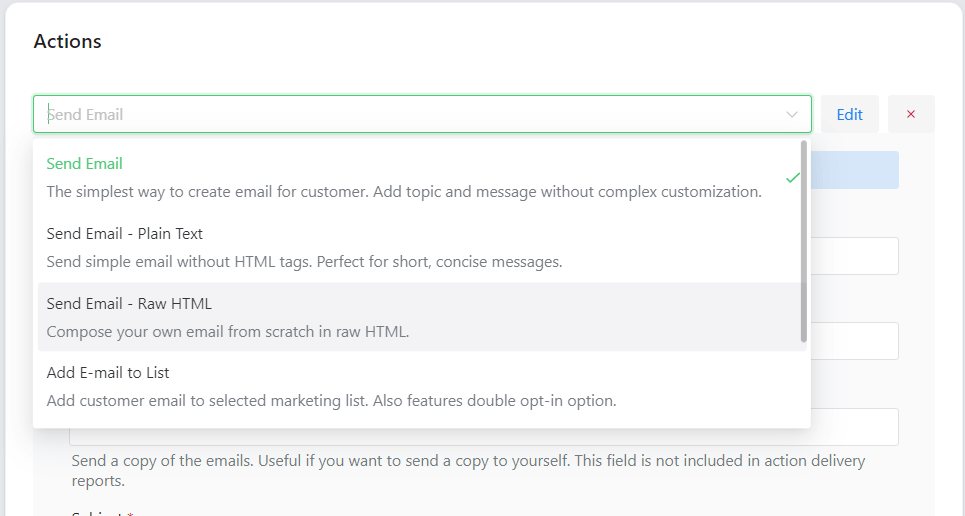 ✅ Apart from that, what really  makes the difference, is our customer service – always ready to help with whatever you need. You can always ask for my or my teammates' help.
Review Request add-on
What a ride! We needed only one week to deliver a highly desired Review Request add-on. With the addition of the Review Published event, you can send an email to your customers and thank them for the review. On the other hand, you may also send an email or Slack notification to yourself or your employees.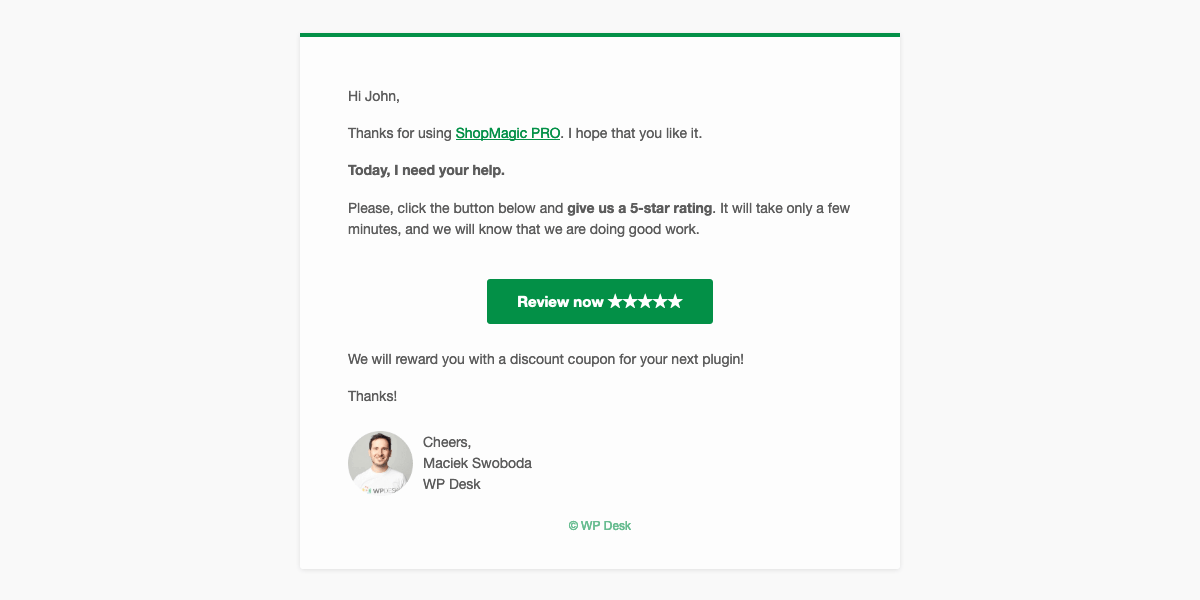 Customer Coupons and placeholders UI
Another great ShopMagic addon that you can't miss in your store. Meet ShopMagic Customer Coupons.

✅ This add-on opens up whole new possibilities for your WooCommerce store. Thank you coupon, cross-sell coupon, upsell coupon, reminder coupon, or whatever you like or need. The whole coupon world is open to you. We've also made some UI changes to placeholders and given them a modern and better look. Another small step as an AutomateWoo-free alternative – check!
Advanced Filters
Advanced filters and conditional logic transforms ShopMagic into advanced marketing automation WooCommerce software, which can cover almost every scenario.
✅ With the power of advanced filters, shop owners can now precisely segment customers. Most of this add-on is for the ShopMagic PRO users, but – as always – there's a piece of cake also for free users. We remember our goal, to not only be an AutomateWoo free alternative but to become the #1 free marketing automation plugin.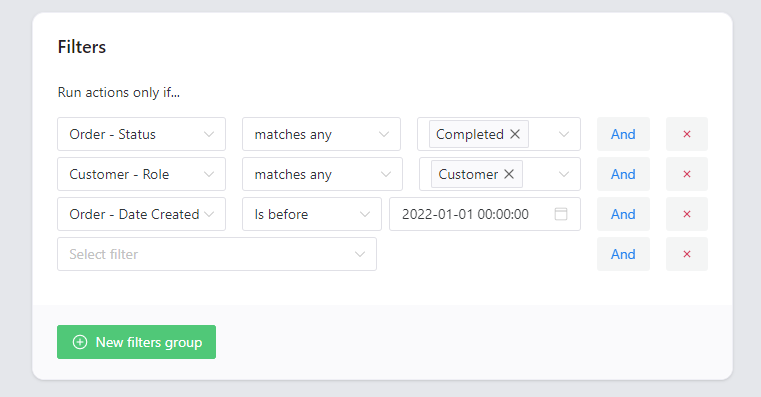 Manual actions
It was a highly requested feature and we hear y'all 👂🏽!  Many of you emailed us about this feature. So, yes. I can confirm that we have it covered now. Let me introduce you to ShopMagic Manual Actions.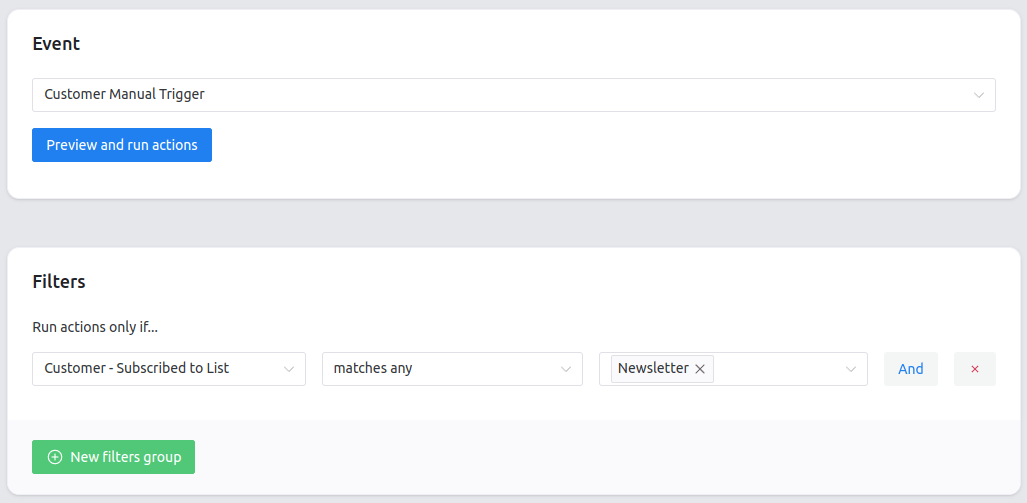 Abandoned carts
Another highly requested feature. It just had to be done. However just "done" is not enough and this add-on had to be done well. ShopMagic Abandoned Carts is powerful by itself and what's more, it is covered not only logged users' carts but also guest carts!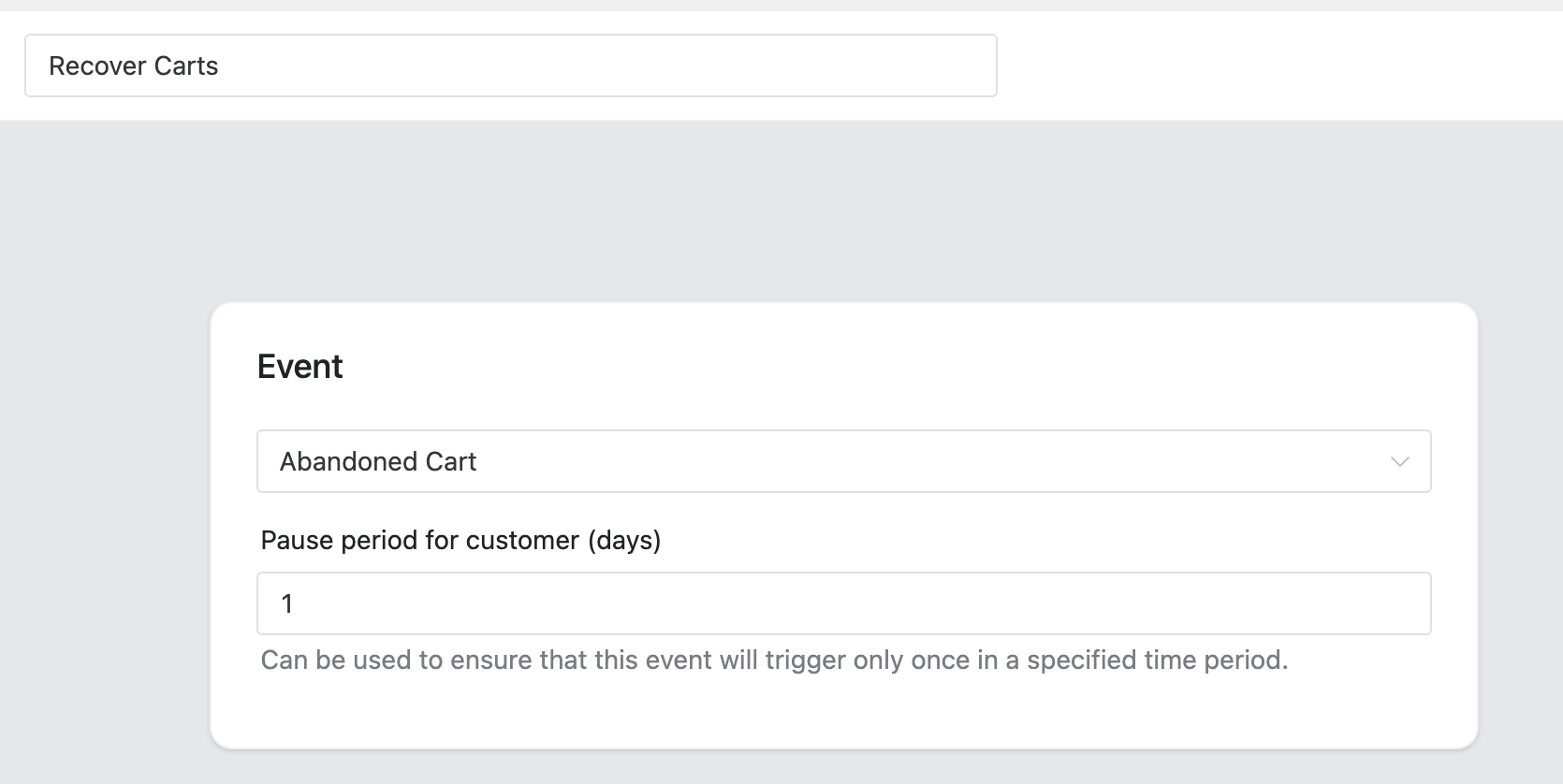 Email log
This is a very useful feature for both – you as the customers and us as developers. Email log lets you check the status of all of the emails created and sent with ShopMagic email automation in WooCommerce. And finally, it is available in ShopMagic – both the free and PRO versions!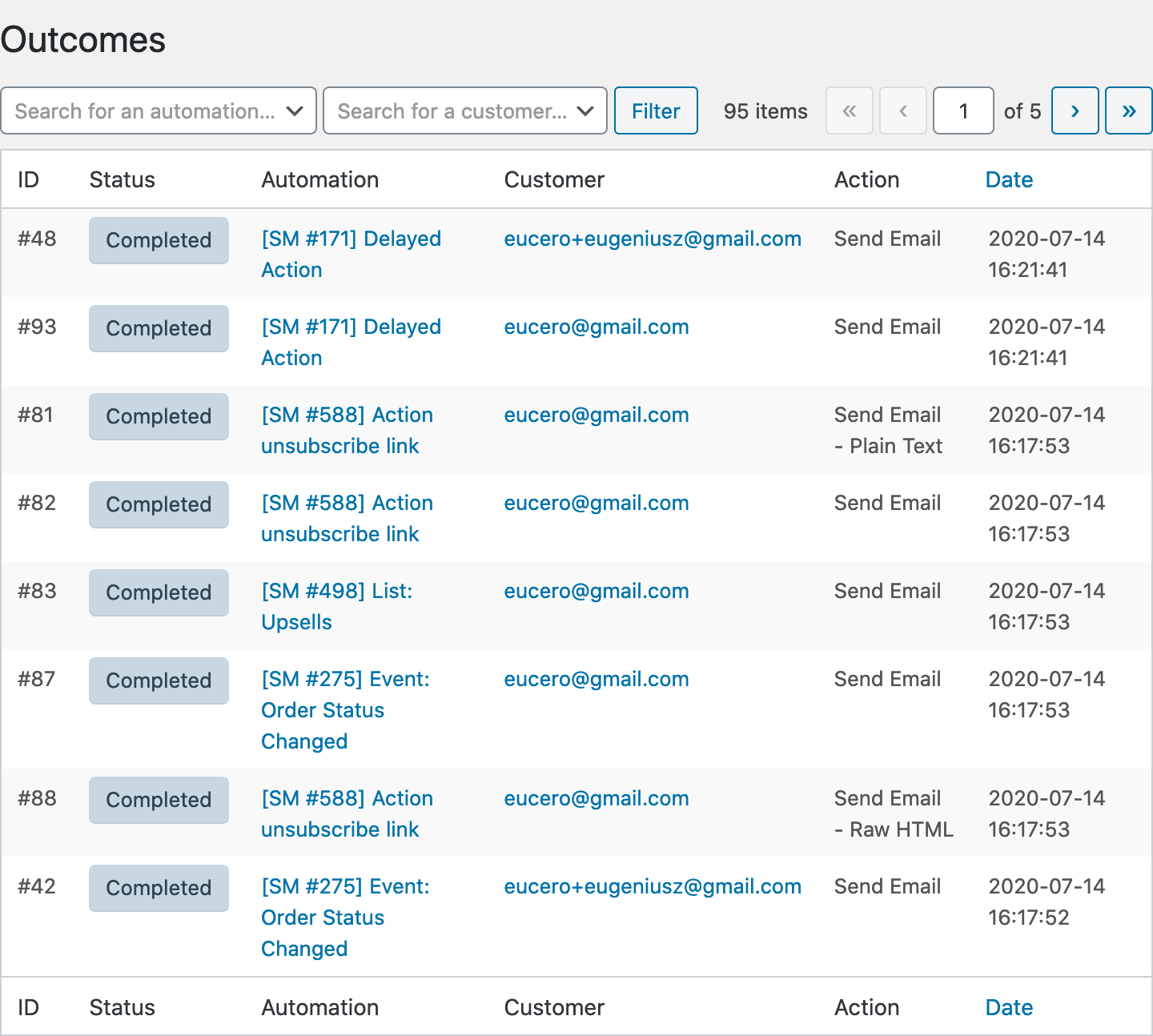 New filters and placeholders
We are constantly adding new placeholders and filters to our plugin. These are small changes but with a significant impact on ShopMagic. Many of the new filters and placeholder ideas came from our customers who wanted to customize ShopMagic to their needs. Another advantage when considering ShopMagic as an AutomateWoo free alternative for WooCommerce email automation😊.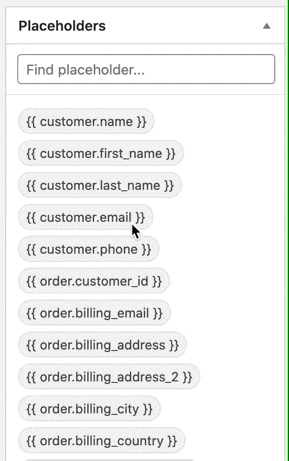 We've also covered some additional work
Quite a list, right 😜? Let's add a dozen articles and documentation pages to that and hundreds of answered questions to further astound. Even we, a quite small team behind ShopMagic feel proud for what we've done in such a short time.
The future of ShopMagic. Not only as an AutomateWoo free alternative
I had a chance to present what we've done but let's not forget about the future. We have a ton of improvements and add-ons, which we are going to implement in ShopMagic. For now, it has to be a secret but believe me, we won't be missing anything compared to AutomateWoo if we introduce them all 🪄.
New integrations
The list of possible integrations is very long. Mailchimp and Slack integrations are already implemented. Most likely, we will focus on WooCommerce Subscriptions, FreshMail, and Mailjet as the next integrations 🚀.
Community involvement is an important part of ShopMagic
The commitment of our community to our products is something really special for all of us. By all of us I mean not only our team but the whole company behind it – WP Desk. From the very beginning, we are cooperating with our customers to deliver better products. More importantly, a huge amount of ideas implemented into our plugins were created in our customer's minds. In ShopMagic, we even have a special place, where you may submit your ideas for the future development of our plugin.
AutomateWoo free alternative or an equal rival
This is the place where we are now. Confident in a product. With a clear roadmap and a dedicated team that is here not only to create and deliver but also to cooperate and help. Team confident in the future of ShopMagic as not only an AutomateWoo free alternative but as an equal competitor and a future of marketing automation in WooCommerce stores. I hope that you will join us on that journey.
Thank you for all of the ideas 🧡
I would like to take this opportunity and on behalf of our team say thank you for all of your ideas and emails. We are reading all of them. Some of the ideas are already part of ShopMagic – not only an AutomateWoo-free alternative.
Download the free plugin and start marketing automation in WooCommerce for free!
If you have any questions, let us know!