This article will focus on customized WooCommerce triggered emails. I'll explain how to create and send such emails for orders with the WooCommerce order processing status. All of this, available for you in the ShopMagic free marketing automation plugin.
What is ShopMagic and how can you use it?
Before we dive into our guide, let me introduce our plugin, because as you will see – or hopefully test by yourself – such a multitasking plugin deserves proper introduction.
ShopMagic is a free follow-up emails and marketing automation plugin for WooCommerce. Thanks to it, you will be able to create and send WooCommerce triggered emails. Free version of ShopMagic covers all the WooCommerce order statuses and lets you decide whether you will be sending emails to all or selected customers.
ShopMagic PRO adds a few additional features like the possibility of delaying an email or Manual Actions. Manual Actions are a textbook case of WooCommerce triggered emails, as you have to trigger them when you need them. If you want to test it out, check out our demo and test it freely for 7 days.
If you still hesitate, check some of the reviews, which we received from our users:
Customized email for WooCommerce order processing
WooCommerce order processing status is very common and it's a perfect moment to send WooCommerce triggered emails to the customers.
So, when exactly the order receives the processing status? When the payment is received and stock has been reduced. It's worth noting that almost all the products require processing. However, there's one important exception. The product which is both virtual and downloadable will receive order completed status, right after it is paid.
What other WooCommerce triggered emails can you send with ShopMagic?
Well, it depends on you but our plugin supports every WooCommerce order status. Below you will find a list of useful guides, which you can use as a base for your future automations:
Processing Order (this guide)
Check them out and if you will have any questions, feel free to contact us.
Great. As you are familiar with ShopMagic we can move directly to our guide. As I mentioned earlier we will create an automation for WooCommerce order processing.
Step 1: How to install and activate ShopMagic
There are two ways of doing this. You can install ShopMagic from the admin's dashboard or download a zip file from the WordPress.org. In both cases it will be the most recent version.
shopmagic.app
Step 2: How to create an automation in ShopMagic
Creating an automation is a simple and quick process. Find ShopMagic in your dashboard and click on the Add New button. It will open a new window, in which we will set up new automation.
shopmagic.app
Choose a name for your automation. In my example it will be "WooCommerce order processing email". How you name your automation is entirely up to you, but I recommend a name which will be easy to distinguish.
Now it's time to choose a correct Event. I suppose that you know why I selected Order processing. As always, my recommendation is to check the "rechecking order status" checkbox. Thanks to such a setting, ShopMagic will check the order status one last time, before it will run.
Step 3: Creating an Action and finishing our WooCommerce triggered email
Word of explanation before we will move to the Action. As you probably noticed there is a field called Filter. If you select it, you can limit your automation to selected products. If you omit this field (as we do in our example), whole automation will run for every product from your store.
Here's a screenshot of my Action field, yours should be similar if you follow this tutorial: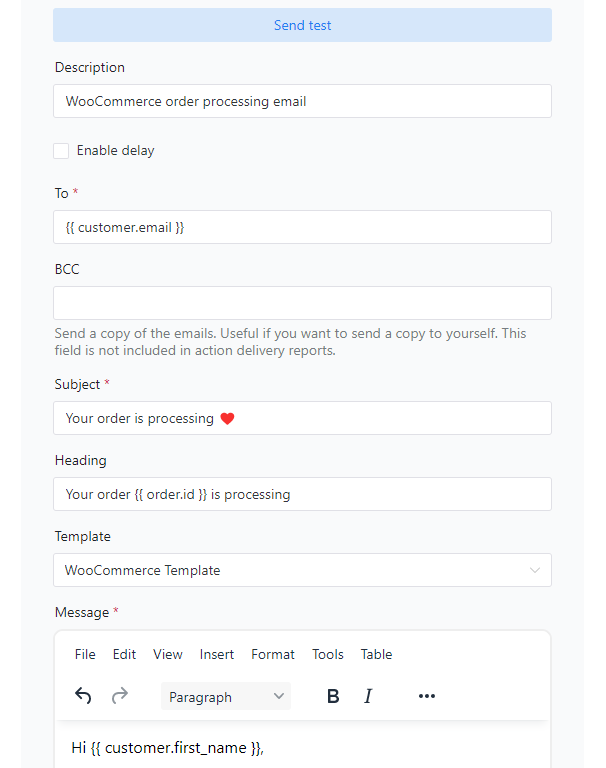 We are starting from the type of an action, which in our case is "Send email". Then a description, Mine is"Customized WooCommerce order processing email". In my screenshot you probably see an option to delay an email. It is a part of the Delayed Actions add-on and as its name says it lets you delay email for a specified amount of minutes, hours, days or even weeks.
Next three fields are To, Subject and Heading. To is to add a recipient, while Subject and Heading were created for a place to a catchy message to your customers. It's worth to note that you can use placeholders in each of the aforementioned fields.
Template is another field, which you can use to customize your automation. Select from the WooCommerce template or none.
Below the template is the Message field. Here you can customize your message to the customers. Of course this field also supports placeholders, so feel free to use any of the pre-prepared or create your own with some programming skills.
Starting from the ShopMagic 2.8, you will see an additional checkbox at the bottom of your automation. Check the linked article if you are curious about it because it's a more complex issue.
Done. It's time to trigger our WooCommerce triggered email
We did it 🙂 Take a look how your email will look like: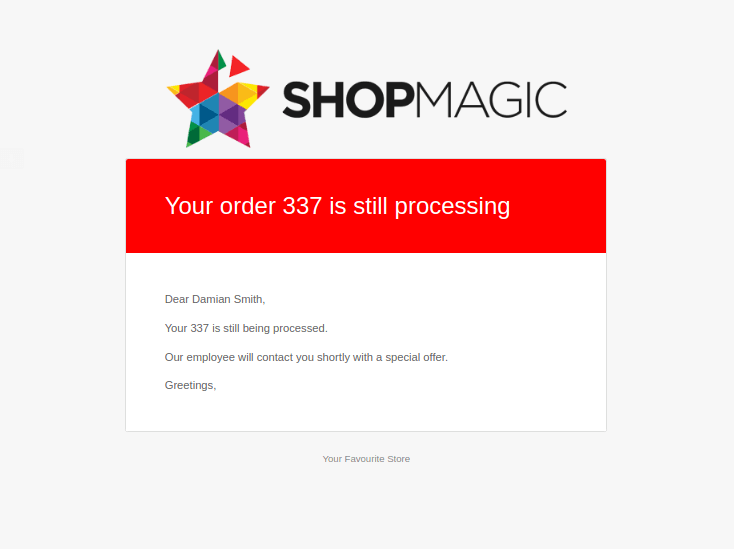 Since ShopMagic 2.11 there's no need to run the whole automation to preview WooCommerce triggered emails. Simply use the "Send test" button.
And do not forget to submit your ideas to our Ideas hub. Some of them, like Manual Actions or support for custom WooCommerce statuses are already completed and implemented into ShopMagic.