I bet that there were some cases when you thought about adding a PDF attachment to your WooCommerce emails. I can also see your disappointment when you realize that there's no such option in WooCommerce. Luckily, I have a fix for this issue. Today, you'll learn how to send a custom WooCommerce email and attach a PDF file to it based on a specific product for free!
Are you tired of manually checking and sending emails after the purchase with additional information or a PDF attachment?
Wouldn't be better to send custom emails in WooCommerce for specific products and attach a PDF file to them? Meet ShopMagic – a FREE email marketing automation plugin for WordPress & WooCommerce. Let's begin!
Table of contents
WooCommerce email attachments plugin
How to attach a PDF file to WooCommerce emails 🤔?
Well, there's a free plugin for that. Meet ShopMagic – Free Follow-Up Emails & Marketing Automation for WooCommerce

✅ For most store owners, using a plugin will be the easiest way to add PDF attachments to their emails. Without coding, tweaking WooCommerce email templates, etc.
Sure, you can try to edit your PHP or use a paid solution. However, there's no need to do it the hard way or spend a dime 🫰🏻, especially as I have a better solution for you.
Even though we will focus on adding PDF attachments to WooCommerce order emails, ShopMagic has some other advantages over WooCommerce which are hard to ignore. Here's a brief list of some of them:
Queue and Outcomes, which are basically logs. You have full control over what is going on with your emails.
ShopMagic supports custom order statuses.
The BCC field is available in every automation.
Integration with Google Analytics. Create and add UTMs to your automation to track it in your GA panel.
What's even better, all the aforementioned features are available in ShopMagic free, which you can download right now:
What is ShopMagic and when to use it?
➡️ Check out the short introduction video that will briefly show you what ShopMagic can do in your store:
ShopMagic is a follow-up email plugin, which lets you create emails for all the WooCommerce order statuses. You can also use it in WordPress alone! Our plugin has numerous external integrations, which can extend the functionalities of other plugins.
Let's list some of them:
ShopMagic automation. How is it built?
👉🏿 Here's an example of typical automation created in our plugin: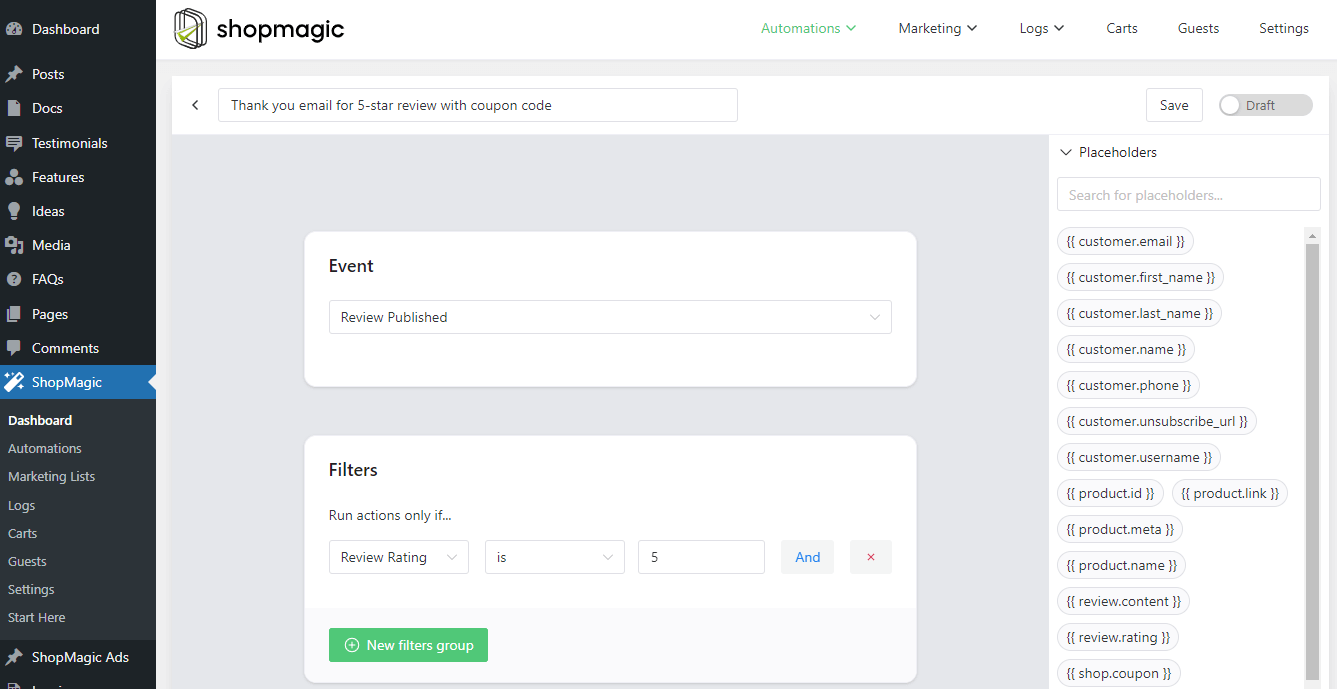 👉🏿 As you can see, it consists of three elements, which are Event, Filter, and Action.
An Event is a trigger, or condition for which your automation should run. A typical example of the Event is "Order Completed".
Filters can be added if you want to segment your customers and send your email to a selected group of users only.
Action is the most important field. It is also a bit more complicated, so I took another screenshot to explain all of its fields:
➡️ Here is a brief explanation of some of the most important fields: ⬅️
Description. In other words, the title for your automation.
To and BCC. In the "To" field, you can define the main recipient of your email. BCC is optional but can be used in every automation.
Subject and Heading of your email.
Template. Choose from a WooCommerce template or none.
Message. It is an essential part of every action. Here you can write your message to the customer.
Unsubscribe field. Optional field for unsubscribing from your mailing list.
The main hero 🦸‍♂️ of this article – the PDF Attachments field.
Attach a PDF file to a custom WooCommerce email
As shown by the above screenshots, ShopMagic has a dedicated field to add email attachments. Simple as that. You just have to click on it and select a file from your WordPress Media. It can be one or more attachments, as you prefer.
💡 You can use PDF attachments for all automations and order statuses.
How to add a PDF manual to emails per WooCommerce product
👉🏿 The typical use-case of using a PDF attachment filed with our automation is to send a manual or guide to a customer who purchased a specified product.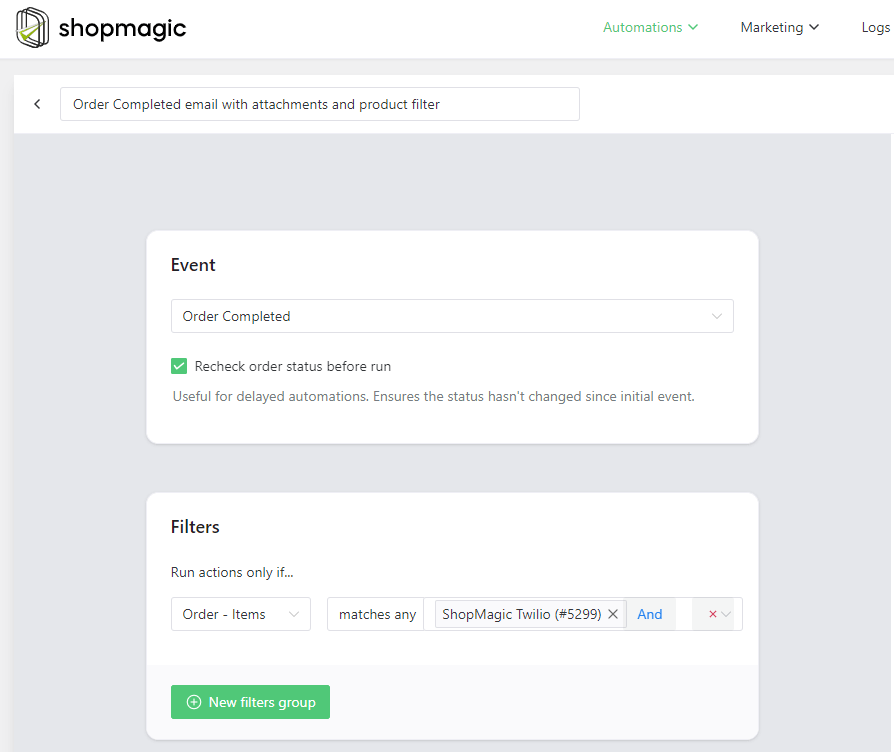 You can do it by creating automation for Order Completed, adding a product filter (thanks to it this email will be sent to customers who bought a specified product only), and then adding a message and manual of the corresponding product as a PDF attachment.
🎉 That's it! Your customer will not only receive the product but also a manual on how to properly use it!
Summary & more about ShopMagic
Today, I've shown you a free plugin to send custom & better emails in WooCommerce for specific products and attach a PDF to them. And you've met ShopMagic – I hope, your marketing automation plugin for WordPress & WooCommerce 😊.
What do you think about our way of adding PDF attachments to WooCommerce order emails per specific product?
We tried to do it the easy way, and also let you use all the other advantages of ShopMagic.
All of these features are available for you in ShopMagic free ⤵️⤵️⤵️
Of course, if you have any questions, let us know!
Finally, visit our blog to learn more about the plugin, read the docs, and the below articles!