Looking for ShopMagic PRO nulled? Why not download ShopMagic PRO from the best possible source😉? 100% safe and secure. No viruses. Ultimate ShopMagic experience for your WooCommerce store. Get the best WooCommerce email template customizer and learn about nulled apps.
Are you thinking about getting ShopMagic PRO nulled but have doubts and second thoughts about it?
That's great. Because you shouldn't download this WooCommerce email template customizer or other plugins nulled! Why? Read more to learn why it's not a good idea after all for at least 7 reasons!
Table of contents
What is ShopMagic?
Well, if you are here, then most likely you have some knowledge about ShopMagic and its capabilities. To summarize our plugin in a few sentences, ShopMagic is designed to let you:
create automated workflows and sequences,
send custom emails per product,
customize follow-up emails,
help you recover abandoned carts in WooCommerce,
use the plugin as the complete WooCommerce email template customizer,
use advanced email customization based on events and filters,
build successful email marketing campaigns and automations both in WordPress & WooCommerce!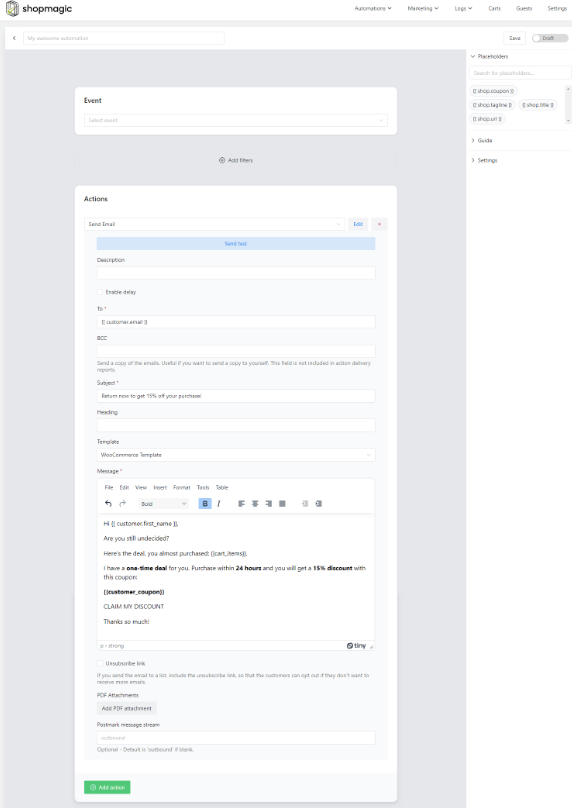 And much more, as we created ShopMagic as a completed follow-up and free marketing automation for WordPress & WooCommerce. There is also no need to get ShopMagic PRO nulled as there is ShopMagic free (safe & supported)!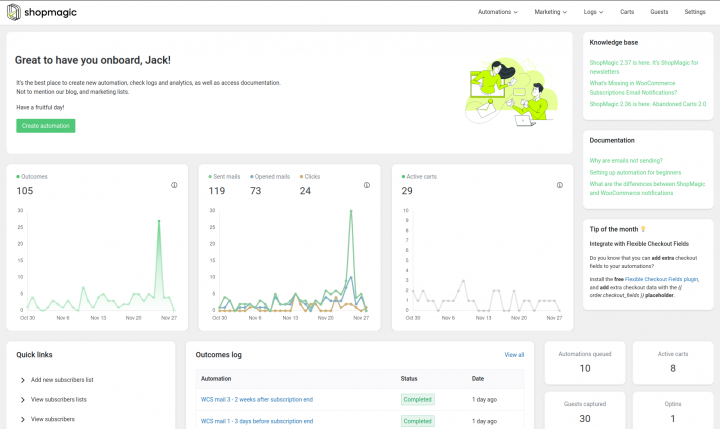 ✅ Download it here by clicking on the Download button ⤵️⤵️⤵️:
Last Updated: September 21, 2023
Works with WooCommerce 5.2.0 - 7.1.x
⭐ 
ShopMagic
is a plugin whose main task is to send follow up emails and build email marketing in WordPress & WooCommerce. Its base version is available completely
free of charge
. The free version is quite complete but it's in the PRO version where the plugin magic happens 🪄.
ShopMagic PRO is a set of a dozen add-ons for the core and free versions. Each of them does something different. You pay once and use them unlimited for a whole year. Sound interesting? Visit ShopMagic & learn more →
What is ShopMagic PRO?
👉 The main reason why you are looking for a nulled ShopMagic PRO is the features included in the PRO version. It's a powerful plugin, which currently has ten PRO add-ons, designed to let you:
✅ Get them all in the add-ons bundle (ShopMagic PRO) ⤵️⤵️⤵️:
Last Updated: September 29, 2023
Works with WooCommerce 5.2.0 - 7.1.x
How about ShopMagic PRO nulled 🤔?
It's a plugin (quite similar to ShopMagic PRO) which you can download from many websites. Depending on the source from which you are downloading a nulled plugin, it may contain:
viruses,
no support,
old and incompatible plugin files,
more viruses,
bugs,
security breaches,
even more viruses that can destroy your store,
no dinner for our families😉.
In fact, there's a high chance that ShopMagic PRO nulled will consist of all these and even more. I'm not brave enough to download and test such a WooCommerce email template customizer or any other nulled apps in my store! Are you?
Where to get the nulled plugin?
Not here 🚫. I bet that you already know that. What's more, I'm not gonna tell you where to download ShopMagic PRO nulled. You can google that. However, I hope that this article will become the #1 search result when looking for a ShopMagic PRO nulled keyword, and it will make this search a little more complicated 👿
Original vs Nulled
To be completely honest, nulled plugins have 0 (zero!) advantages over legal plugins bought from developers. ShopMagic PRO is no different. I can agree that initially, they can be a cheaper choice, however, lack of support and completely unreliable sources from which you can download it, makes it a ticking time bomb. Why? Let's answer this question.
Is it safe to download the nulled plugin?
No, it's not 🚫!
I like how one of the
Redditors rephrased this question
to:
Malware on my server – Good or bad? And the answer would be the same. It's a bad idea. If you are not 100% confident in your abilities to audit the code, then there's no reason you should use it. (…)
Is it legal to use nulled plugins?
Yes ✅ & No 🚫.
You won't be life-sentenced for using nulled plugins, and most likely you won't even be sued, but it does not mean that nulled plugin user is free of any legal implications of let's say data leaks. If any similar security incident will occur in your store, we won't be able to help you.
Will I get support for ShopMagic PRO nulled?
Sorry, no plugin support for ShopMagic PRO nulled 🚫. It would be unfair to our paid customers, and these days support is a value in itself. If you buy ShopMagic on our site, you are free to ask us any questions about your plugin or WooCommerce in general. We are always eager to help and solve all of your issues as soon as possible.
Our support rate for the last 6 months is 100%, which can give you some insight into how we're working 😉
Is nulled plugin cheaper than the original?
There's a chance that initially, it will be a cheaper choice. In long term – I hardly believe so.
Let's assume that you'll encounter some issues. If you waste a few hours resolving an issue that the developer could've fixed for you in five minutes, did you really "save money" in the end?
Will ShopMagic PRO nulled be automatically updated?
Sorry (again!) No automatic updates for nulled plugins 🚫. In ShopMagic it can be a real pain in the… 🍑. Well, it could really complicate your life. ShopMagic currently has 15 PRO add-ons (and counting!), which we are constantly updating.
We are adding new features to them, solving issues, etc. What does it mean for ShopMagic PRO nulled users? Permanent manual update flow. Which will take time. A lot of time. I bet that there are better ways of spending your free time, than manually updating nulled plugin 😉
Summary & more about ShopMagic
Today, you've learned several reasons not to get ShopMagic PRO or any other plugins nulled. Get the best WooCommerce email template customizer and omit all nulled apps!
Is it worth it?
Nulled plugin, without support, updates, and possibly with a malware or legal copy with all the support and from a reliable source? Well, it's up to you.
However, if you have some questions about ShopMagic – we're here to help. Who knows, maybe we'll find a nice and shiny discount code for choosing the light side (is strong with this one).
Get the original, safe, and fully-supported plugin!
Last Updated: September 29, 2023
Works with WooCommerce 5.2.0 - 7.1.x
Finally, I encourage you to read more about ShopMagic ⭐!