This statement is bold but it's because we know how much work and development we put into it! WP Desk acquired ShopMagic, a free plugin to build a great digital marketing plugin for WordPress and WooCommerce 🎉. In this post, I will share some background behind this decision. Also, I will show you the best features of this marketing tool. Finally, I will lay out our plans for taking ShopMagic to become the best email marketing plugin for WordPress and WooCommerce. Read on!
Are you confused about which WordPress marketing tools to use? Do you need a flexible and complete email marketing plugin for your WooCommerce online store?
Today, I will show you ShopMagic – a free plugin for WordPress and WooCommerce digital marketing!
Table of contents
Download ShopMagic
First, download the plugin:
Last Updated: September 21, 2023
Works with WooCommerce 5.2.0 - 7.1.x
Then, create email automations to boost your WordPress and WooCommerce with automated marketing campaigns.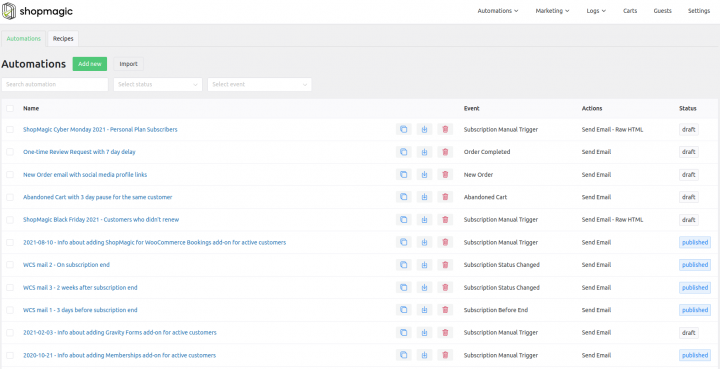 Creating a customized email is a matter of minutes!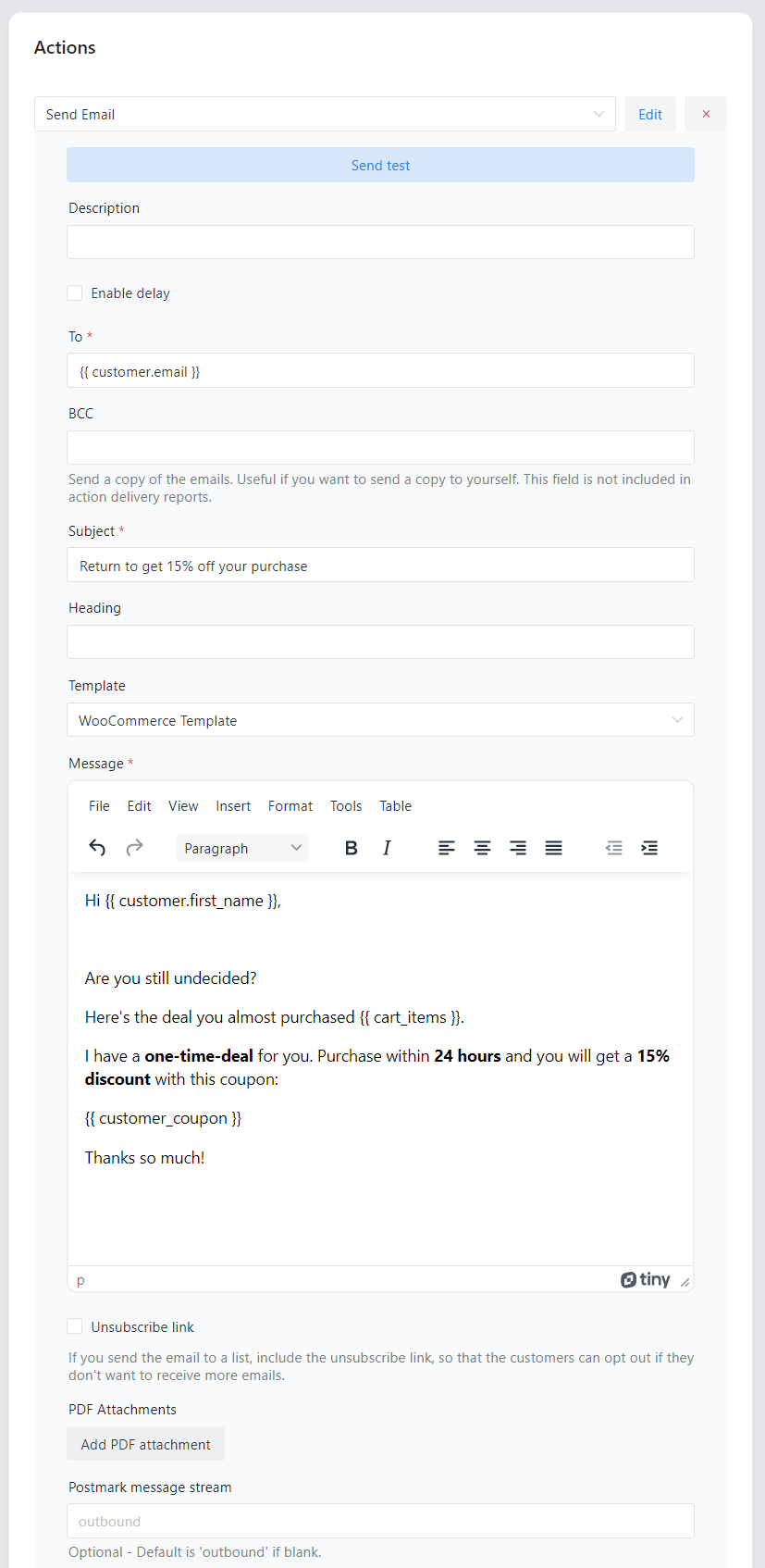 💡 ShopMagic comes as a free plugin with free add-ons but has also a premium version if you need more. Check out all features and add-ons on
ShopMagic.app
!
Why ShopMagic is the best email marketing plugin?
Why we are interested in building the best email marketing automation platform for WordPress and WooCommerce? Because it helps online stores and ourselves automate marketing processes inside WP and Woo.
👉 There are 3 key goals for WP Desk online store:
Save time and money.
Create a better store.
Sell more.
What Kevin from RistrettoApps has been doing with ShopMagic is quite similar to our approach and I think the 10,000 active install base would give us a good head start than beginning from 0. ShopMagic users, marketing materials, and brand names would help us start quicker and reach customers sooner.
We want to build the best plugin because we also use ShopMagic for our email marketing 😊!
ShopMagic subscription
We offer the ShopMagic plugin and some add-ons for free. You may find them all in the WordPress repository.
If you want more features and choose ShopMagic PRO you get it as a plugin subscription (yearly payment or lifetime license). The subscription gives you the newest premium updates, professional email support, and access to all add-ons.
😊 If you are a current customer, you retain all rights and will get support for the remainder of your subscription. Apart from that you will keep your current pricing and gain access to all new add-ons as long as you keep renewing your subscription.
ShopMagic key features
👉 If you are not yet using ShopMagic, we have prepared for you a set of screenshots. Let's see the core features of the plugin. A picture says more than 1000 words 😉!
First, you may create multiple emails (but not only) automations. So, it's possible to run all WordPress and WooCommerce email marketing campaigns with ShopMagic. And manage them in one place!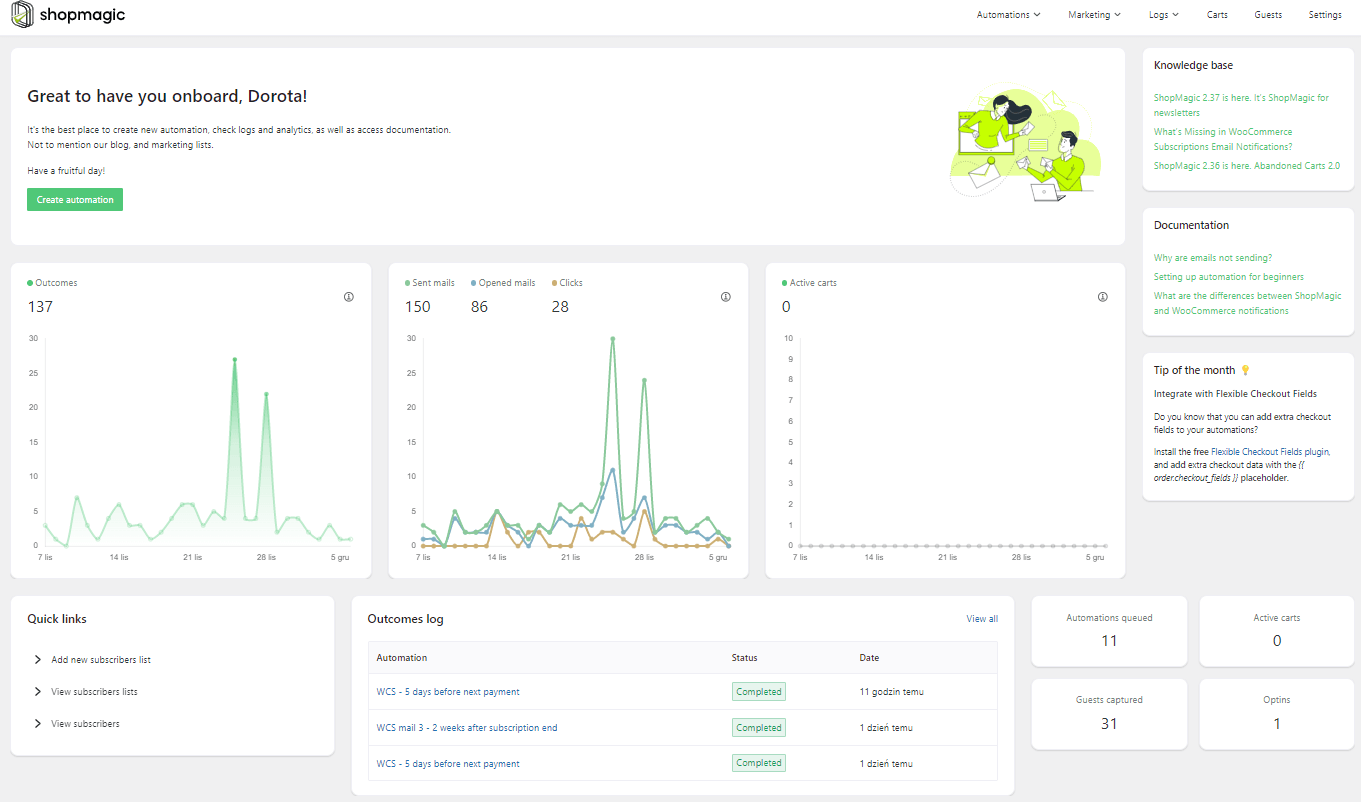 The plugin lets you choose Events (triggers), Filters, and Actions to prepare personalized emails in a few minutes.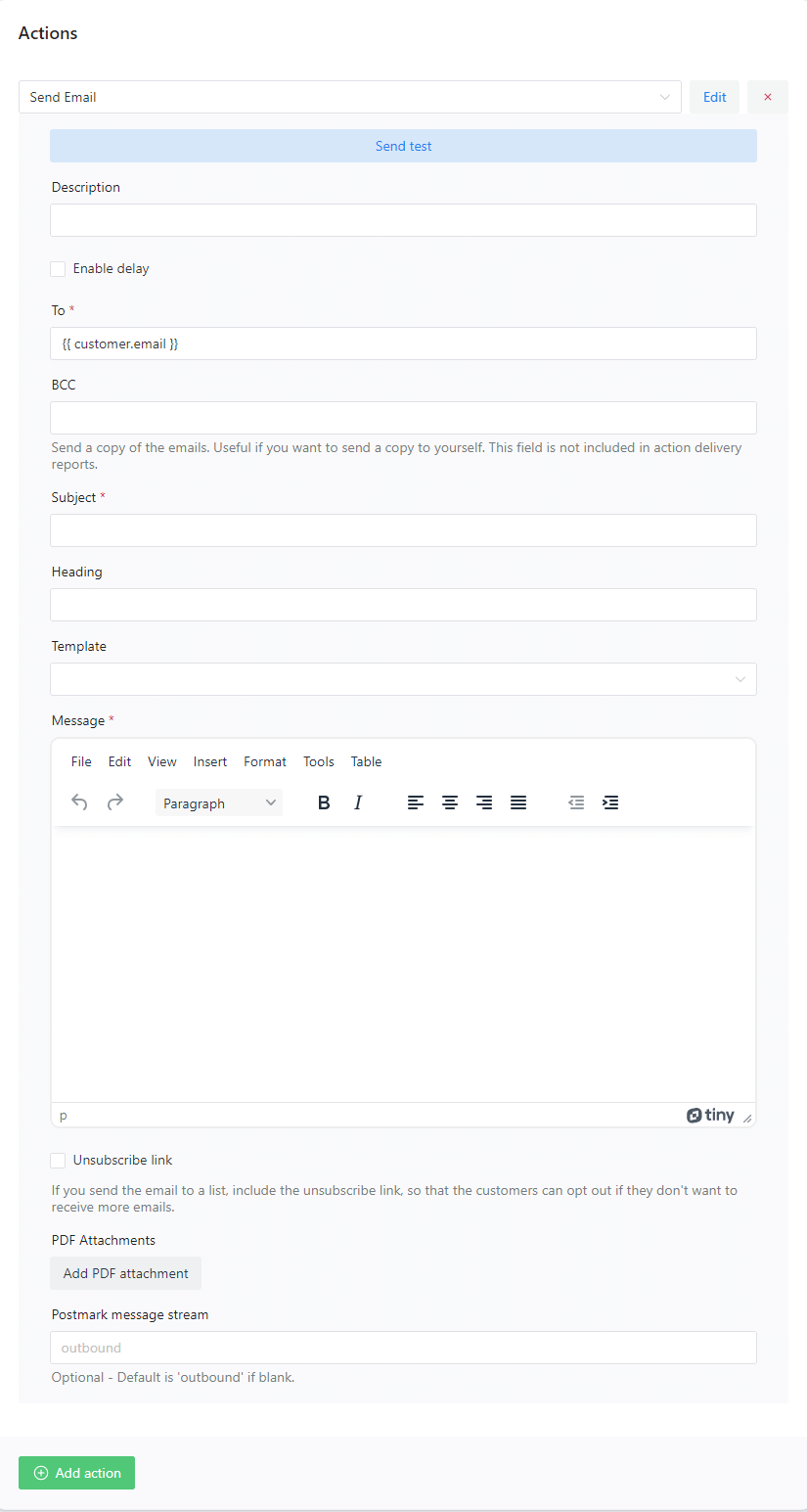 What's more, you can check outcomes, queues, and logs for your email campaigns.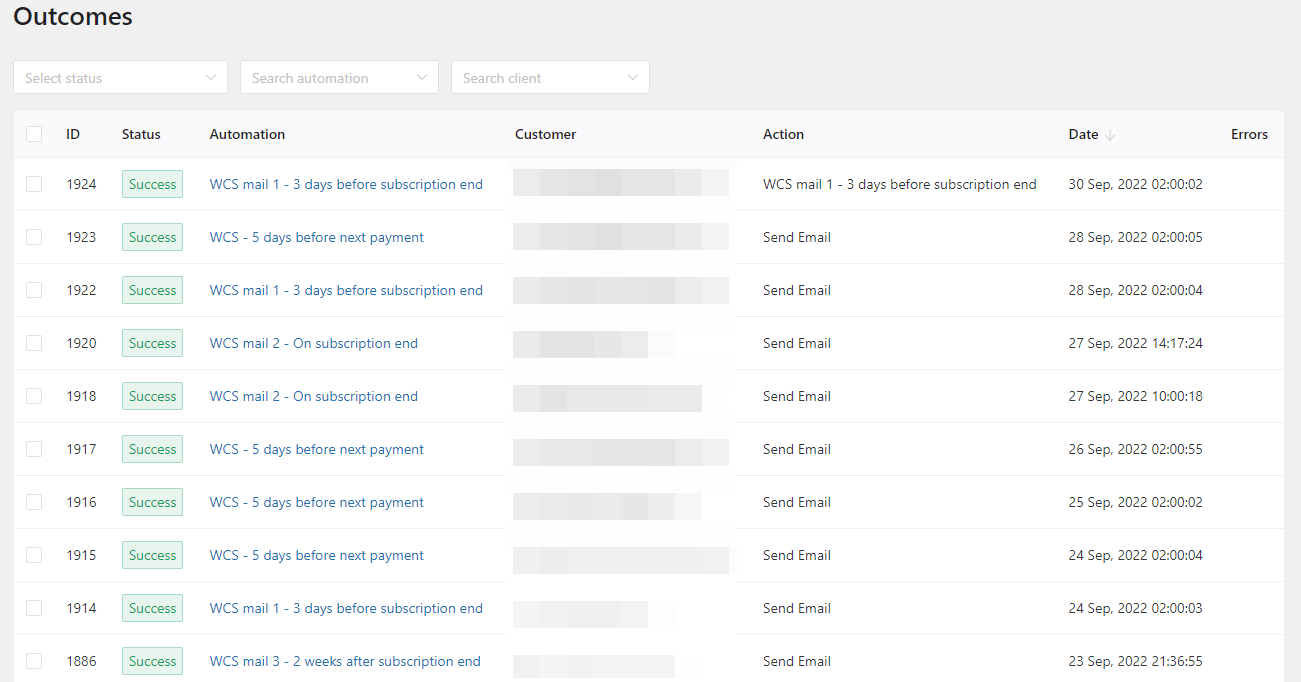 For WordPress, events are related, for example, to a blog post, user registration, or contact form submission. If you have WooCommerce, the list of events for automation (for example email triggers) is much longer!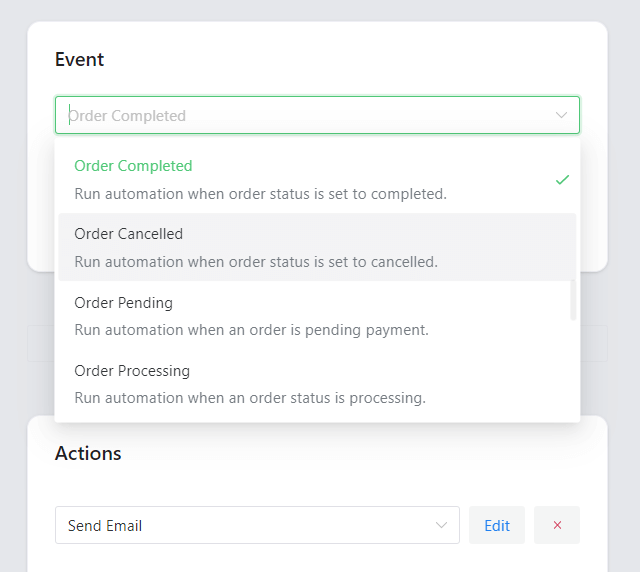 Of course, these are only some examples and previews of ShopMagic. The best way to know what's inside is to get the plugin and start some email marketing in WordPress and WooCommerce today!
Last Updated: September 21, 2023
Works with WooCommerce 5.2.0 - 7.1.x
💡 If you have any questions, please
drop us a line
. We will be happy to help.
Plans for the future ShopMagic
Going forward we would like to make ShopMagic the #1 free marketing automation plugin for WooCommerce and a strong competitor to AutomateWoo and Follow-up Emails.
Similar to Flexible Shipping (Octolize) which is now one of the most popular shipping plugins for WooCommerce.
I think it would be great to have a complete WordPress (and WooCommerce) digital marketing plugin, without the need for other tools.
WooCommerce marketing plugin: Integrations & Add-ons
What makes a perfect marketing solution? Integrations, no doubt about that.
👉 The ShopMagic plugin is available free of charge in its basic version. However, integrations are available as add-ons and some are charged extra.
You can choose from the following integrations to add advanced options to ShopMagic, for example:
👉 As we mentioned at the beginning of the article, the basic version of the ShopMagic plugin is available for free in the WordPress repository. However, if you want to extend it with additional functionality, you need to enhance the basic version with paid add-ons.
👉 With one simple purchase you will get access to all present and future integrations and add-ons. See all add-ons.
Feedback from you
We want to hear your voice and work with you so that ShopMagic becomes super helpful to you 😍.
Please let us know what you'd like to see in ShopMagic. Let's make it your digital/ online marketing and help your store!
💡 Submit an idea →
Summary & more about ShopMagic
Today, you've learned about ShopMagic – a free plugin to make marketing in WordPress and WooCommerce!
Get ShopMagic free.
Last Updated: September 21, 2023
Works with WooCommerce 5.2.0 - 7.1.x
If you want to get all add-ons and advanced functionalities, get ShopMagic PRO.
ShopMagic PRO

£

69
The best email marketing WordPress plugin. Get ShopMagic and try it out, you won't regret it!
Add to cart
or
View Details
WP Desk
Last Updated: September 29, 2023
Works with WooCommerce 5.2.0 - 7.1.x
Of course, if you have any questions let us know.