So you've heard the term WooCommerce marketing automation and you're wondering how best to put implement automation into your WooCommerce store. The good news is that you've landed on the right article. In this guide, I will tell you what is marketing automation in WooCommerce. You will also find out what are most effective automations to increase sales in your store. And last but not least, which tools and plugins you can implement successful marketing in WooCommerce.
Are you tired of repetitive and manual marketing tasks in WooCommerce?
Learn how to speed up marketing in WooCommerce with email automation, follow-ups, and newsletters with a plugin!
Table of contents
What is marketing automation in WooCommerce?
💡 Marketing automation stands for implementing a mechanism into your WooCommerce store. It may be based upon
automated emails
to encourage customers to return to your store and spend more money.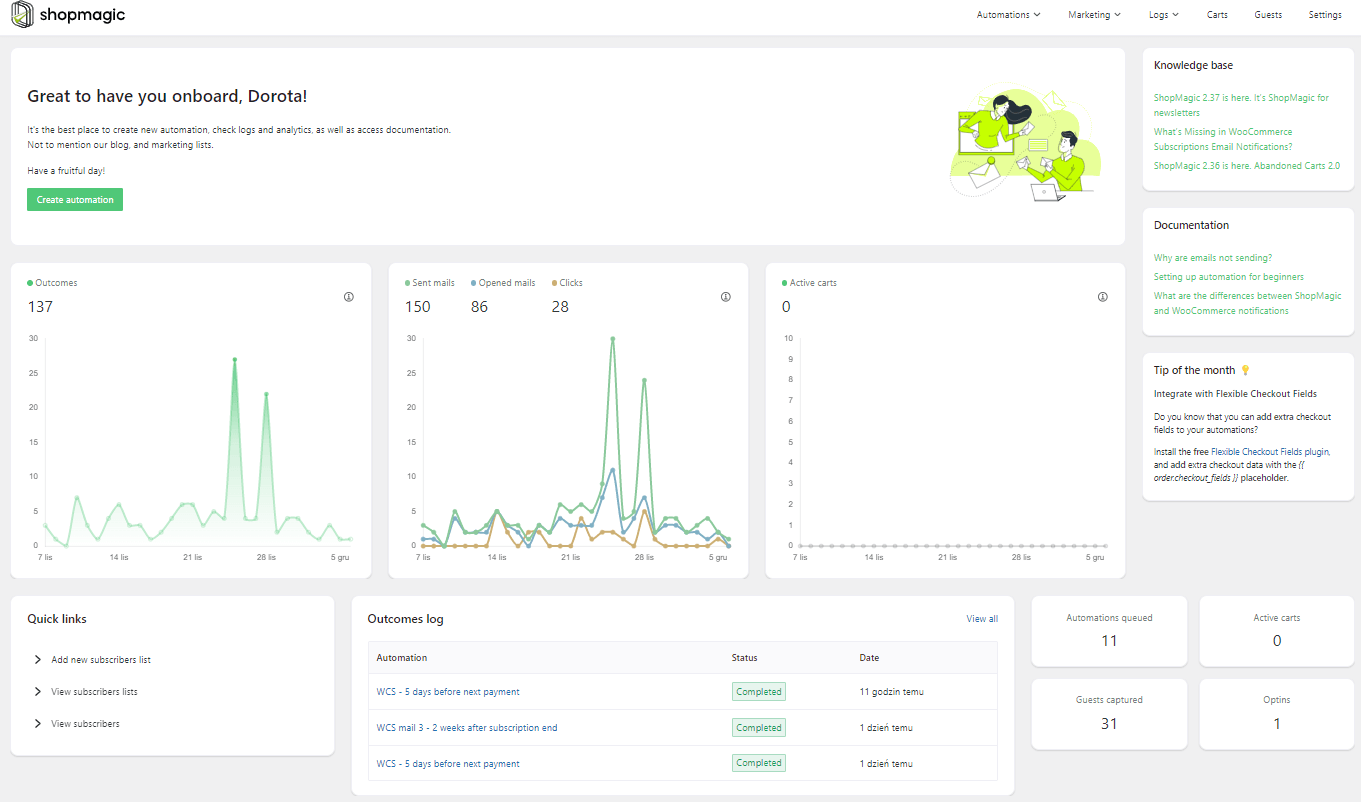 Never heard of the term marketing automation? Maybe you've heard of similar terms such as marketing workflows, marketing funnels, automated marketing emails, or simply just automation. After all, it's all connected.
👉🏽 Marketing automation can be as simple as an order email confirmation that gets sent to your WooCommerce customer after purchase. But we want to focus on the more advanced types of automation: the types that lead to markedly increased revenue.
Overall, the goal of marketing automation should be to get customers to take either spend money on your store or take additional actions that they would not have taken without your automation efforts.
💡 For example, if a customer purchases a complimentary product after their initial purchase because you emailed them a special offer, this is a winning automation 🎉!
Why is marketing automation important for WooCommerce?
➡️ Marketing automation is what sales in the 21st century are all about. ⬅️
Retailers like Wal-Mart and Target use advanced systems to analyze customer purchases and automatically send out coupons for complimentary products to what they've purchased to increase customer visits and the amount spent. A rather famous example is how Target 🎯 sends out mailings with coupons for maternity products such as diapers after spotting an increase in lotion purchases by female customers. How can Target 🎯 so boldly assume that these female customers are expecting mothers? Based upon correlations of product purchases in past sales data.
You can take these principles of action->reaction events with your WooCommerce store and get similar results. Namely, more sales! The way we think about e-commerce automation is via events and actions. If a certain type of event occurs, like a completed order, then instruct the system to take a particular type of action, like sending an email offer with a unique coupon for a complimentary product. This is the power of marketing automation 🔮!
Types of WooCommerce marketing automation
The number of ways you can automate your marketing efforts for your e-commerce store is endless. There are so many different methods and combinations to try. Right now, let's discuss some big ones that should result in huge wins for your WooCommerce store:
You keep mentioning ShopMagic – What is it again?
We're proud of the work we're doing here with ShopMagic. In fact, in terms of tools go, we think it's the best free marketing automation for WooCommerce out there.
As with all things WordPress and WooCommerce, there are a lot of ways to skin a cat. And when it comes to marketing, there's a huge overlap of various products and services that when combined can basically cover almost any automation needs out there. The problem for us though was that there were specific things unique to WooCommerce that we wanted to be involved in automations, and we felt there was a need for us to build something to fill that gap.
Summary & more about ShopMagic
Today, you've learned a few methods of marketing automation in WooCommerce. You can start building successful marketing campaigns and email automation in WooCommerce with ShopMagic free!
Last Updated: September 21, 2023
Works with WooCommerce 5.2.0 - 7.1.x
If you need more features, you can always go PRO in the future.
Of course, if you have any questions let us know. And remember to read more about the plugin in our blog!