This release took us a little longer, but I assure you, it was worth the wait. Let's take a quick look at the new features which you will find in ShopMagic 2.23. See how to benefit from ready-to-use WooCommerce automation templates to send custom emails and more!
⭐ Before we get started, let me just tell you that this post is about the
ShopMagic plugin
. The plugin is used to send follow up emails and automations in WordPress and WooCommerce.
I'll leave you a link to download its free version below⤵️⤵️⤵️
Last Updated: May 22, 2023
Works with WooCommerce 5.2.0 - 7.1.x
WooCommerce email customizer with [free] automation recipes
It's not a feature per se, however highly anticipated and requested addition to our plugin. We received many messages from you, in which you were indicating the need to add automation recipes to ShopMagic.
👉 Some of you were looking for inspirations while some wanted an easier way to get acquainted with our plugin.

Well, here they are😀. Most of them – ready to implement right away.
💡 What's important, no matter you are using
ShopMagic free
or
PRO
– you will be able to use ShopMagic's automation recipes in your WooCommerce store.
First things first, take a look at the screenshot to see how the recipes' tab look like: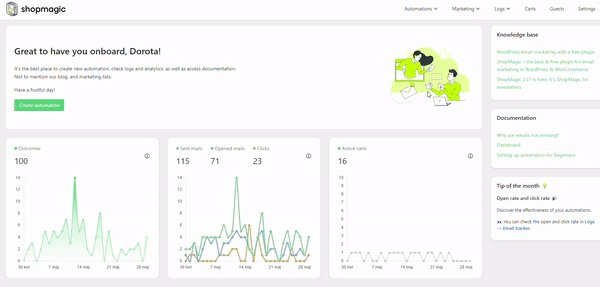 How to use a recipe?
Do you see a use recipe button on the right side of the screen? Simply click on it, and ShopMagic will do the rest. Selected recipe will turn into draft. You can use it or adjust to your needs. After all necessary changes, you just need to publish it, like any other WooCommerce automation.
That's it!
Let us know, what do you think about it. I bet that you have some great recipes ideas to implement into ShopMagic. Recipes list is not set once and for all. It is created for you, so any feedback is highly appreciated🙏.
Manual Actions on a mass-scale
Catchy title which does not explain anything😀? Give me a moment.
With Manual Actions add-on you can send manually triggered one-time emails. When combined with Advanced Filters, you can use it to create and send emails to a precisely selected group of customers.
But what about sending emails to a hundred of recipients at once? Or thousand? Or few thousands? Will ShopMagic handle it🤔?
Yes, it will🎉.
👉 ShopMagic and corresponding Manual Actions update will let you send messages, even to few thousands customers at once.
Our friends from
Flexible Shipping
tested it in a real-life scenario. They used
ShopMagic
to send notification to 3000+ customers, and as far as they told us – our plugin did a great job🦸🏼‍♂️.
ShopMagic PRO

£

69
The best WooCommerce email customizer plugin you'll find out there. Give it a try!
Add to cart
or
View Details
WP Desk
Last Updated: May 30, 2023
Works with WooCommerce 5.2.0 - 7.1.x
Starting from now, you can also use this feature, for example to target all of your past customers with WooCommerce email marketing automation campaigns.
No external software is needed. All of this can be done from your WordPress dashboard.
What else comes with the ShopMagic 2.23
We've also added some general tweaks and fixes, which were reported by our users. As always, thank you very much for your valuable feedback!