Welcome to ShopMagic – the advanced (and free) plugin for email marketing in WordPress and WooCommerce. The plugin is eye-pleasing and it's filled to the brim with new features. Read more to learn how to use the plugin for email marketing in your store. Send emails, newsletters, follow-ups, and notifications, and increase your sales!
Are you tired of no emails in WordPress or limited email templates in WooCommerce?
Knowing your customers is crucial and communicating with them is the best email marketing thing you can do!
Let me show you a free plugin to send emails, and notifications, and automate much more in your WordPress & WooCommerce.
ShopMagic email marketing plugin for WordPress and WooCommerce
First, the most important things about ShopMagic.
Send emails for WordPress and WooCommerce

You may use the plugin to create, customize, and send emails in WP and Woo.

Create multiple email templates & automations

There is no limit to the number of email templates you want. So you can set more automated emails or actions (like sending data to Google Sheets, SMS notifications, saving customer emails, etc.).
That was a short preview of ShopMagic potential 😊. Let's see how the recent upgrades improved the plugin.
ShopMagic email marketing plugin – evolution & features
It's hard to convince people to drastic changes, even if we implement them with surgical precision. From the beginning, our team assumed that the upcoming version of ShopMagic should evolve and grow, while at the same time keeping everyone comfortable. In a word, the email automation edition goes on to be simple and intuitive, plus pleasing to the eye. The first feedback we have received indicates that we have achieved our goal.
It's no secret that the WordPress user interface is not really up to date (which the contributors to the popular CMS are probably well aware of, intensively developing the new Gutenberg editor). In more than 15 years, we haven't experienced too many visual changes to the classic editor, and while some might argue that WordPress has simply matured, we don't want to stagnate. Independence from the standard layout is not just an idle fad – it offers a whole range of possibilities and room for introducing new functionalities.
💡 Pssst…. If you don't know what ShopMagic is and what we are talking about, just try it out, it's free! I'll just leave you a Download link below ⤵️⤵️⤵️
New features
You already know perfectly well that ShopMagic has gotten a new interface. However, the list of modifications we have made does not end there. What will interest you the most as a WooCommerce store owner?
Besides the previous core functions, we have improved a few things (in ShopMagic 3.0).
📈 Measuring the effectiveness of email campaigns.
👀 Dashboard with statistics preview.
🤝 Integration with WordPress events.
🌍 Autonomous operation of multilingual stores.
Open rate and click rate. Finally 🎉!​
We've been eagerly waiting for this functionality, and we know you won't go past it either! With the new version, ShopMagic will allow you to track exactly what happens to the emails you send.
Are they being opened by customers? What is the click performance? How effective is your mailing campaign?
All statistics are available in a dedicated to it tab – Logs. This is where you can filter emails by, for example, a user's email or a specific campaign. It may not always be necessary to have such a detailed view of the data, so statistics cumulated over the last 30 days will be visualized in the form of graphs in the dashboard. As always, there's no catch – no email limits, no restrictions on statistics collection, and no hidden payments. Email tracking is included even in the free version of ShopMagic!
Space Automation Command Center
For us, the main panel (dashboard) is crucial here – it is the main reason for upgrading the user interface, the perfect place for recaps, and some useful information for you.
At first glance, it may seem like just one tab, but you'll find everything you need there:
enables a quick e-mail automation creation,
it will allow you to preview statistics related to all automations,
includes a shortcut to blog articles (you won't miss any news and features!),
you will find some quick links straight to the documentation,
contains a shortcut to recently created automations,
you will get information about interesting examples of using the plugin and have access to insider promotions.
The dashboard is available in any version of the plugin. Free or PRO – it doesn't matter.
Any WooCommerce store owner who uses ShopMagic can conveniently manage automations from now on, directly from the dashboard.
Full support for multilingual stores
Being a polyglot is no mean feat; it turns out to be a challenge not only when it comes to learning, but even when handling multilingual WooCommerce stores. Many plugins allow you to have your site in several languages, but automations are… well, something really different.
👉 Nevertheless, when sending a long email in several languages at the same time is not a good option (and let's agree, it rarely is), you have to somehow deal with a similar problem.
ShopMagic can handle sending your messages in different languages on its own, adapting to the recipient. This solution is built into the main version of the plugin, so you don't have to worry about further extensions. All you need to do is enable the corresponding module in the settings. What's more, the standalone translation support means you no longer need WPML (The WordPress Multilingual Plugin) or any other plugin to translate your posts (although you'll probably still need it to translate your site).
Integration with WordPress – free email plugin!
Our customers use ShopMagic mainly to handle shopping communication in WooCommerce. However, that doesn't mean it's the only function of our plugin. We integrate with form plugins, subscriptions, Slack or offer the possibility to launch manual emailing to customers. ShopMagic has the WordPress Event integration to the list of possible automation scenarios.
So, you can design a workflow that will be triggered when a new post is published on your site or a comment is received.
How do you take advantage of this and what possibilities does it offer? I'll tell you how to do it at our site and suggest another possibility.
As WP Desk, we like to brag about the articles we publish. Since most of our communication goes through Slack, each new blog post of a certain category is sent as a short note with a link to a special channel of our messenger. I, on the other hand, am looking forward to sending newsletters based on newly published posts to our entire customer base thanks to manual actions for ShopMagic. You'll know when such a message hits your inbox!
WooCommerce is no longer required. ShopMagic is not a WooCommerce [only] email plugin!
Good news for those who see potential in Shopmagic for email marketing of a blog or other type of non-e-commerce site! You can use the plugin without having to worry about installing WooCommerce.
This will be ideal for automating newsletter mailings or advanced form-based actions. For example, if you wanted to transfer data from contact forms to Google Sheets.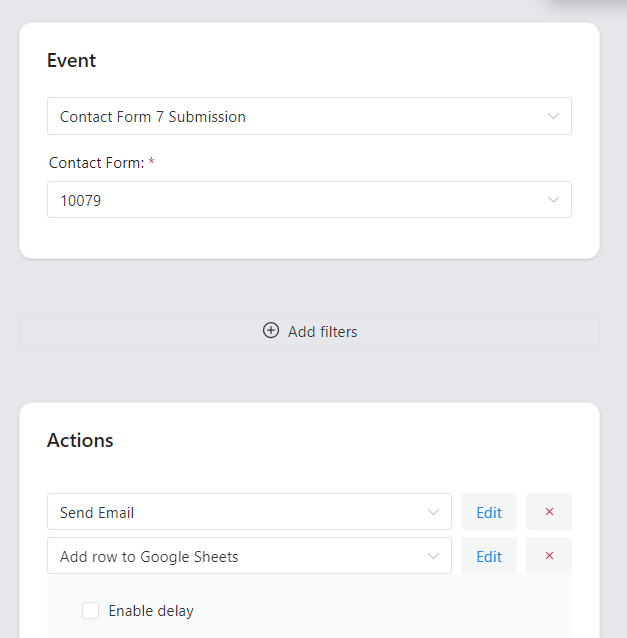 The WordPress and WooCommerce email marketing plugin with great UI
Recently, we've refreshed the look of ShopMagic. Take a look: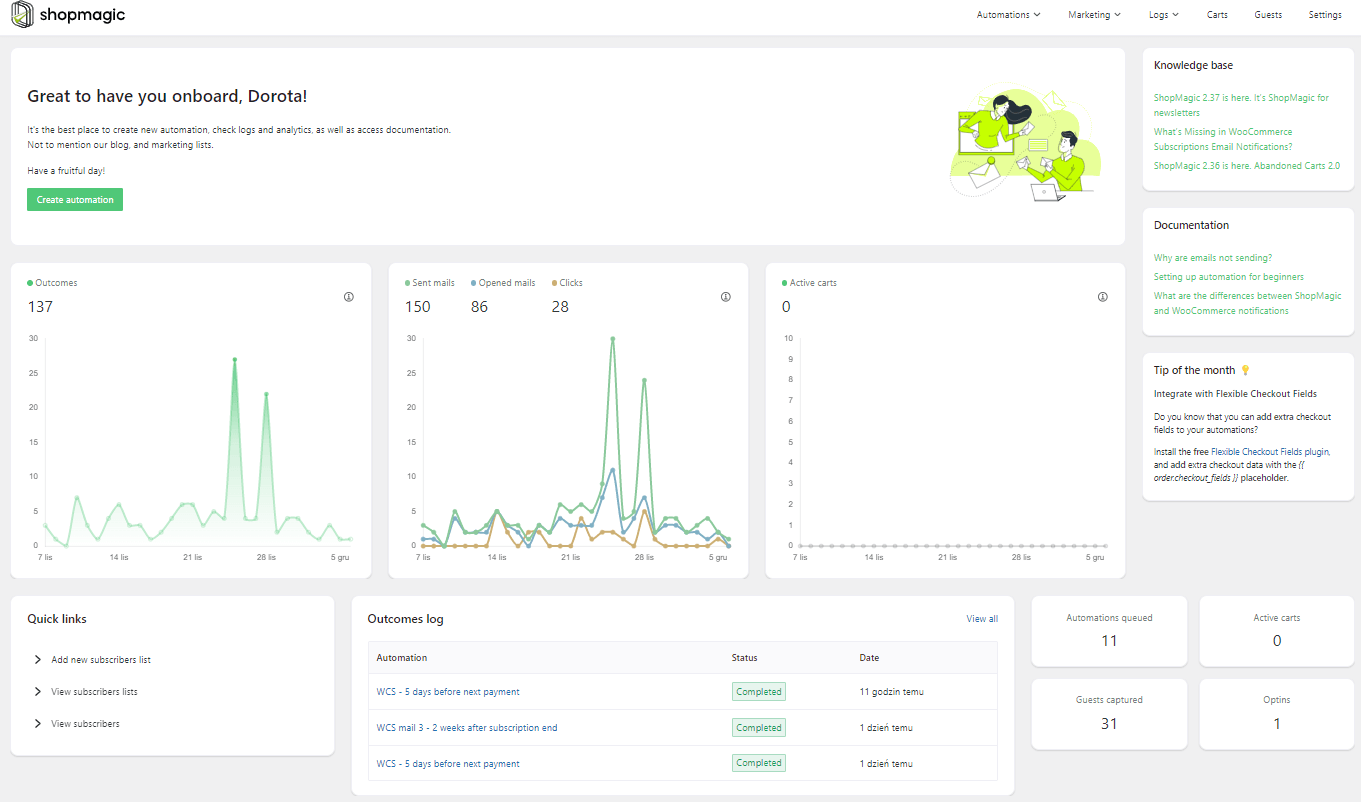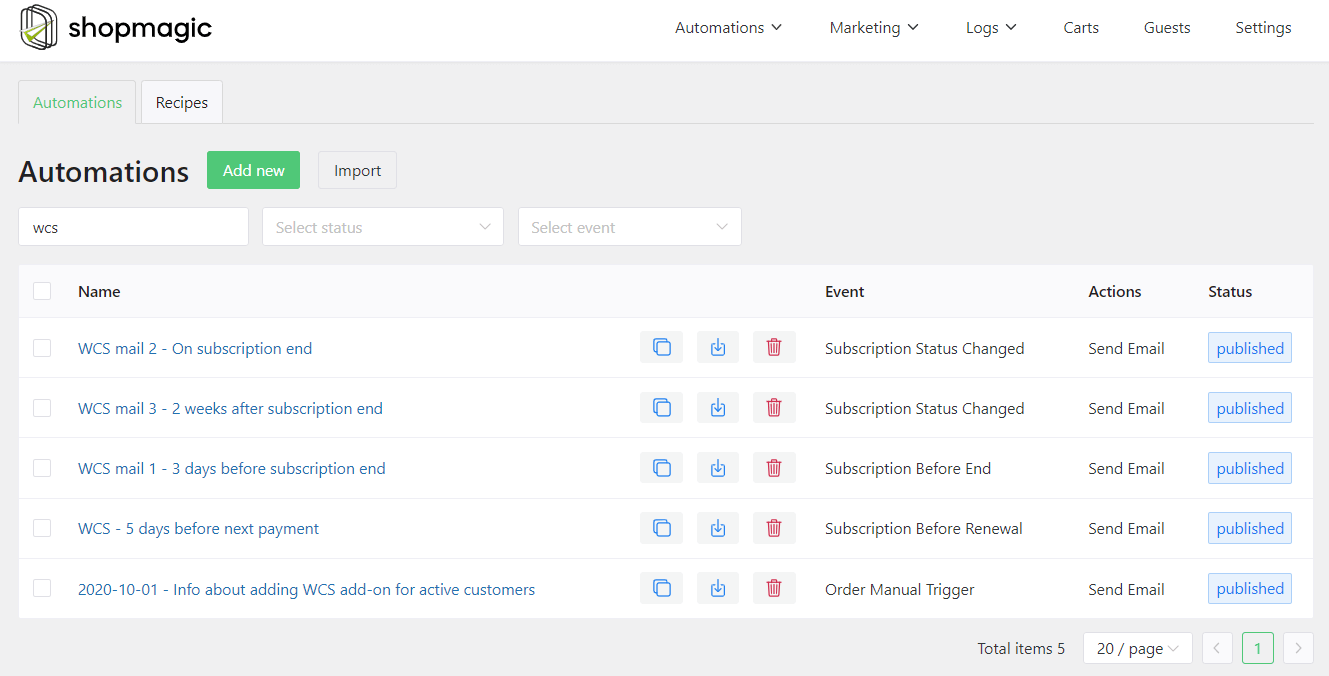 As a reminder, the version before the changes:
You already know about the dashboard and will undoubtedly be seeing it more than once.
With the horizontal menu, always available at the top of the screen it's very user-friendly. You can continue to use the classic WordPress menu, although we've slimmed it down a bit. You'll also find some interesting new tabs in the new main menu. How do you like the ShopMagic dashboard?
One of them will be Logs. This tab includes all details concerning automation results, queued actions, and the aforementioned new feature – statistics of your marketing campaigns (Email tracker). You will continue to find the settings in the same place, although we have slightly changed their layout. In addition, a subpage in Settings will allow you to install all free extensions without having to search the WordPress directory. If you wish to add ShopMagic Abandoned Carts or ShopMagic for Google Sheets – go for it. Now you can do it with one mouse click!
Edit WooCommerce e-mail marketing automation
The crème de la crème of WooCommerce e-mail automation editing. As you can see, the automations have a clear division into event, filter, and action sections. Just have a look yourself: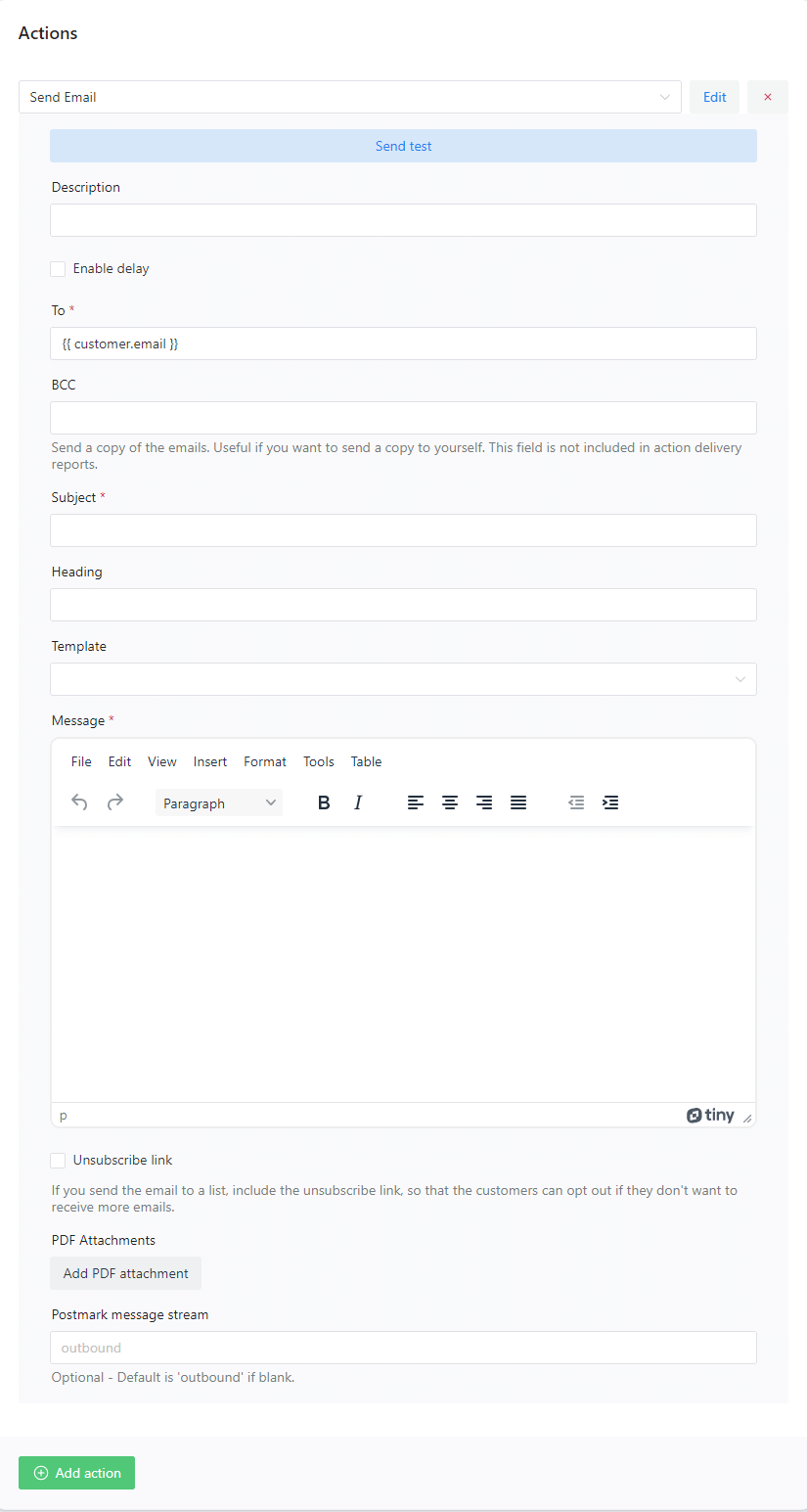 ShopMagic has more and more capabilities, so I hope you'll appreciate such conveniences as the option to search for a selected event or action by typing just a keyword – seemingly not much, but it helps to get an idea of the resources you have.
We have also abandoned the characteristic metaboxes. But you don't have to worry – you'll find all the placeholders still on the right, and you'll publish automation instantly by toggling one button. In addition, if you have any doubts, in the automation panel you have direct access to the tutorial tab, where you can search for an article from our documentation for help.
First of all, citius
If you follow web technologies, you may know that nowadays already most websites support HTTP/2 and even HTTP/3 (if you don't already have this on your site, be sure to ask your web host about it. It will speed up your site considerably).
What does this mean for you and ShopMagic? Much faster performance 🚀!
E-mail automations now load quickly and switching between tabs takes less than a second. We respect your time and with each release, we try to improve not only the performance of the automation but also the impact of ShopMagic on the speed of your site. I'm proud to say that so far our plugin hasn't slowed down the page loading. Plus, now it works even faster!
In addition to the changes mentioned here, the code base powering ShopMagic has also transformed. Although the functioning has not been turned upside down, these changes are already among the more technical ones and suitable for a separate article.
👉  I hope I've convinced you that ShopMagic is not only worth updating, but it's best to do so as soon as possible! And remember, we are not another company that pays attention to your opinion, we really pay attention to your opinion, so don't hesitate to share it with us!
Ah…And one more thing. In case you didn't catch it earlier… You can download ShopMagic here:
Summary & more about ShopMagic
Today, I've shown you ShopMagic – a free email marketing plugin for WordPress and WooCommerce. You've also seen the new UI and features of the plugin.
Now, I encourage you to download the extension. Also, read the plugin documentation to see all features and options. Build successful email marketing in WordPress & WooCommerce today!
Of course, if you have any questions, let us know.
Finally, check out our blog to learn more about ShopMagic, and email marketing in WordPress and WooCommerce.