We all know, that it's hard to get a second chance to make a first impression. Thus, it's worth to take an advantage of this effect and make it properly. Let's see, how to prepare an engaging welcome email that you can use in your WooCommerce store.
What is a welcome email
Welcome email is often the first electronic contact between a company and a potential customer or user. Welcome email is also the first impression, which your brand makes on the recipient of the message. A well-drafted welcome message will encourage users to interact with your products or services.
Benefits of creating and sending welcome emails
Why is it worth to configure and send welcome emails, not only if you run a WooCommerce store? Let's start with a few statistics:
Welcome emails have 86% higher open rates than other marketing emails.
74% of new subscribers expect a welcome email.
Subscribers who receive welcome emails show 33% greater long-term commitment to the brand than those who do not receive one.
These few basic statistics already show us how much potential welcome emails have and how beneficial their use could be.
Types of welcome emails
Welcome email is not only about e-commerce. This type of communication is used in many areas, for example:
Welcome email to the employee, e.g. as a message with the employment decision or as an element of onboarding.
After subscribing to the newsletter. This is one of the most popular types of welcome messages we receive.
Notification about creating new account.
First purchase in the on-line store.
In this article, we will focus on the last of the above-mentioned points, which is a welcome email after making your first purchase in a WooCommerce store.
WooCommerce can also send post-purchase emails
That is true, but there is a "slight" difference between the notifications sent from WooCommerce and those prepared in ShopMagic plugin. There are actually many more differences, but one is of particular important in the context of welcome emails.
It's the Order – Is Customer's First filter, which you can use while creating an automation in ShopMagic.
How the Order – Is Customer's First filter works
If you add this filter to the automation and set its condition (Yes or No), ShopMagic will send a welcome email to the applicable customers only.
On the other hand, WooCommerce emails will be sent for each subsequent order. As a result, when using ordinary WordPress email, we lose the opportunity to use the first impression effect irretrievably because each email will be similar to each other and sent repeatedly.
As you probably noticed, you can use abovementioned Order – Is Customer's First filter reversely, to trigger your automation for not the first order.
ShopMagic Advanced Filters

£

69
Adds conditional logic to execute actions based on certain criteria, i.e. order total value.
Add to cart
or
View Details
WP Desk
Last Updated: December 6, 2022
Works with WooCommerce 4.8 - 7.2.x
How to disable customer welcome email in WooCommerce
One more thing, before we move on to creating automation for welcome email. You often ask, how to disable customer welcome email in WooCommerce. Here's a detailed guide, how to not only disable this, but all of the WooCommerce notifications.
How to send a welcome email in WooCommerce
Enough of theory. Let's see how to create an automated welcome email for first WooCommerce store purchase. In our example, we will create an automation for a houseplant shop, but it could actually be any other industry.
Automated WooCommerce welcome email will work, regardless of the type of products and services you offer.
Welcome email is the perfect opportunity to advise a new customer (who may be a novice florist) on how to take care of the plants once they reach us. However, if it is a returning customer, we can assume that he already knows how to handle plants and does not need basic information anymore.
Of course, we shouldn't leave returning customers completely without any help. To adapt communication to them, I recommend using other filters, described in detail in the article about WooCommerce customer segmentation.
How to create an automation for the WooCommerce welcome email
The first step. Adding a new automation and selecting an Event that will trigger our message.
From the ShopMagic's side menu, select Add New. You will see a screen similar to mine:
Here we set the Title of the automation. Title is for you only, to help you orientate within all of your automations.
From the list of available Events, select the Order Completed and checkbox to check the order status before triggering. Selecting it guarantees that if the order status changes, e.g. to canceled, ShopMagic will not send a WooCommerce welcome email.
Adding the filter Order – Is Customer's first
The most important part of automated welcome email for WooCommerce. By adding the filter Order – Is Customer's First to it, the automation will run only for the first order of a specific customer.
What is important, this filter will "reach" and check customers past orders, so we can be sure that the order is really the first one.
Adding an Action for your WooCommerce welcome message
The third and final step. Here we will add the recipient of our message, subject, header and finally the message itself. From the action types, select Send email, and then fill in required fields:
I decided to use the BCC field as well, so that copies of the messages would also be sent to my email address.
As for the content of the message, remember that this is a welcome email, so it should be catchy and well-prepared. The example on a below screenshot is actually an introduction to what you can do in the ShopMagic plugin: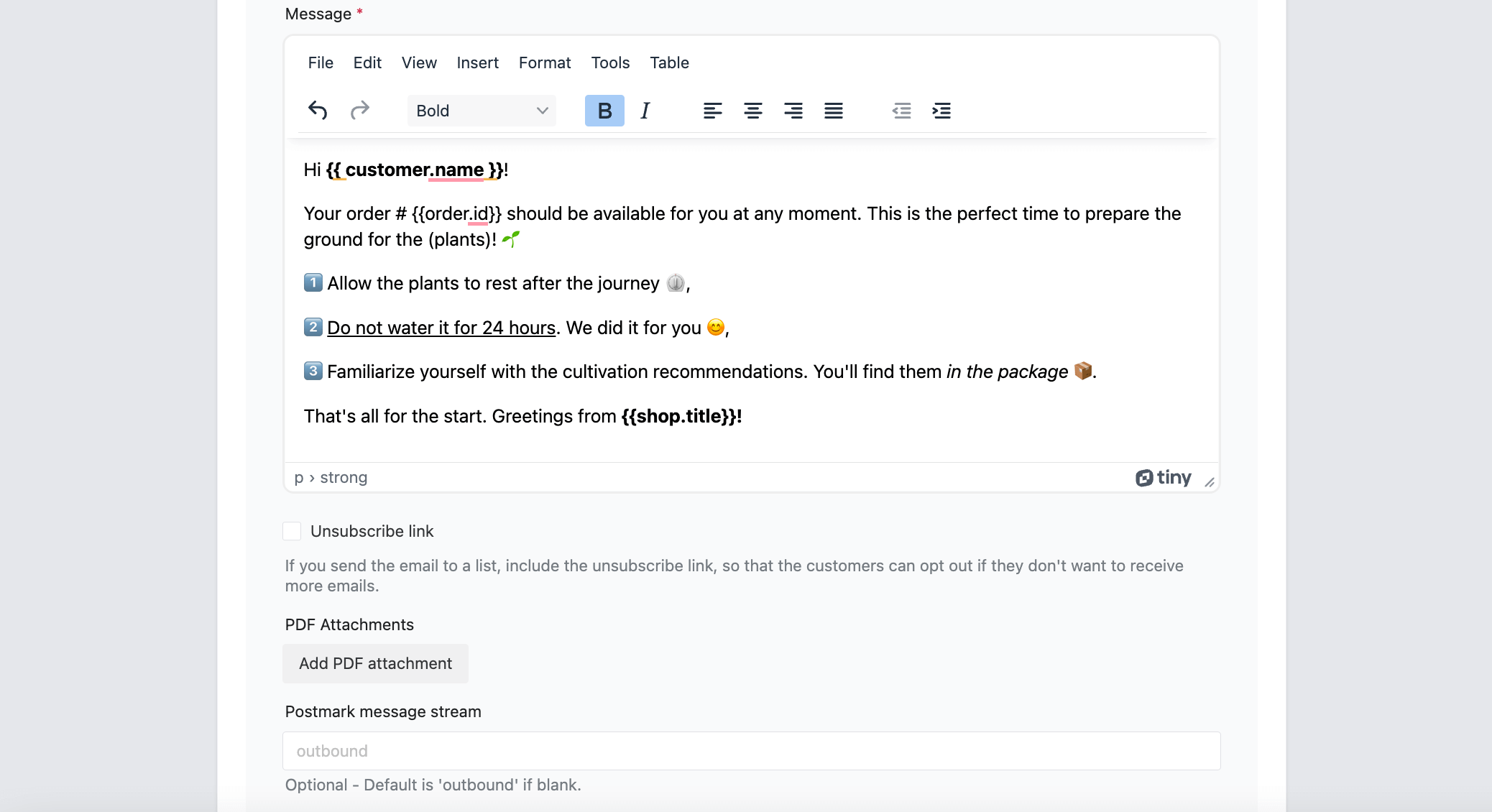 Almost done! Welcome email is ready to be sent
All you have to do now, is to save your automation and… wait for new orders. Our plugin will do the rest. Each time a new customer comes to you, they will receive an automated welcome email with a list of useful tips.
Remember that ShopMagic is not only about welcome emails. Our plugin can do a lot more in terms of new orders and conversions.
We have prepared a complete marketing strategy for you which you can use to increase the income of your WooCommerce store.