Getting more reviews for your eCommerce store and your catalog of offerings is one of the best ways to provide organic, impartial, and community sourced information for potential customers. There's also a host of other benefits, such as helping your SEO efforts and influencing potential customers to make a purchase. That's why you should start sending WooCommerce review reminder emails today!
We've all been there – happily browsing an online store, finding a product or service we like, and then scrolling through the customer reviews to see if it lives up to its description. "What do their paying customers think?" is the question on everyone's mind. If you're serious about the product offerings on your eCommerce store, it's important to provide customers with quality information so they can make informed purchases that they're satisfied with, ultimately converting to repeat customers.
Why it's important to get more reviews for your WooCommerce store
Before we dive into just how we can go about getting more reviews for our eCommerce stores, let's take a step back to see what we're trying to achieve by getting more reviews for your eCommerce store.
Transparency
By openly displaying customer reviews and responding to them in kind, the purchasing public is able to discern whether or not the products or services are exactly what they're looking for. A higher number of positive customer reviews helps convert customers on the fence into paying customers.
Building rapport
Whether or not the customer reviews are what we want them to be (we always want a perfect score after all), we build rapport with our customers and secure more repeat business when we take the time to be attentive to their feedback.
It's a great way to show potential customers we won't be abandoning support once they finish checking out – the relationship is more than just a single transaction.
SEO
When our customers leave us reviews on our product page, it helps improve our page rankings on Google and other search engines. It also serves as a great leaping board to link back to some of our other pages when we respond to customer reviews, creating more internal linking and boosting search engine rankings.
Value
This ties into the first two bullet points, but customer reviews add value to our product or service for our potential customers – it's a more organic version of a blog post with a product review.
Higher conversion rates
A study by eMarketer found average order values rose for 42% of online retailers by implementing customer reviews, and the overall conversion rate rose 56%. While not necessarily conclusive evidence, the correlation between offering customer reviews and increasing customer conversions is strong.
Proven ways to acquire more customer reviews
Since we've established the importance of getting more customer reviews for your products and/or services, let's look at some ways we can go about getting record numbers of our customers to leave us reviews.
Just ask
This is the most effective way of getting customers to leave reviews. People are naturally inclined to share their opinions, and if they like what they bought (or really hate it) they'll be more than happy to oblige. Automating this process by using ShopMagic and our Review Request add-on makes WooCommerce review reminder emails easy to set and forget.
The inherent problem with this method is attitude polarization – customers can either be really happy with what they bought and leave glowing reviews, or realllly hate it and leave awful, seemingly unfair reviews. But fear not, it's not the end of the world if they leave a bad review – even a bad review can work for you if you do what's in the next bullet point.
Reply to reviews
When customers can clearly see that your store has its ear to the ground about your customers think, they'll be naturally inclined to respond. If a problem arises and its resolution is in the public sphere of the customer reviews, that's a good sign to potential customers that your store is genuinely interested in questions, feedback, and problem resolution.
Make it easy
If it's difficult to locate the review page, or your automated WooCommerce review reminder template is filled with tons of form lines that make it a hassle to leave a review, your customers aren't going to feel the urge to leave reviews unless they had an overwhelmingly bad experience.
We want as much feedback as possible from the full spectrum of customer experiences, so optimizing the process for leaving a review for simplicity and ease of access is most important for getting the reviews you want.
Provide incentives
Much like building a social media following by offering small discounts in exchange for a like or post share, incentivizing customers to leave reviews is a great way to get repeat business, as well as build up a healthy stock of reviews for your savvy, potential customers to sort through before making a purchase.
Options could include written and/or video review contests for free products and services, to giveaways and raffles for a review share on Facebook or a personal blog. Get creative here!
Considerations of a great WooCommerce review reminder email
We've established the importance of customer reviews for our eCommerce stores and some good ways to go about getting them. Because our core philosophy is one that's centered around automation, we believe that setting up a well drafted and timely review reminder email is the highest priority for getting more reviews for your eCommerce store.
The considerations that go into a review reminder email can shift from store to store, depending on the industry and the factors each storekeeper thinks is most important. Below are some good guidelines to follow.
Automate it
While paying attention to each customer's thoughts are important, we don't want to shift valuable resources (namely time) away from tackling other, more pressing issues. By using ShopMagic's power workflows, the largest time spent is going to be drafting and editing your initial WooCommerce review reminder email.
Getting the wording right and judging when the best time to send your review reminder email is the hard part; using ShopMagic to navigate WooCommerce's sometimes thick scripting language and inputs is easy! By combining ShopMagic's Delayed Action and Review Request add-ons, you'll be able to get the formatting just right.
Time it properly
What's the best time to send your review request email? If your store is selling SaaS, the time frame for this will be different than for a storekeeper selling physical products.As a general rule, we want to make sure our customers have had enough time to receive their product and test it for enough time to come to really rate their purchase.
An example time frame that's effective for many storekeepers is one automated e-mail reminder after three days (make sure to factor in shipping time), and another a week after the first email. This will require some testing on your part to optimize the best time frame to send out WooCommerce review reminder emails. With time, you'll be able to get this to the the perfect sweet spot for getting more reviews for your store.
Make it easy
Ditch all the extra information you don't need. Include the product the customer purchased within the email to remind them (an accompanying product picture is also great). If you're choosing to integrate the form directly into the email, include a star rating and a short form for customers to type directly into and send.
If you're opting to link out back to your store, include a large button in jpeg format or include multiple embedded links. The idea is to make it as painless as possible, so make sure your store has customer reviews enabled by default and the customer review area easily visible.
Test different approaches
There's no one size fits all when it comes to email marketing. Different stores have different user demographics and industries, and their response will vary depending on the approach you choose to take.
Start by drafting and integrating a plain-text email to start. How does your response rate change when you transition into a full-fledged HTML embedded mail? Does a link out have a better response rate than an embedded form?
Examples of good review request emails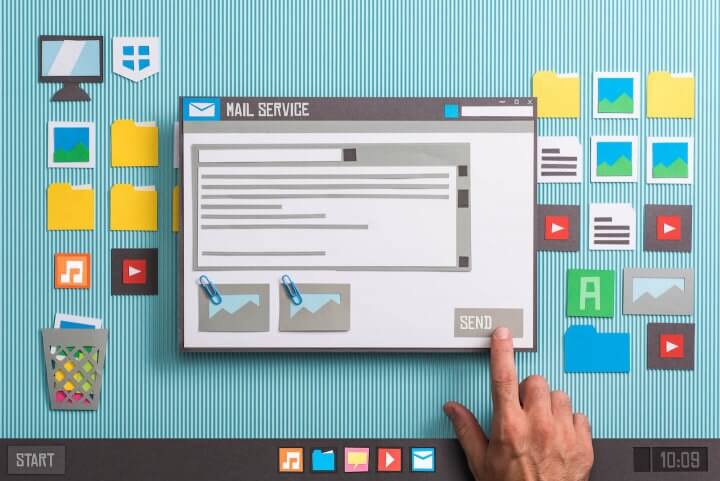 Now you know what goes into making a great email. How about some examples of what might work for getting more reviews for your eCommerce store?
Example #1: Personal approach
Sender: Roy Billings (Max Toy Surplus)
Email: roy@maxtoysurplus.com
Subject Line: Hope you're having fun!

Dear Barbara,

We hope you and your family are having a great time playing with your recent purchase from Max Toy Surplus.

– Megasuperduper Water Gun [hyperlink the text to product page]

We wanted to check in with you and make sure you're satisfied with the toys you purchased. We value your opinion, and would appreciate if you left us a product review! You can do that by clicking here → [insert hyperlink to product review page]

It was our sincere pleasure to serve you and your loved ones. Please don't hesitate to reach out to us should you have any feedback regarding your recent purchase. We're listening!

Sincerely,
Roy Billings
CEO of Max Toy Surplus
This is a personalized review request that has a clear call to action and a friendly tone. It works because Roy Billings, CEO of Max Toy Surplus, has seemingly taken time out of his day to personally request the customer reviews her purchase.
Max Toy Surplus is a toy retailer that wants to make sure the customer (more likely her children) are having a great time playing with their products. The text's tone has been adapted to fit the demographic.
Let's look at one more…
Example #2: Professional approach
Sender: Jennifer Jennings
Email: jennifer@softwaresyndicate.net
Subject Line: Help us optimize your experience using Software Syndicate

Dear Tom,

Thank you for using Software Syndicate to power your database administration needs. We'd sincerely like to here back from you regarding your experience so we can work on releasing updates that will suit your needs.

You can click here [insert hyperlink to product review page] to let us know your feedback regarding Software Syndicate.

If you have any questions regarding the usage of Software Syndicate, our customer service representatives are standing by 24/7 to help you. Please don't hesitate to reach out to us.

Software Syndicate [insert hyperlink to product review page] is dedicated to providing a user experience that is simple, elegant, and powerful.

Thank you,
Jennifer Jennings
CEO of Software Syndicate
This is a less personal, but equally powerful review request from a company that knows its demographic. Our fictitious SaaS company is dedicated to providing powerful business database solutions to its customers. Its customers are businesses, and therefore the tone has been adapted to suit the customer demographic.
These are just two examples of what you can accomplish in your quest for getting more reviews through WooCommerce review reminder emails, and how different stores may modify their approach to fit their customers. Trial and error will go a long way to optimizing the number of customer reviews that come in. The important thing to take away is to make sure to automate the process!
Using ShopMagic to setup WooCommerce review reminder workflow
By using ShopMagic Delayed Actions add-on, timing the moment your review reminder emails becomes a cinch. If you're looking to optimize your WooCommerce review request workflow, it doesn't get any easier than this.
In conjunction with ShopMagic Review Request add-on, ShopMagic has the ability to add placeholders, link directly to your page's "Add a review" box, and easily list order information so your customers can instantly be reminded of what they purchased.
Furthermore, if you're looking to incentivize customers to leave reviews – use these add-ons with our Customer Coupons add-on! You'll be able to reward customers with unique coupons tied to their WordPress accounts.
Getting more reviews for your eCommerce store has never been easier. Download ShopMagic for free today and check out what the hype is all about!
Last Updated: November 4, 2022
Works with WooCommerce 5.2.0 - 7.1.x