Let me introduce you to the wonderful world of marketing automation. We will save time, increase customer loyalty and earn more money for your store. All of this will be available to you with our WooCommerce post purchase plugin – ShopMagic.
Sounds good? I think so too. But let me add something more to that – all of these (time saving, increasing loyalty and bigger earnings) will happen at the same time. Oh, and I almost forgot – our WooCommerce post purchase plugin is completely free.
Last Updated: January 12, 2023
Works with WooCommerce 5.2.0 - 7.1.x
ShopMagic. The only WooCommerce post purchase plugin you'll ever need
In case you are wondering what marketing automation is marketing automation, we have a dedicated article, explaining this concept.We developed ShopMagic not only as a remedy for repetitive tasks, which are part of the store owner's everyday life but to do something more. To let you create more professional and user-friendly WooCommerce stores. And as we see in the increasing download rate of our plugin and positive reviews – we are on the right path.
Enough of this theory. Show me some examples!
Right! Because we care about our free and PRO users, I'll show you two examples of our WooCommerce post purchase plugin usage. One will be achievable with a free version of ShopMagic, while the second will require some add-ons available in the ShopMagic PRO.
ShopMagic free. Let's create an email with order summary
In our example we will create a customizable email, which will be sent to your customers when the WooCommerce order status will be changed into Order Completed. I feel that it is the best moment to send such an email.
As this article is not a guide per se, I'm not discussing how to create such an automation. If you need such information, check the step-by-step guide, which will show you how to create order completed automation.
Now, look at the example of WooCommerce post purchase email with an order summary:
shopmagic.app

What do you think? In my opinion it's nicely done. What is more important – you can create similar WooCommerce post purchase email. All of its content is fully customizable. Logo, colours, heading and message field. Our users will quickly notice that I used a few placeholders in the above email.
Creating such an email with standard WooCommerce new order email would be a pain in… well it would be really hard. As you can see, ShopMagic editor supports links and different fonts. And remember that we are still in the ShopMagic free area.
But hey, why don't you try it? You can download ShopMagic from the WordPress.org or the plugins section at your admin dashboard.
ShopMagic PRO. Reactivate customers with manual emails
Here's the example of WooCommerce post purchase email which uses our PRO add-ons. In this particular case, we will focus on the add-on introduced in ShopMagic 2.10.0 – Manual Actions.
I think that title – Manual Actions – is self-explanatory but if you need some additional information how it works, take a look at this article, in which you will find detailed information.
In a few words, with this add-on you can manually trigger an automation. And this is exactly what we will be doing in our example.
Let's assume that you have a garden store. You are offering lots of different kinds of flowers. You decided to extend your offer with special hand made flowerpots. These flowerpots would fit perfectly to all of your orchids sold in the last few months.
With Manual Actions, creating such a WooCommerce post purchase email is a matter of a few clicks. Take a moment and look at the screenshot:
shopmagic.app

It took me only a few minutes to create an automation for our scenario. Newly added Order Manual Trigger as an Event, Orchids category as a Filter, Send email from the Action menu and that's it. You only need to customize the message to your customers and fire this one-time automation.
Every customer who bought an orchid in your store will receive a WooCommerce post purchase email. If you are curious how it might look like, check mine:
shopmagic.app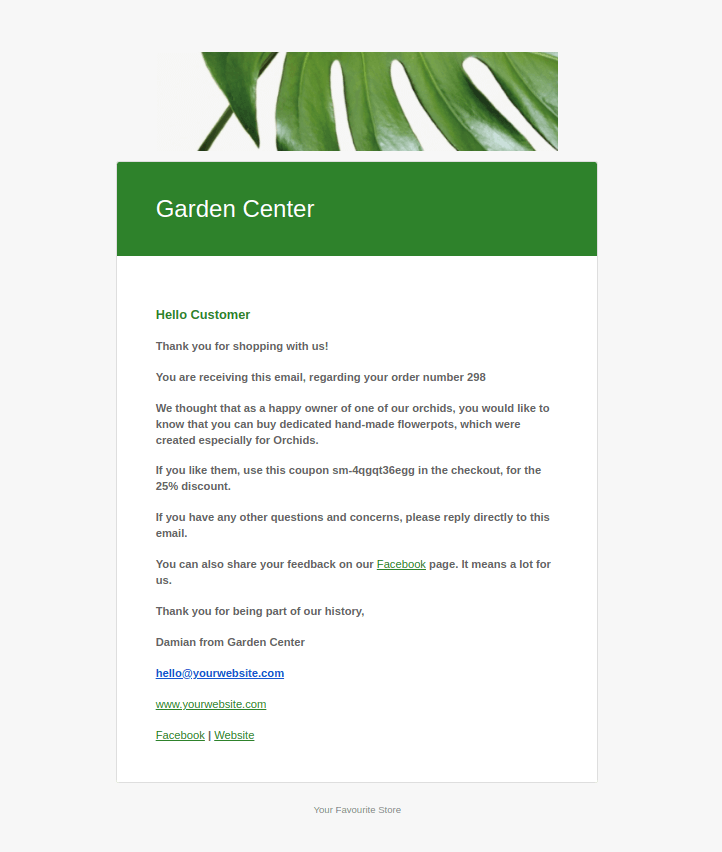 In the above example we've not only used Manual Actions add-on but also a coupon from the Customer Coupons add-on. What do you think about such usage of WooCommerce manual email?
ShopMagic is ready for all of yours WooCommerce post purchase emails
My goal was to show you some examples of emails, which can be sent with our marketing automation plugin. Basic, but still extremely useful with a free version or more complex, available in ShopMagic PRO. What do you think? How are you gonna use ShopMagic? Write to us, we are waiting for your stories.
You can always reach us through our website or WordPress forum.
P.S. If you are looking for other examples of ShopMagic usage, I encourage you to check our other guides. We've covered most of the WooCommerce order statuses like new or failed orders.