In this article, I'll briefly show you, how to easily create WooCommerce follow-up emails based on different conditions. In other words, you will see few examples of WooCommerce conditional emails created in ShopMagic.
What do we need to create WooCommerce conditional emails
ShopMagic plugin – for sure. Moreover, in this tutorial we will be using Advanced Filters add-on, which is part of ShopMagic PRO.
Last Updated: February 2, 2023
Works with WooCommerce 5.2.0 - 7.1.x
Other ShopMagic's use cases
This blog post focuses on WooCommerce conditional emails, but that's not all what ShopMagic can do for you. Let me show you a sample list of ShopMagic's use cases:
Check the full list of ShopMagic's PRO add-ons on our website.
Is that all? What about WooCommerce transactional emails?
Of course not. ShopMagic means better communication with your customers. You can send transactional and follow-up emails not only for every WooCommerce order status but for custom order statuses also.
You can also design and customize your emails. Use HTML template of your choice or external plugin like Kadence. ShopMagic is super flexible and adjusts itself to most of the solutions. Here's an example of such an email: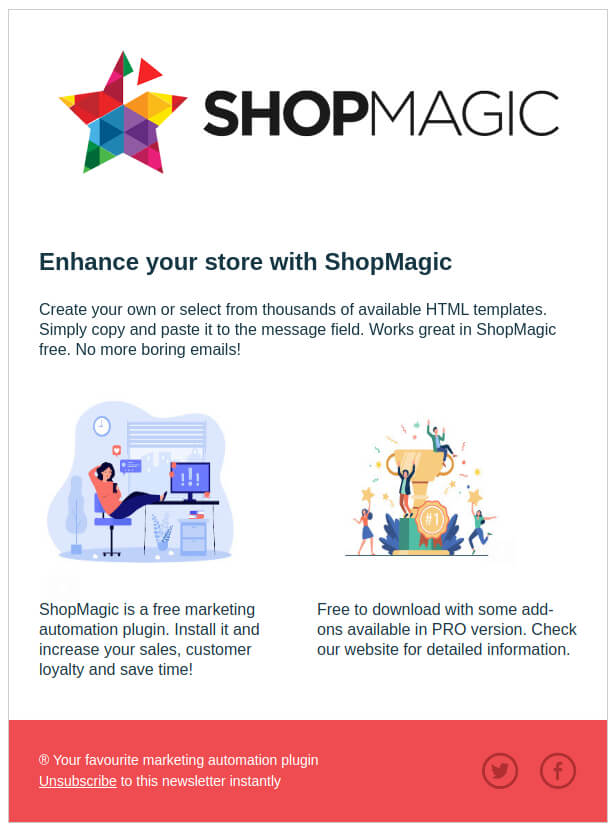 Clearly, WooCommerce conditional emails are only a fraction of ShopMagic's possibilities.
You are part of the ShopMagic
Before we will move to the examples of conditional emails, I'd like to emphasize one thing.
ShopMagic is a business product but similarly to other plugins developed by WP Desk, we put customers first. We listen to your ideas and read every email. Actually, we reply to every email 🙂
The amount of feedback and ideas which we received about ShopMagic is huge. Thanks to you, next few months will be a busy time for our team. However, when we receive feedback similar to this, our work is a pure pleasure:
The importance of WooCommerce conditional emails
I assume that every store owner know the importance of WooCommerce conditional emails. With ShopMagic, you will be able to create such automated emails, when the order will met specified criteria.
If you are asking yourself what kind of WooCommerce conditional emails you can create in ShopMagic – virtually any.
Let's take a closer look at 5 examples of such emails:
Imagine that there are products in your store which require special manuals. What's impossible in WooCommerce is perfectly doable in ShopMagic. Create an automation and use filter Order – Items to trigger your automation for selected products only.
Send follow-up emails to customers and to your shipping/marketing department at the same time. Simply create two actions within one automation. First one with order details to customer and second with selected information to your internal department.
Send additional "How to find us" information to customers who selected cash on delivery as a payment method. ShopMagic has a dedicated filter to do this, Order – Payment Gateway.
Create different messages to guest/unregistered users and encourage them to register in your store. For example, you can show them benefits that come with registration.
Configure an automation, which will trigger when a customer will review product from your store. You can connect it with an appreciation coupon code created in Customer Coupons add-on.
WooCommerce conditional emails without a line of additional code
That's right. No coding skills are required to create emails based on specified conditions. Filters are the only tool which you need to precisely segment your customers.
All of the above examples use only one filter at the time. However, you can mix and connect filters to customize ShopMagic's automation to your needs.
Oh! One more thing. If you feel that we missed some important filter, which you may find useful – let us know. You can add it as an idea or email us.