In today's highly competitive e-commerce ecosystem, maximizing every edge counts when we're aiming to maximize conversions and sales. Unfortunately, reducing abandoned carts often goes unaddressed by even the keenest and most insightful shop owners using WooCommerce. This often comes down to a few simple reasons: A lack of awareness about the issue. And a lack of good tools and plugins to appropriately address the WooCommerce abandoned cart. Read how to reduce abandoned carts in WooCommerce. Say NO to WooCommerce abandoned cart with ShopMagic (integrated with Mailchimp)!
Are you losing a lot of orders due to the WooCommerce abandoned cart issue? Don't you know how to rescue these carts?
In this article, you will find a free plugin for WooCommerce to address your needs. Let's see ShopMagic (integrated with Mailchimp) and how it can help with abandoned cart cases in WooCommerce.
Table of contents
Why even care about WooCommerce abandoned cart issues?
Customers who have added items to their cart 🛒 are already well along their way in the buying cycle. It means that they show intent to purchase. Of course, this places them at the cusp of committing to purchase, an important milestone.
👉 We've already attracted these potential customers to our shops. So focusing our efforts on these potential customers will yield unparalleled results.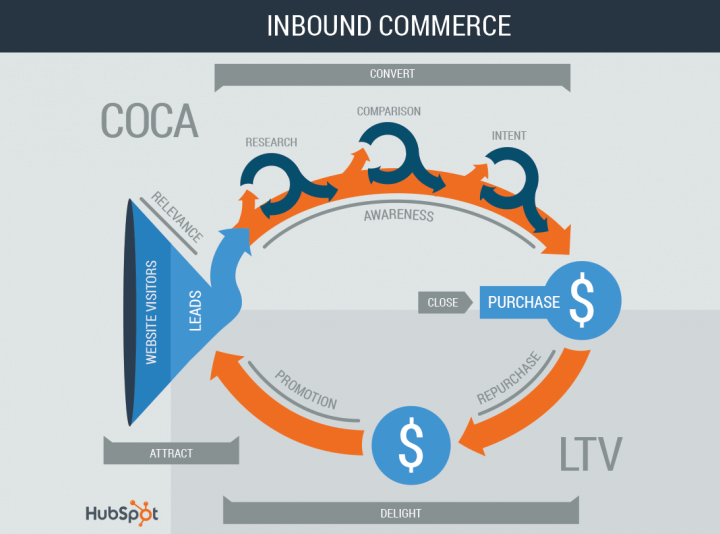 ShopMagic has developed an abandoned cart add-on that integrates directly into WooCommerce. It allows shopkeepers to capitalize on an edge that is currently underutilized.
Wanna try it out? It's free!
⬇️ Download it here ⬇️
🤫 Psst… Just in case you don't know it – first you'll have to download ShopMagic itself. I'll leave a direct link here:
Last Updated: November 15, 2023
Works with WooCommerce 5.2.0 - 7.1.x
Why WooCommerce abandoned cart emails & is ShopMagic integrated with Mailchimp?
Before we delve any further into ways we encourage customers with abandoned carts to complete their checkout, let's get a better understanding of why it's crucial.
Developing a WooCommerce abandoned cart workflow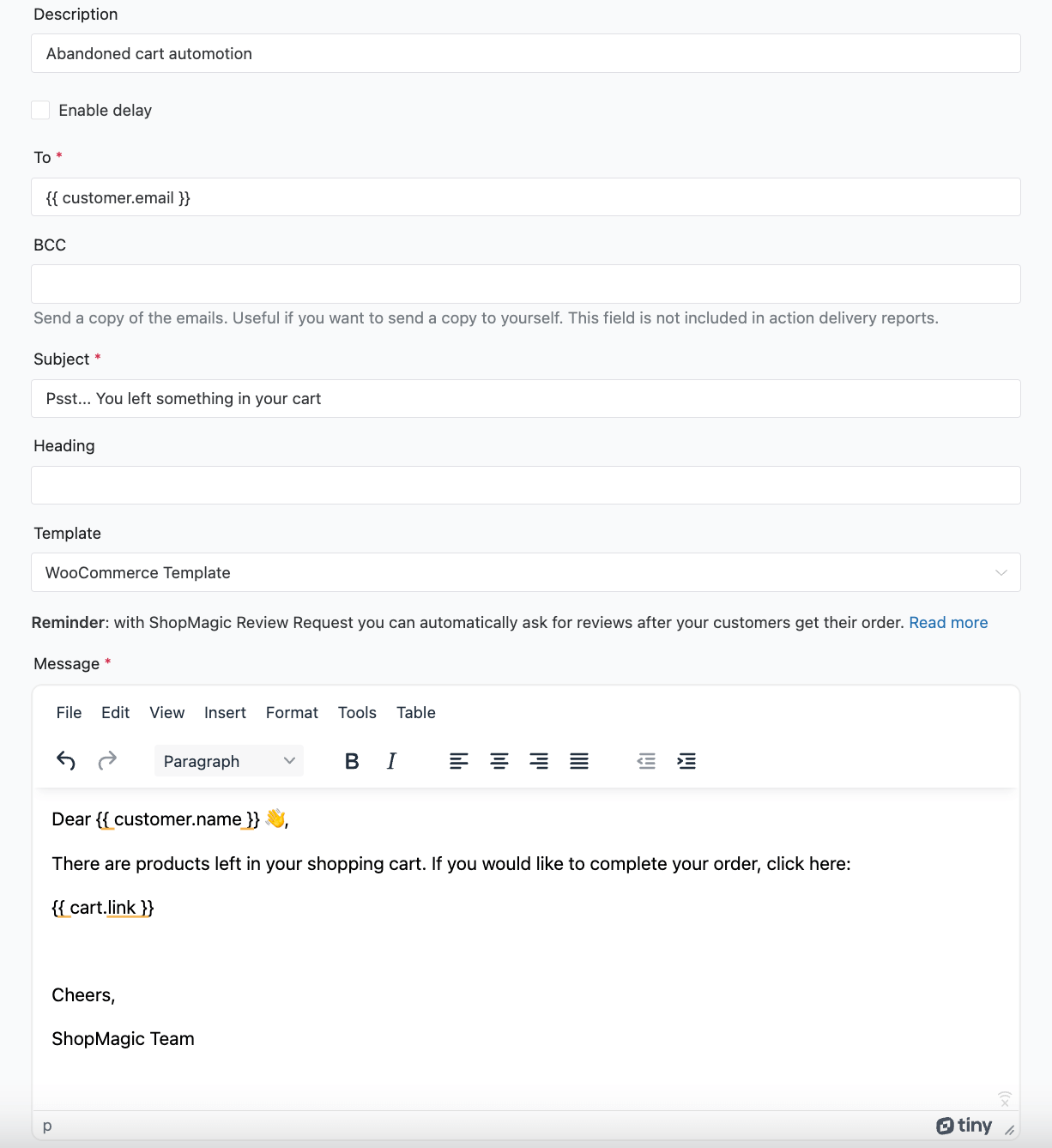 So, what should shopkeepers do when creating a workflow for a WooCommerce abandoned cart 🤔? The first step is recognizing the importance of setting up an automated abandoned cart email that sends within the first 20 minutes of an abandoned cart and taking action by setting up a workflow.
💡 It is easy to do with the
Abandoned Carts Add-On for ShopMagic
. Our software simplifies WooCommerce's custom email scripting. ShopMagic lets you build the WooCommerce abandoned cart workflow with opt-ins and opt-outs because
the plugin is integrated with Mailchimp by default
.
Abandoned Cart Email Strategy
Deciding on the correct strategy for sending out cart abandonment emails can be difficult. There is a lot of advice and data out there we can sift through. This can make it confusing for shopkeepers looking to implement the most optimal strategy. It's easy to overthink it, but as a general guideline: Just do it 💪.
We've already looked at data that shows an abandonment email sent within 20 minutes is optimal for ensuring the maximum number of conversions. So, implement automation for sending out our abandoned cart emails within 5-20 minutes of abandonment. It can guarantee our shops the best possible chance to reinitiate the buying cycle.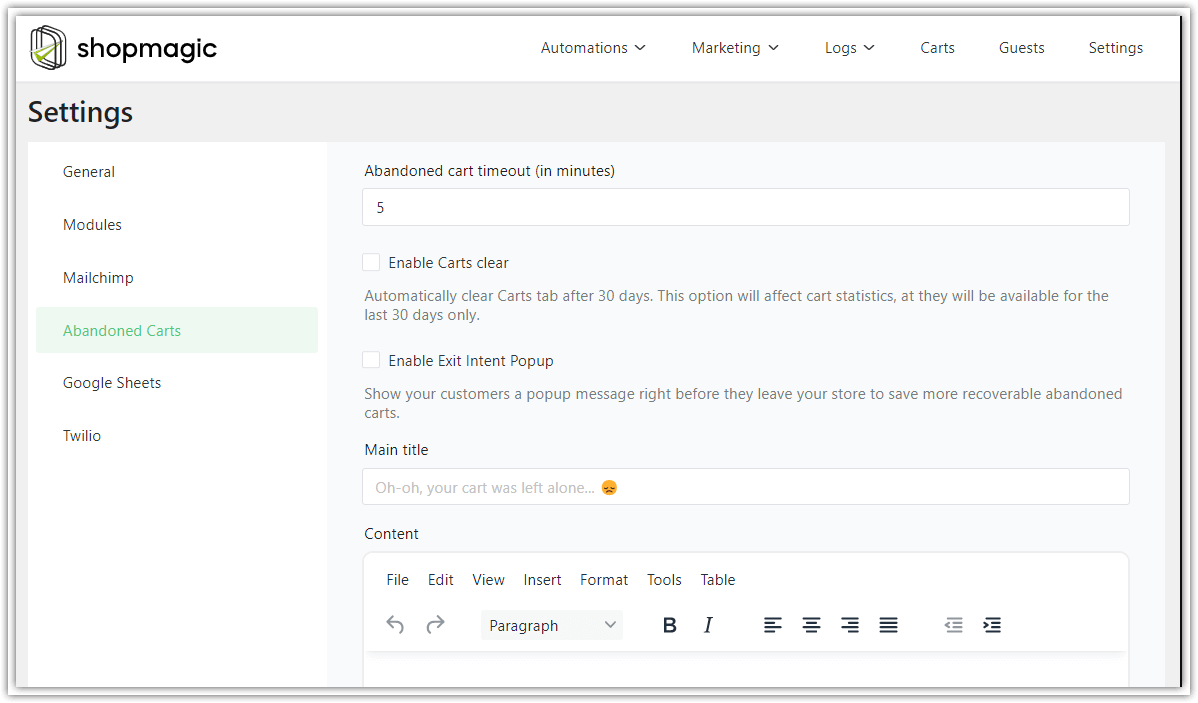 Implement first, and make changes to your strategy as you go. Start by writing a draft template for your shop's abandoned cart email. Then, implement it into your WooCommerce shop by using ShopMagic's Abandoned Carts Add-On. Finding email templates for customers with abandoned carts is easy to do. But remember to create friendly and helpful email templates.
Why you should use ShopMagic to automate your workflows
👉 Our WooCommerce plugin offers unparalleled versatility for your shop by handling powerful workflows for all of your abandoned cart emails, and more! A workflow can be set for all of your automated emails that will spring into action when triggered by configurable events within WooCommerce's sale process. For example, your abandoned cart outreach email(s) will spring into action when triggered when a customer leaves their carts.
👉 Email collection is extremely valuable for businesses looking to expand their marketing reach. ShopMagic's Abandon Cart Add-On collects customer emails before checkout ever occurs, so you can continue to build future lead generation opportunities.

ShopMagic and Mailchimp
We've seamlessly integrated everything (including WooCommerce abandoned cart email automation) into MailChimp. So, you can continue to build your mailing lists without missing a beat. We believe creating future marketing opportunities by collecting customer emails is one of the most effective ways of reaching an audience that has signaled interest.
By approaching this in a minimally intrusive way, we can create a customer experience that is positive and reinforced by helpful marketing communication.
We also offer some great add-ons to further supplement and customize your workflows. Automated email campaigns can be set for customers based on WooCommerce order status. But they can also rely on purchasing frequency, order total, and specific products.
More than WooCommerce abandoned cart recovery and Mailchimp integration
✅ Our Delayed Emails Add-on gives you time-delayed emails. So you may thank customers for their purchases and encourage future sales with a custom email schedule.
✅ Our Request a Review Add-on automates personalized review outreach so you can collect helpful data.
✅ Segmented customer lists can automatically be generated with the use of our powerful Advanced Filters Add-On. Send emails based on spending, purchased products, frequency of purchase, or customer loyalty. ShopMagic lets you create targeted marketing campaigns.
💡 Find out more about all the great things
ShopMagic
can do to
optimize your workflow
.
Common questions about abandoned cart workflows
❓ Some common questions and concerns shopkeepers have regarding abandoned cart emails are
Should I only target my efforts on registered customers, or should I target guests too?
How aggressively should I be sending abandoned cart emails?
Should I send only one email? Would two be perceived as spam?
👉 Email collection has become a priority for e-commerce shopkeepers. Why? Because email marketing is essentially free and you are certain you send emails to the right people. Also. it offers versatility in re-initiating the buying cycle by offering news and promotions for products.
👉 If we focus our abandoned cart emails solely on registered customers, we have the benefit of engaging customers who already have a purchase history or are interested enough to sign up. However, there is a good chance we're missing a ton of value by ignoring guest customers. ShopMagic's Abandoned Carts add-on is configured to request emails (also to Mailchimp) before a WooCommerce cart is abandoned.
Aggressive cart abandonment emails (more than once within 60 days) can be perceived as spam 🗑️. But not sending any results may miss potential sales and visibility. Our approach is a good middle ground that provides value for potential customers (such as personalized coupons for abandoned carts) while providing us with valuable future lead opportunities even if we don't close a sale.
Tying it all together
No doubt abandoned carts represent a potential for revenue reclaiming that simply cannot be ignored. Plugging this revenue leak should be a top priority for e-commerce shopkeepers looking to maximize their conversions. Abandoned cart emails are low-cost, high-return automation that can be set quickly and personalized. Use ShopMagic Abandoned Carts add-on 🛒 with Mailchimp to optimize your email marketing.
👉 By being aware of and calculating our opportunity loss, we have both the ability and insight to tackle revenue loss resulting from our shop's WooCommerce abandoned cart. Be aware of the buying cycle and take efforts to ensure it doesn't get broken before a purchase has been completed. Also, focus on creating powerful workflows that will negate and reverse our opportunity loss as much as possible.
👉 At Shopmagic, we aim to simplify workflows and get them working for you. So, you can shift your focus to other tasks that require undivided attention. We believe automation should be easy to set up, maintain, and modify. It should provide value for customers and shopkeepers alike. Of course, it should also seamlessly integrate into WooCommerce and Mailchimp (including abandoned cart cases). We do all of this and more. Don't take our word for it, try it today!
Summary & more about ShopMagic
Today, you've learned how to reduce abandoned carts in WooCommerce. Say NO to WooCommerce abandoned cart with ShopMagic (integrated with Mailchimp)! Download ShopMagic first.
Last Updated: November 15, 2023
Works with WooCommerce 5.2.0 - 7.1.x
Then, get the Abandoned Carts add-on → and you're ready to go!
Also, visit our blog to find more tips about email marketing.
Finally, if you have any questions, just let us know!