Keep this in mind before reading further: 40% of customers eventually cancel their subscription services.
How can you prevent this and how does it relate to subscription notification emails sent from your WooCommerce store?
Let me explain.
WooCommerce subscriptions email notifications (when done right) help you:
keep track of your subscription customers
engage and inform your customers about their subscription status
prevent your customers from canceling
send renewal reminders
recover abandoned carts
The bad news is that you can't do most of those things with standard WooCommerce Subscriptions emails.
In this article, we'll discuss what are WooCommerce Subscriptions email notifications, why they're important to you and your customers, and how to customize them in order to increase subscription renewals while lowering subscription churn.
Then we'll look at the alternatives to the built-in email notifications in WooCommerce Subscriptions that help you make the most of this powerful tool.
What are WooCommerce Subscriptions email notifications?
WooCommerce Subscriptions email notifications are standard WooCommerce emails sent to either you or your customer when a subscription status changes.
As you already know, WooCommerce Subscriptions is a powerful tool for a subscription-based business.
In short, it lets your customers subscribe to your products or services with recurring payments. It also comes up with some pre-made email notifications.
Built-in email WooCommerce Subscriptions email notifications help you automate and maintain your communication workflows, saving you time and money by sending automated emails to customers when there are new orders, renewals, cancellations, or other status changes.
However, the default email notifications that come with WooCommerce Subscriptions have serious limitations. These limitations can cause your business to lose subscribers if you aren't careful about how you handle your communications with customers.
Here's an example WooCommerce Subscriptions review to back it up:
Necessary things it can't do include […] Pre payment emails to warn customers a payment is about to be taken
Luckily, there are tools on the market that allow you to send out custom email notifications with information about subscription orders as well as other data from WooCommerce Subscriptions (e.g., renewal date).
The WooCommerce Subscriptions email notifications module allows you to send emails to customers when they sign up for a subscription, when they renew their subscription, when a renewal is on hold, and more. While all of this is great and needed, it's also important to note that a lot of communication needs are not covered here.
Here's a full list of built-in WooCommerce Subscriptions email notifications:
New Renewal Order – sent to admin only
Subscription Switched – sent to admin only
Processing Renewal order  – sent to customer
Completed Renewal Order – sent to customer
On-hold Renewal Order – sent to customer 
Subscription Switch Complete – sent to customer
Customer Renewal Invoice – sent to customer
Cancelled Subscription – sent to admin only 
Expired Subscription – sent to admin only
Suspended Subscription – sent to admin only
Editing and customizing subscription email notifications
You can find all email notifications that come with WooCommerce Subscriptions under WooCommerce -> Settings -> Email.
When you click on a single email name or the "Manage" button, you will see a short list of single email settings you can customize.
Those setting include:
Enable/Disable checkbox
Recipient(s)
Subject
Email heading
Additional content
Email type
As you can see there is not much you can do in terms of personalization or customizing content, not to mention you can't create new emails that will be sent to your customers.
Why are email notifications important to you and your customers?
The WooCommerce Subscriptions plugin is designed to make subscription-based businesses easy to run and manage.
One important aspect of running such a business is timely communications with your customers.
This is what allows you to prevent churn by making sure that all customer payments are received on time and that they continue paying monthly fees without interruption.
How do they know when their subscriptions renew? What do they do if their credit cards fail? And how can you let them know about upcoming sales or special promotions?
As I already mentioned, you can handle some parts of these communications using email notifications which are built into the WooCommerce Subscriptions plugin.
The thing is those default settings get you up and running quickly, but if you're aiming to really satisfy your customers' needs you may find out that email notifications need more customization than the plugin's default settings offer.
Challenges of WooCommerce subscriptions
WooCommerce subscription-based businesses have no shortage of customer experience challenges.
The main challenge is the unique nature of subscriptions, which means that customers aren't just placing one or two orders over the course of a year: they're making an ongoing commitment to buy from your store on a regular basis.
And even if you're delivering products with every order, you're also promising to keep delivering more products in the future.
That requires customers to feel confident that they can rely on you to continue providing them with a great experience in the long term—and that can be difficult to maintain when you have many different customers, each of whom might have different needs and expectations.
Email notifications are one way to address this challenge by helping subscription-based businesses stay connected to their customers.
Limitations of default subscription email notifications
WooCommerce Subscriptions is one of the most popular choices for building a subscription-based business. 
And while it includes a number of built-in email templates to help you communicate with your subscribers, they may not be enough to meet the unique needs of your business (and customers).
This opinion seems to prove it:
Really disappointed there's not an email that gets sent to customers when they've cancelled a subscription. I have received emails confirming that a subscription has been cancelled – wasting both my time and the customers'.

I would also like an easy way to customise the emails that get sent rather than having to dig around in the theme folder. Perhaps that's wishful thinking though 🙂
The sad truth is that WooCommerce Subscriptions does not provide any significant means of managing email notifications for your businesses. 
On the other hand, tools like ShopMagic will help you customize your subscription notifications so that they perfectly answer your communication needs.
Email notifications are one of the most important tools at your disposal. They're responsible for informing customers about status changes to their subscriptions, billing dates, payment failures, and more.
Subscription-based businesses like yours need more than just basic, action-triggered emails to run successfully. 
3 Alternatives to built-in WooCommerce Subscriptions email notifications
Let's explore 3 main alternatives to default WooCommerce Subscription notification you can consider to make your emails actually useful to you and your customers.
Code your own emails
WooCommerce store owners are often familiar with WordPress file structure and some basics of HTML/CSS/PHP.
But even if you know your way around WordPress and know a bit about coding, dabbling in templates, looking for solutions online, and fixing potential errors can eat up a large chunk of your time.
You probably shouldn't go this route if you don't have a lot of time on your hands.
Hire a developer
Hiring an expert is certainly a great way to get the job done, but it also has a lot of cons.
You still have to commit to finding the right developer, wait for their availability, review and test their work.
Also, if you would like to make some additional changes in the future or anything breaks with another WordPress update you will have to pay for their services once again.
Use a dedicated WooCommerce Subscriptions email plugin
This is probably the best option if you value flexibility, your time, and money.
With a WooCommerce email plugin like ShopMagic you don't have to worry about compatibility, wait times, or gathering requirements. Generally, it also pays for itself after 1-3 new orders.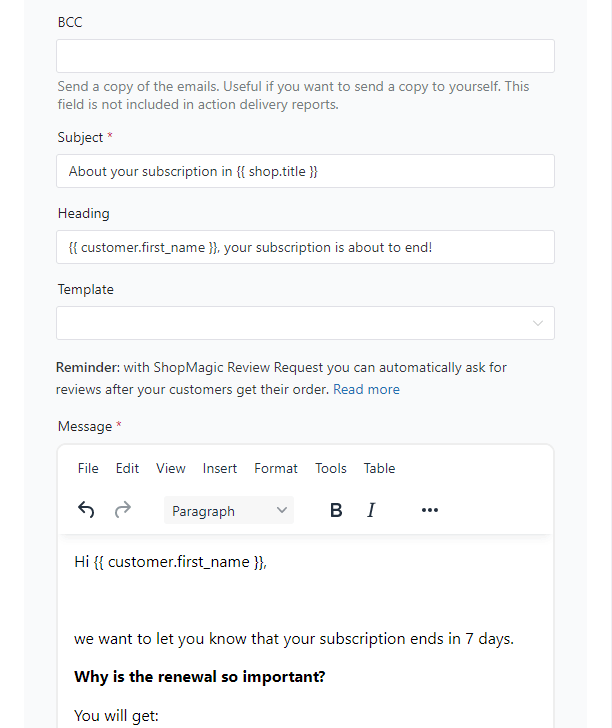 ShopMagic lets you easily do the following:
fully customize the email content (also using placeholders like customer name)
create your own email notifications for WooCommerce Subscriptions
use additional communication channels like SMS
ShopMagic WooCommerce Subscriptions

£

69
Allows to create automations based on subscription events, such as payments or status changes.
Add to cart
or
View Details
WP Desk
Last Updated: December 6, 2022
Works with WooCommerce 6.1 - 7.2.x
Examples of WooCommerce Subscriptions email notifications you should send
Subscription renewal reminders
This is one of the most frequently mentioned email notifications that's missing in WooCommerce Subscriptions.
Letting your customers know that their subscription renewal payment is coming is the best way to avoid customer complaints.
Let's be honest – it's also common courtesy.
With ShopMagic it can be easily added by using the "Subscription Before Renewal" event, which will let you send a reminder email specific number of days before subscription renewal.
Follow-up sequences for new subscribers
Setting up an educational email sequence is a proven way to increase your customers' loyalty, satisfaction, and prevent your customers from churning.
Here's how general settings for a simple, time-based sequence look like in ShopMagic:
Win-back and feedback emails
Even if your customers actually churn, you can still profit from this experience and send a follow-up email (survey) to learn more about the reasons your customers cancel their subscriptions in WooCommerce.
Abandoned cart emails
Even if your offer subscription products or services, you can still take advantage of classic marketing plays like abandoned cart emails.
To make it easier for you, ShopMagic also offers a free WooCommerce abandoned carts add-on that helps you get more subscribers and increase your conversion rates.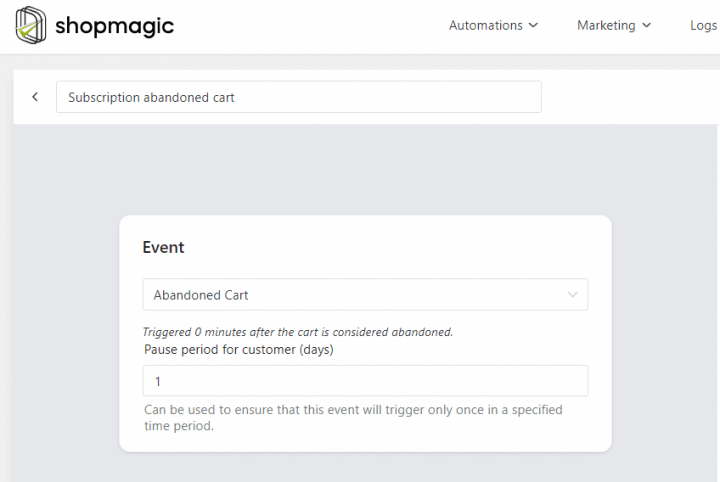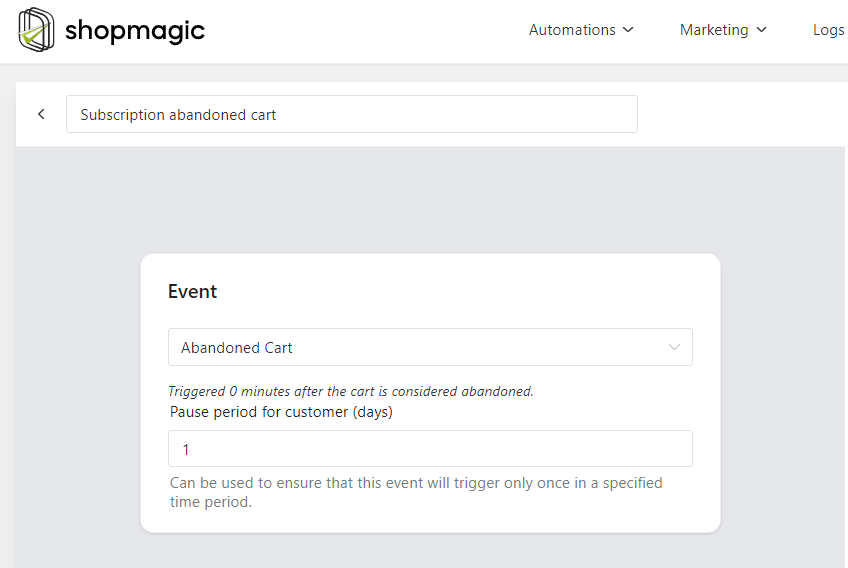 Summary
I hope that this article helped you better understand the role of WooCommerce Subscriptions email notifications, their limitations, and ways you can use them to grow your business and build successful email marketing automation campaigns.
Now is the best time to try ShopMagic and see how it can help you manage your WooCommerce Subscriptions emails!
(if it doesn't meet your expectations, we offer a 30-day money-back guarantee, so no risks here!)
ShopMagic WooCommerce Subscriptions

£

69
Allows to create automations based on subscription events, such as payments or status changes.
Add to cart
or
View Details
WP Desk
Last Updated: December 6, 2022
Works with WooCommerce 6.1 - 7.2.x