Testing emails and email delivery is always important for your WooCommerce store. Why? Because it lets you see the email like your customer, find any mistakes, or catch problems with email sending. Today, I will show you how to preview and send a test email in WooCommerce with a free WordPress plugin. Let's send WooCommerce test emails to your inbox before any email marketing campaign.
Are you tired of not receiving WooCommerce emails, and testing them manually with dummy orders?
Do you want a faster solution? Then, send a test email from WooCommerce with ShopMagic – a free WordPress plugin! Take a look at how the ShopMagic free plugin for WordPress and WooCommerce lets you send a test email in seconds:
Table of contents
How to preview and test emails in WooCommerce?
By default, you may edit the email template (WooCommerce → Settings → Emails) to "preview" the emails.
But you need to manually create a dummy WooCommerce order to test emails (their delivery, content, and sequence).
And you have to do that after every change of the WooCommerce emails! That's quite annoying, don't you think?
WooCommerce email preview in ShopMagic
The good news is that you can use a plugin to preview and send test emails in WordPress & WooCommerce.
When you set up your automation and you choose one of our send email actions you will notice a small Send test link:
When you click this link, you will see a modal dialog with your profile email ⬇️. Just hit send and check your inbox. You will find a test email there.
👉 Of course you can change the email and send it to another address.
⭐ Do you like what you see? Don't forget you can download the free version of ShopMagic (just click the Download button below ⤵️) and use this feature anytime!
When the test email is sent, ShopMagic looks for the most recent order and automatically replaces placeholders with order/customer data from this order. So every time you send a test, you will receive the data from the newest order in your WooCommerce store.
💡 This also means that you need at least 1 order in the store to send test emails. You will get an error message when you try to send a test email inside a new store with no orders.
As you can see, ShopMagic lets you customize and preview email content easily.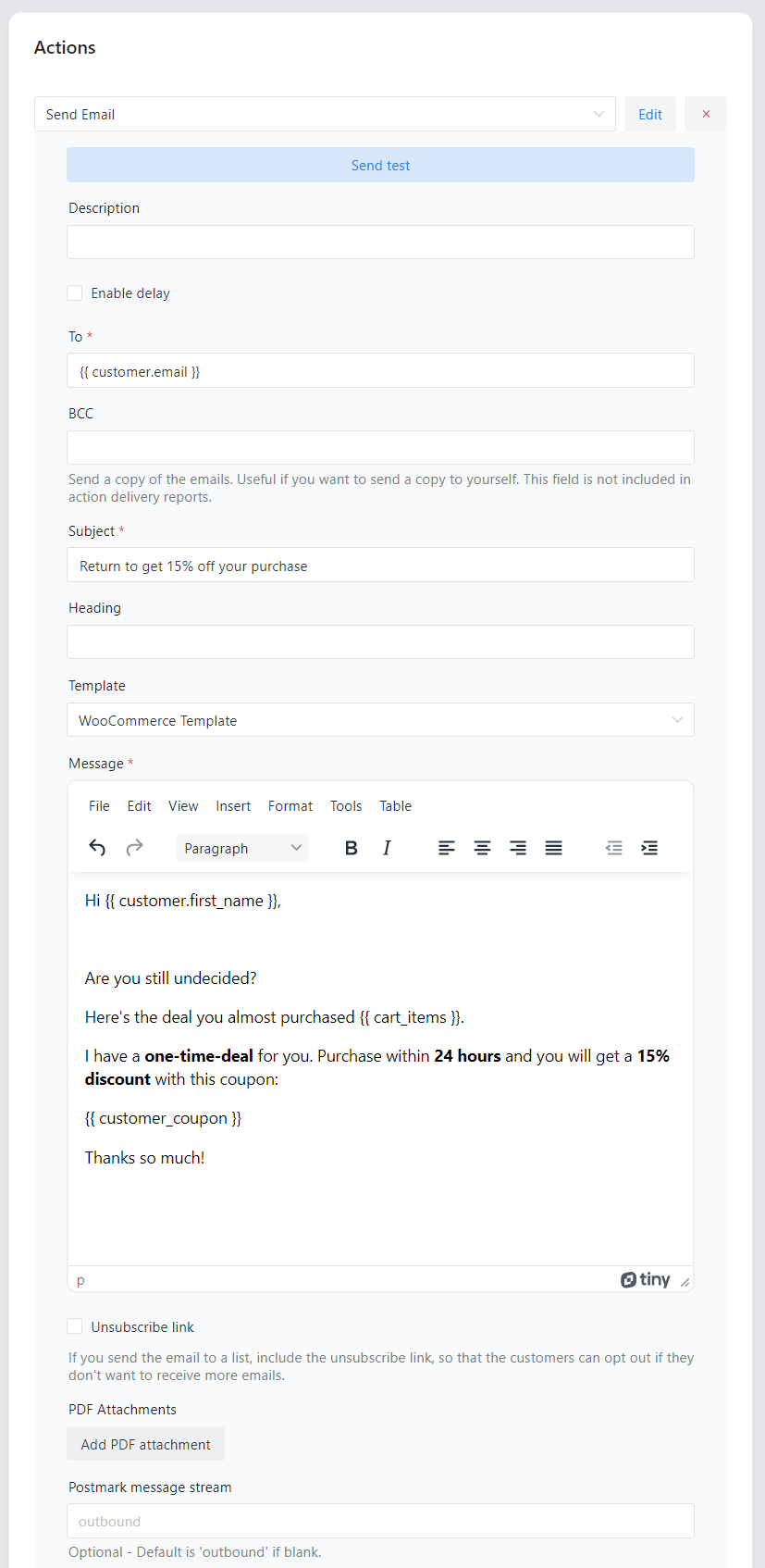 Also, you may send a test email of your WordPress and WooCommerce email automation in seconds!
More than sending WooCommerce test emails? 🤩 Add-ons!
The ShopMagic plugin gives comes with specific add-ons (free and paid) if you need more features.
In my opinion, the two best free add-ons are Abandoned Carts and integration with Contact Form 7.
👉 We also added support for queues and outcomes (logs).
Summary & more about ShopMagic
You've learned how to preview and send a test email in WooCommerce with a free plugin!
I encourage you to download ShopMagic free & build your email marketing n WordPress and WooCommerce today.
If you have any questions let us know. Finally, read our blog to learn more about WooCommerce email customization!