In other words – almost everything you need to know about WooCommerce customer segmentation. We will start with the definition of customer segmentation, through its benefits, up to crème de la crème – examples of implementing an effective customer grouping in a WooCommerce store. Enjoy!
What is customer segmentation
Customer segmentation is nothing more than dividing customers into smaller, precisely defined groups. Such a division is made according to various criteria. The purpose of customer segmentation in WooCommerce is to precisely fit the offer or communication to the particular groups of customers.
As I am not a proponent of the textbook definitions, the above-mentioned one explains the best, what exactly a customer segmentation is. Basically, almost every store, groups its customers to some extent. It is important to do it properly, as the benefits of appropriate customer segmentation cannot be overestimated.
Benefits related to the implementation of WooCommerce customer segmentation
How can you benefit from customer segmentation? Below you can find a list of the most significant advantages of implementing customer segmentation.
You will quickly notice that they come down to more conscious and professional store management, and consequently – increased conversion and sales:
Adjusting sales and communication to a specific customer.
Possibility to create a personalized offer.
An organized customer base and information about who is your best customer.
Choosing the best customer segmentation tool
As you are on our website, you probably guessed that ShopMagic is the tool which I'm going to suggest 😉
Last Updated: February 2, 2023
Works with WooCommerce 5.2.0 - 7.1.x
A bit has been written about the ShopMagic plugin, but if you have not had the opportunity to learn more about its functionalities, let me list the most essential ones. The filters and customer segmentation described in this article are only a fraction of ShopMagic's possibilities. What other functions does our plugin have?
How to implement WooCommerce customer segmentation with ShopMagic?
Customer segmentation in ShopMagic is mainly done using filters. And there are more than 30 filters waiting for you. Let me list a few of the most popular:
Order – Items (Item Categories also).
Shipping Method. Useful when you want to send directions to customers who have chosen pickup.
Payment Gateway. Bonus customers who have decided a bank transfer or PayPal, or any other method.
Date Created/Completed. You can precisely set the period and send a message to the customers who made purchases during that time.
Automation Run Count – Specify how many times an automation should run for a customer.
Guest or registered user? Appreciate those who set up an account in your store. On the other hand, you may want to send a message to your visitors to encourage them to sign up in your WooCommerce store.
How do filters work? As you may have guessed, adding a filter to an automation will cause the message to be sent only to those customers who meet the specified requirements.
WooCommerce customer segmentation – implementation examples
Here are some examples of filters usage in automations to create a more personalized communication.
As a rule, filters are independent of the specified event type. As a result, you can use them in various automations, e.g. triggered for a completed order, but also for a canceled or suspended order.
Order – Items and Item Categories
Use it when you want to send a message to those who bought a specific product only or … vice versa, when the order does not contain a given product.

The title filters work on a similar principle, except that the Order – Item Categories will be applied one level higher, i.e. for individual categories.
The product filter is also available in the free plugin version. Go ahead – check it out and implement this type of segmentation in your store
Order – Date Created/Completed/Paid
Three different filters based on a similar principle. You can use them to send a message to customers who have purchased (paid for) the product within a certain time period.

ShopMagic allows you to precisely indicate this period or set a starting point – before or after the date. Nothing prevents you from choosing a specific day.
From my experience, these filters work great with manually triggered actions. When we want to send a one-time message to a precisely selected group of customers.
Order – Payment Gateway
Another example of WooCommerce customer segmentation. Use it when you intend to send a personalized message to a customer who has selected a specific payment method. For example, to send detailed information about the payment and an additional account number to which such payment can be made.

Order – Item count
Thanks to it, you can prepare a special message for customers who will buy a certain number of products. It can be 3 products, more than 4 or even less than 10. You decide. You can find the full list of conditions below:
is,
is not,
greater than
is less than,
is a multiple,
not a multiple.

Very useful filter that can be used, for example, in various promotions.
Order – Total
Useful when you want to target customer who spend specified amount of money in your store. Order – Total also works inversely, i.e. you can set a maximum amount and send message to customers who bought products below a given amount.

Filters where the customer plays the main role
So far, I've presented the order-oriented filters, but ShopMagic has also the filters which focus on customers.
The most frequently used filter is the Customer – Is Guest. It allows you to differentiate communication depending on whether the customer has set up an account or not.

In ShopMagic, you will also find the Customer – ID filter, which allows you to send messages to a specific customer.
If you use the Lists, the filter Customer – Subscribed to List will probably be suitable for you. Automations with this filter will run for customers that are on the specified list only.

Dedicated filters. For individual add-ons
The above described filters are universal. You can use them in every automation. However, ShopMagic also has filters dedicated to the particular add-ons that require a specific incident to trigger. Let's look at some examples.
Review Requests add-on
With this add-on, you can automate review requests. But what if you prefer not to send a review request for every purchased product? With ShopMagic, all you need to do is to use the product filter and set the automation accordingly.
Moreover, you can also add a filter that will trigger the automation for specific review rating only.

Usage examples – A small discount coupon for a 5-star review or a rescue email for this pesky 1-star review when the customer is dissatisfied. All this, after the appropriate setting, will take place in a fully automated environment.
Though, I hope you won't need to use the 1-star rating variant in your store.
WooCommerce Subscriptions and WooCommerce Memberships integrations
Creating an automation for these plugins adds a whole range of additional filters that enable even further WooCommerce customer segmentation.
For WooCommerce Memberships plugin, you can select the membership plans for which you want the automation to work. On the other hand, in the automation for WooCommerce Subscriptions, you can set a condition that will require to renew the subscription manually.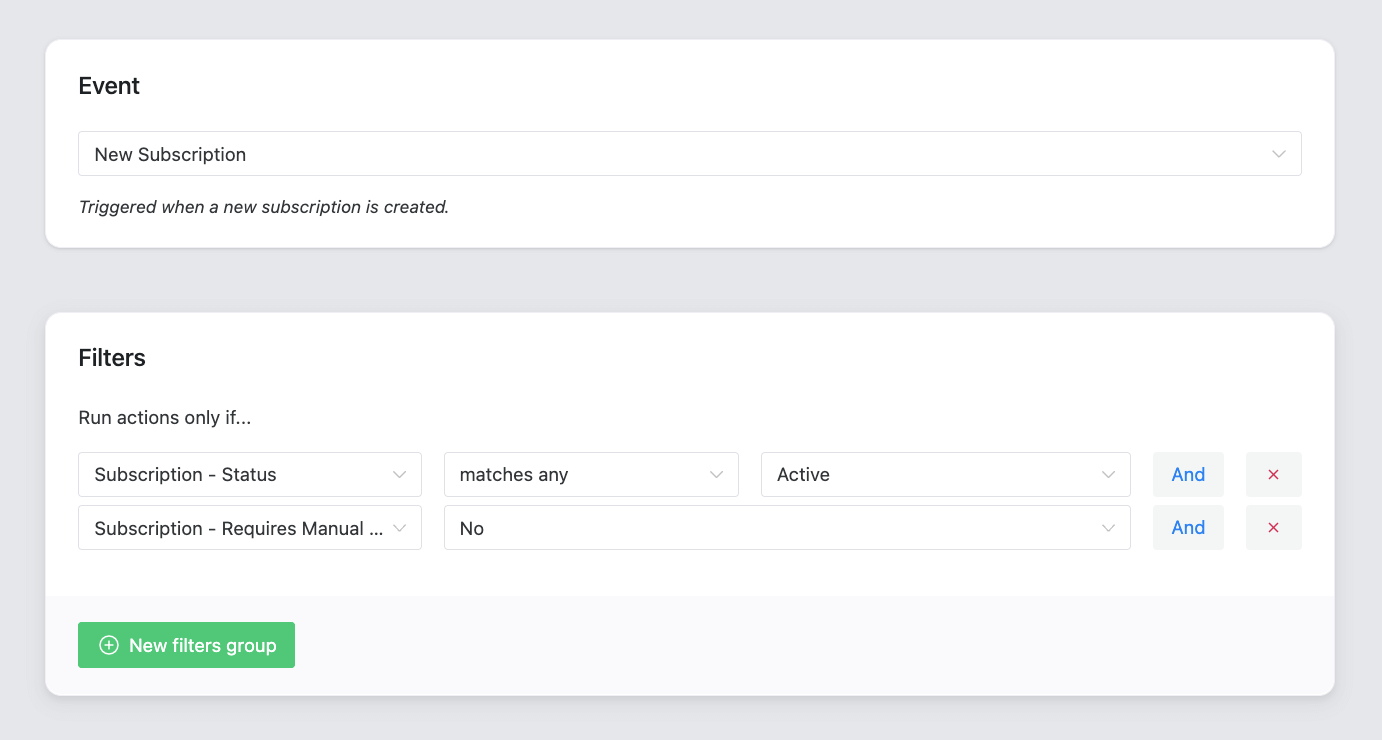 Filters can be combined
That's right, filters can be combined. It can look like a slightly more advanced issue, but in fact, it is nothing complicated.
All the filters can be grouped and combined to let you implement even more advanced WooCommerce customer segmentation. For example, if you want to send a message to customers who:
Made a purchase in the first quarter of 2021,
Spent 1000 or more $ on shopping,
Their orders have the status "completed",
Have accounts in the store.
Nothing easier, all you need to do is combine the filters properly to get the desired scenario: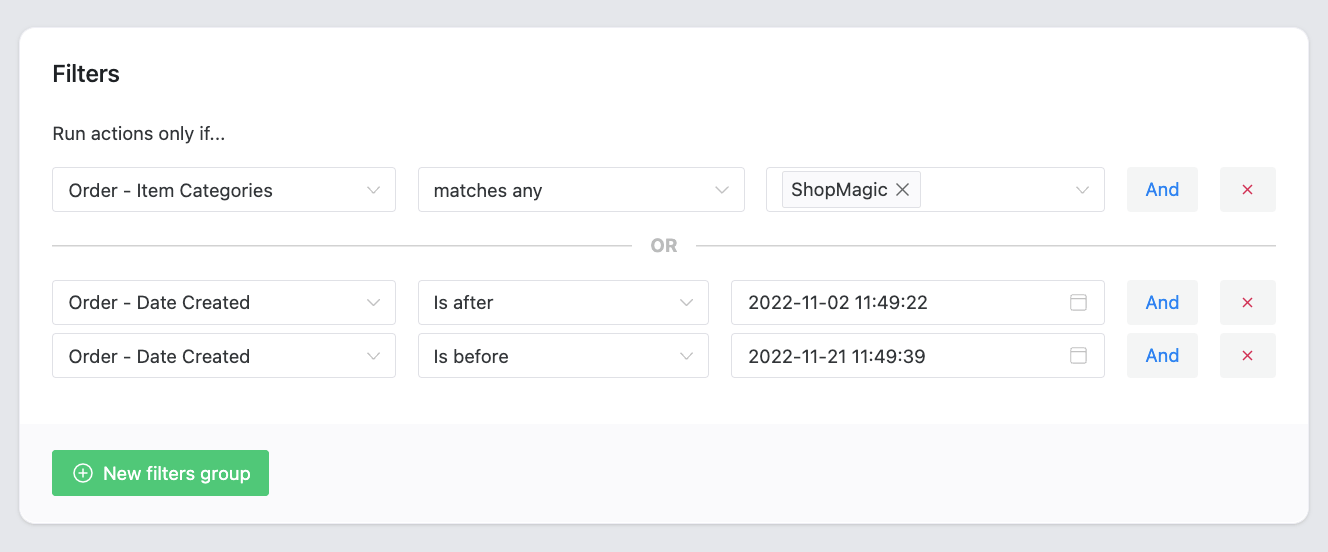 As you can see, the options for combining and grouping filters give you almost unlimited customer segmentation options in WooCommerce.
We've made it to the end
What is a kind of achievement. After all, there are many more enjoyable readings than "advanced methods of filtering and customer segmentation in WooCommerce automations";).
For any clarifications about this topic or ShopMagic – feel free to ask, we'll be happy to answer.